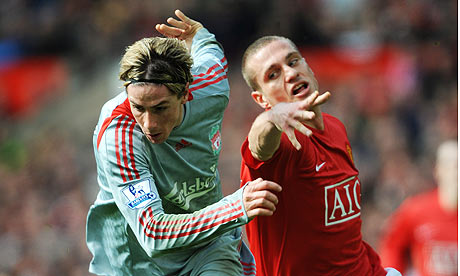 Ok I admit it – there are a few things i'm scared of. Spiders are one, being caught wearing a trilby hat and ghost pets – however I think we can fairly conclude that the sight of Fernando Torres puts our no-nonsense, swashbuckling centre half turn into a nervous wreck. Nemanja Vidic was sent off for the third consecutive match against Liverpool today in the 2-0 defeat at Anfield. Looking back at last year's fixture at home – our Serbia defender was all on course for a whole host of awards following an impressive season – which included a last minute goal against Sunderland and being part of a 14 match record breaking match run in which United didn't concede a goal. However, after the Torres goal in which Vidic totally misjudged the flight of the ball – I ask – what has happened to Vidic?

I promise this isn't a knee jerk reaction to disappointing loss today – we don't do that here – but ever since that 4-1 defeat, Vidic hasn't quite been the same player and his performance today backs up the suggestion that he is terrified around Torres. Nervous, hesitant and a barrage of fouls followed throughout the course of the match. Vidic gave away four free kicks today – two of which he was booked for, whilst never looking comfortable against Torres – who was still nursing an injury from the previous week. A far cry from last season when his performances were first class week in week out for most of the season. There was a point when I felt he wouldn't ever lose a header to an opposing forward.
His performances before that defeat were exceptional – take the 3-0 victory over Chelsea for instance (all statistics are provided by the Guardian Chalkboard. He only gave away one free kick and that was in the Chelsea penalty box following a United corner. His interceptions were 100% and in fact he didn't even have to make a tackle in the game. He also scored a vital goal on the stroke of half time. A few weeks later against Everton at home he had a 100% tackle ratio – winning all nine challenges he went in for and had an impressive 100% passing range (31 out of 31). He continued to impress with his passing in the next game completing all 22 passes he attempted. Fast forward a few games and in the 2-1 victory over Newcastle United he went in for eight challenges winning seven of them – whilst attempting 48 passes and completing 47 of them, and then came the next game – home to Liverpool.
Some things can't be accounted for in statistics – such as his hesitance to clear a routine long ball through the middle – but his clearances were all over the place. He went to clear the ball nine times and failed in four of those attempts. He then mis-controlled a ball which dropped into Gerrard's path. Vidic was then sent off for his attempted challenge on the Liverpool skipper to round off a quite miserable day for any Red. But the most important statistic of all is how this resulted affected the team as a whole rather than just Vidic – did it have any impact at all?
Before the Liverpool game United conceded 12 goals in twenty seven league games (so that is a conceding rate of 0.44 goals per game) – including and after the Liverpool game United conceded another 12 goals – this time in 11 games (which is a conceding rate of 1.09 goals per game). Now statistics aren't everything (47% of people know that as Homer Simpson once brilliantly stated) as they do not account for injuries (Ferdinand), suspensions (Vidic), the demands of a season (United were at the time going for five trophies) and squad rotation (linked to the last point). However, I would argue that going from 0.44% to 1.09% is quite a drastic shift. United have and (hopefully) will always be known for attack minded football where players are allowed to express themselves – but last season saw a change in emphasis – a change that was most probably aimed at retaining the European Cup, which saw United collect a vast amount of 1-0 wins. This season is no better in terms of goals conceded – twelve in ten games – that 1.2 goals per game) – so what is it? Have the injuries to Vidic, Ferdinand and Van der Sar been the main problems? Or have the opposition improved from last term? Or has Vidic – our best defender last season – never fully recovered from his horror show against Torres?
Like I said – I don't do or like knee jerk reactions – its something Yolkie and I were talking about earlier in the season. Vidic is a, as described by Sir Alex Ferguson, warrior – he is an old fashioned centre half who gets stuck in and generally wins most of his challenges. The Vidic chant that booms around Old Trafford sums up the Dolph Lundgren in Rocky style feeling we have towards and Serbian. He's hard, tough and takes no prisoners – the second coming of Jaap Stam. However, those stats don't lie – before the 4-1 defeat we'd conceded less than a goal every two games – after we are letting in more than a goal a game – and its worse this season. So to conclude – is it a mere coincidence that this statistics highlight our defensive frailties since the defeat? Or has Vidic been scarred by the event that his performances have been below par (looking at European Cup final for one)? This also can have a psychological effect on the rest of team – which could be another reason for the shift. Either way – I believe Vidic is a top European class centre half – not blessed with pace or cultured like Ferdinand – but he is brave and immense in the air. I think today he was nervous about playing against Torres with his nightmare performance in March at the front of his mind – but who wouldn't be? He is a superb forward – lightning fast, great finisher and has sublime turn of pace. Today was a great opportunity for Vidic to banish those demons – sadly for him and for us – he is going to have to wait until the clocks go forward to have another duel with the Spaniard.