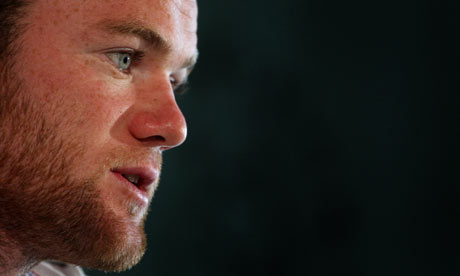 Through the glory of weblinks I discovered apparent "revealed proof" that Fernando Torres is better than Wayne Rooney.  Indeed, the writer excitedly states it's "irrefutable".
Jeebus, I thought, has the writer of this blog discovered something that is tangible and definitive enough to finally dispel the purpose of opinion?? And if he has, what is he doing wasting it on a comparison about football players??

The blog clearly indicates that Torres is "quite clearly" the more "consistently effective" player. Jaimie (the writer) bolds up (twice) that the primary function of a striker is to score and create goals. Bravo my friend.
I won't get bogged down in details, suffice to say, using the impressive list of stats provided, Torres has had more shots and scored more goals. It's a ratio that isn't included so I'll put it here, on average Torres scores a goal every 2.7 shots and Rooney every 3.6. Torres has nowhere near as many assists (10 to Rooney's 26) but Jaimie essentially claims that the goals tally nullifies this and clearly shows Torres is more creative. By the single goal. It's definitive. Using the stats provided. Again, bravo.
But wait, what's this? The claimed goal tally of 41 for Rooney since the 2007/08 season began is not correct? He has actually scored 44? But doesn't this.. I mean.. by your own method doesn't it prove Rooney is clearly.. Oh.
Admittedly that is including the World Club Cup. Which is seen as "non competitive" because you didn't enter it, I presume. Fair enough. You win.
Oh, wait.. no sorry. You didn't think I was going to stop there did you? Statistics are all well and good but at the end of the day I could use them to IRREFUTABLY prove that Macheda's strike rate of a goal for every 50 minutes he was on the pitch in the league last season makes him by far the most prolific in the land, let alone Torres' paltry rate of one every 117 minutes.. (!)
Statistics are just numbers that sound good until you throw in some external and contributory factors to help out. And granted, if you are creative with the stats, they look better.
Anyway, to help you out on some other things that have happened despite a bunch of stats being recorded and wrongly represented.
In 2007/2008 Manchester United lost 5 league games. Rooney was absent for 4 of those, and in the 5th, he scored to level for United at Stamford Bridge despite carrying an injury. After the goal, Rooney was subbed, and we went onto lose. Aside from this one which could be dismissed on a technicality, Rooney did not feature in a losing team for United in the League or European Cup this season. In December 2008 Rooney went on to score the goal to win United the World Club Cup.
In 2008/09 much of Rooney's performances were from the wide left position. That he managed to score 20 goals from that position was quite a feat. These things can't really be represented in statistics and sadly Jaimie didn't feel it was appropriate to mention. It's a shame considering the revelation was supposed to be definitive, but let's continue.
So far this season Torres has 8 goals in 9 games. 2 of those goals came against Burnley and 3 against Hull at Anfield, hardly teams who travel well. Two against a West Ham side bereft of confidence. Removing those goals gives a strike rate of 1 in 6. That goal was a consolation in the defeat by Villa.
So far this season Rooney has scored the winning goal in United's first two wins (masterminding the Wigan game), dragged United back into it against Arsenal, got us off the mark in the Manchester derby and scored a stunner against Spurs – oh yeah, those last 3 teams faced United with impressive 100% records, not exactly the cannon fodder Torres has enjoyed.
And, this time last week, using Jaimie's argument, Rooney was undeniably better than Torres before the Spaniard scored a hat-trick against Hull.
Rooney may usually be deployed as a "number 9" this season but it's still not likely he will be a goal hanger in the same form as Torres. He likes to be more involved in the play you see.
Conclusion?
I'm not going to sit here and devalue the merits of Torres. As an out and out striker he is simply exceptional and I would love him in the team alongside our number 10 but in terms of what they bring to the team, well if you believe in plain statistics, then even using the argument of my learned friend (once the stats are true, of course) then you will see Rooney brings more to the team. Using the evidence of my eyes, I would far rather have Rooney in my team anyway.
Is this irrefutable? As far as it can be, I suppose, but alas I cannot claim to have stumbled on the secret that renders the human opinion redundant.
The blog can be dismissed as yet another Liverpool fan trying to claim they either have a) the best two players in the world (really?) b) the best team in the league (really?) c) "world class players" to United's equivalent. Because when the battle is lost, and the goose is well and truly cooked, you can still trust a Scouser to try to flog the dead horse with nonsensical rants to try and claim (dis)illusion is really fact. Like "second is the new first". Whatever that means.
Essentially the debate becomes similar to the Cantona v Le Tissier debate of 1994 through 1995. Le Tiss scored more goals than Eric and some pretty spectacular ones, too. I suppose it boils down to whether you are happy to claim the moral high ground in obscurity and meaningless black and white figures (accurate ones mind) rather than in hard solid, trophy proof.
But anyway, if you were still in any doubt, while Fernando has been either collection more trophies  for being a fabulous gay Austrian fashionista than in his football team or trying to ensure his isn't the latest dirty red to have his house robbed, here's a little postcard of what our Wayne's been upto.
You might have to squint because it seems he doesn't like the limelight.
Source: (Yolkie)