You may also find these links interesting: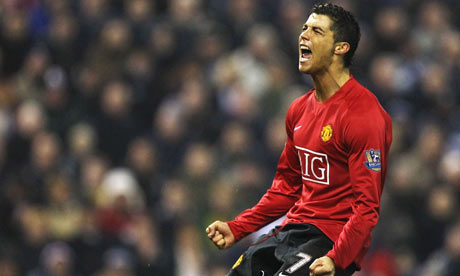 A stunning display from the injury hit champions rocked West Bromwich Albion and kept United at the top of the Premier League.
Goals from Dimitar Berbatov, Carlos Tevez, Nemanja Vidic (though this later seemed to be an own goal), then two from Cristiano Ronaldo sent out a clear message of superiority.
Albion had stated their intent to at least show adventure in the game but an end to end start was punished when Berbatov picked up a Giggs pass and exchanged the ball with the excellent Michael Carrick to slot home and complete a great move.
The home side suffered just before half time as skipper Paul Robinson was dismissed for a dangerous lunge on Ji-Sung Park. The red card may have been harsh but it was reckless claim by the Baggies' captain and he could have no real complaints. Moments later, the Red Devils compounded the home supporters misery when Scott Carson bizarrely dropped a Ryan Giggs freekick, perhaps looking for a free kick when challenged by his own defender, and the impressive Carlos Tevez tapped in.
In the second half United really rammed home the advantage and scored when the outstanding Giggs' set piece was met by Vidic, though replays suggested a home defender may have had the crucial touch in scoring the third United goal.
Better was to follow from United and the mercurial Giggs as the Welshman found space and exquisitely pulled back for Ronaldo to end a personal hell and score a league goal. The scoring was completed a few minutes later when Berbatov played Ronaldo through to finish between Carson's legs.
As the match entered its final minutes United claimed another milestone – a Premier League record without conceding a league goal – and with the re-inforcement of the returning Wes Brown and Rio Ferdinand, the record stands a good chance of extending itself even considering the visit of in form Everton on Saturday.
Source:(Yolkie)