A blessing is disguise or an embarrassment?  What do you reckon?  Losing to a championship side 2-0 at home who are off the back of a 4-1 drumming by Ipswich is pretty bad, but do we really care about this defeat?
When I heard the scoreline and result, I was gutted.  I felt that this could be a great opportunity for Nani, Anderson, Pique and Evans to get some first team football against decent opposition and prove to themselves and to the gaffer why they should be in the first team.  The Times reported "Anderson didn't even look like a £20,000 player let alone a £20 Million player".  Ok, maybe we haven't paid that much but you get the point.  Anderson has played 3 times for us so far and he hasn't impressed on any of those occasions.  Of course he needs time to settle, as it is obvious the lad has talent and most importantly potential.  But say we get to the semi-final again against an experienced Milan side, will he be ready to set up to the grade if called upon?  These games where vital for him to learn his trade because after all he is still only 19.
Of course the crazy London frenzy has started (again) regarding the "amazing" talents of Arsenal.  Arsenal play some great football and have a number of talented an excited youngsters, but don't you think it's all so over hyped?  Fabregas is playing excellent this season and along with Micah Richards has been the shining star of this season so far.  He has raised his game by 3 levels in my opinion.  But all the media frenzy was concentrating on Fergie being "Jealous" this morning of Arsene Wenger because we can't compete with their youngsters.  To me thought it seems like Arsenal have been baning on about their youngsters since 2005, surely that doesn't make them youngsters anymore??  Maybe Arsene Wenger is jealous of Sir Alex as he won the Premiership last season or maybe because he has won two European trophies with United (Arsene Wenger holds the record for the only manager to have lost all three European Cup finals)?
To conclude – I'm gutted about going out of the League cup as it would provide a platform for our youngsters and fringe players to perform and show their worth.  Are they not good enough?  Or did they just have an off day?  I would suggest the latter as how can you judge a team on one game?  The Times report a "lack of cohesion between the player" – what do you expect for a team that hasn't played much football together.  Fergie had every right to be fuming at the display as we where second to everything.  But to conclude that the players simply aren't good enough after one 3rd round League cup match is quite pathetic logic.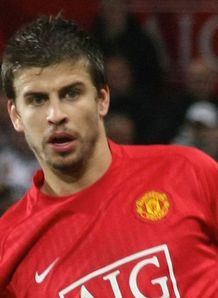 Pique was disappointing last night in the 2-0 defeat.