You may also find these links interesting: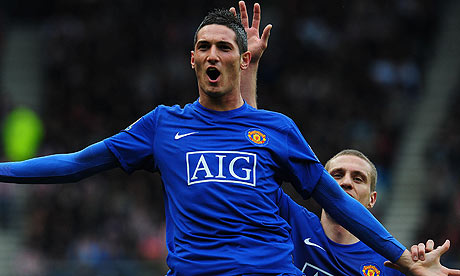 Federico Macheda gave the travelling fans a thrilling sequel to his Old Trafford heroics by scoring a crucial winner to rescue Manchester United – going one better and scoring with his first touch after coming on for club record signing Dimitar Berbatov.
United put their followers through the wringer yet again but this moment from the young Italian was confirmation of his ability and perhaps more importantly, given the path of the season so far, his momentum.
The first half saw a compelling contrast between the two sides when in possession – the Red Devils showing a composed, cultured and comfortable approach and the Black Cats' whipping their support with frenzied attacks. Sir Alex Ferguson had made another team selection that prompted many scratched heads – with O'Shea and Neville in both full back positions, Park and Scholes still in the side, and Wayne Rooney operating from the left while Cristiano Ronaldo warmed the bench.
Unsurprisingly, as these things go, Wayne Rooney defied expectation by being the main creative outlet for United – first almost scoring with 15 seconds on the clock and then with around 16 minutes gone, turning provider by knocking the perfect ball into the box. Paul Scholes was there to meet it with a lovely header reminiscent of those he scored during a spell for England and United in the autumn of 1997, to give fans worried about his recent form (including this writer and website!) a timely reminder that he could provide a classy contribution.



Indeed, Scholes and Carrick's ability to keep and move the ball was a feature of the Champions' play – but the hosts were not about to lie down and helped to provide a pulsating first half with a shoot on sight policy that saw them come close on a number of occasions, hitting the post – while United had an attempt of their own cleared off the line.
Sunderland started the second half just as ferociously and after surving a scare caused by a stunning Rooney bending effort, they deservedly drew level after Park was easily skinned and Foster flapped at a cross, Kenywne Jones stretching to stab home.



In response, Scholes shot narrowly wide, and Tevez couldn't convert a move that had intricately weaved on the edge of the Mackem's box. With a quarter of the game remaining Ferguson finally brought Cristiano Ronaldo on in response for the not only ineffectual but also increasing liability Park.
And with 15 minutes left Fergie took what surely was a championship gamble – replacing £30m record signing with 17 year old kid Macheda. It was quite a statement to make even if it was later apparent that Berbatov was suffering badly enough to require treatment.
Would the substitution prove to be inspired or a desperate last throw of the dice, almost an admission of surrendering the title? There was hardly time to form your own opinion – within the same minute we had our answer, as Macheda swung a hopeful, opportunistic, but meaningful, and ultimately fateful boot in the direction of a wayward Michael Carrick shot – the ball unbelievably nestled in the corner of the net to restore the advantage for United, and ultimately prove to be the winner.



Sunderland played their part in the nervous closing stages but United – who brought on the returning Anderson to shore up things – were rarely seriously threatened from that point.
Cynics will say United got out of jail again following a bad initial selection from Sir Alex and they may have a point, but this latest fateful interjection from Macheda may just make the gaffer realise that the youngster has the confidence, ability – and, crucially, as mentioned before, the momentum, to play a more prominent part in the Champions' run in.
And with Porto next in a seemingly impossible task, it could be such a player who continues to write such a stunning story in a potentially record breaking season.
Source: (Yolkie)