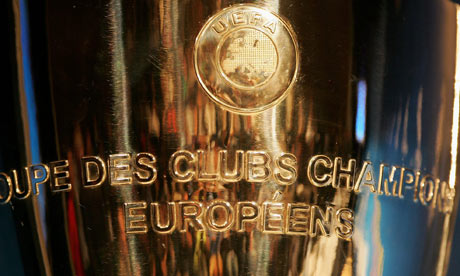 All Roads lead to Rome
After, points wise at least, Manchester United's third most successful league campaign of all time all attention now is firmly shifted (as if it wasn't before) to the simple matter of a Champions League Final against Barcelona in Rome on Wednesday.
A win will mean that this season, in terms of major trophies, will be the most successful year in the history of the club. It may not have the 10 day glamour period of a treble to show but in the space of 13 months it could potentially have two league titles, two European Cups, a World Club Cup, and a Carling Cup to show for it.
I must concede that viewing this season as the most successful in the history of the club versus that of the treble year will be a little difficult given the relative lack of goals but this side doesn't have a clear starting XI nor does it seem to have the suicidal streak that the 1999 side have (bar the crazy game against Aston Villa in April), which leads respectively to a lack of a settled side (obviously) but more composed defensive displays.
To get to the Champions League Final United have gone unbeaten against four Champions of their leagues, and beat arguably one of the finest footballing sides in their own country, setting up a final that pits undoubtedly the best two sides in Europe against each other. A 25 game unbeaten run that includes, among its rewards, last seasons trophy, and the scalp of Wednesday's opponents, should inspire plenty of confidence. But as we all know a final tends to be a game played by its own rules and is no respecter of form.
Knock Out
A goal shy group stage, including the two obligatory goalless Villareal draws, screaming out for a more convincing performance in the knockout stage.
One problem, the first task was against Jose Mourinho's reigning (and in waiting) Italian Champions Inter Milan. A dominating performance in the San Siro by the Red Devils was unable to produce a goal but an entirely comfortable home leg was settled by Vidic and Ronaldo.
Progression to the Quarter Finals saw a tie with Porto – what should have been a far easier prospect on paper quickly began to be a nightmare, with the Portuguese scoring early. Rooney capitalized on an error to level, and Tevez seemed to have won it with 5 minutes left scoring from Rooney's extravagant flick. Porto had the last laugh and levelled in injury time to give United an uphill task in the return – a task casually taken on and professionally dismissed after Cristiano Ronaldo struck an early knockout blow from fully 40 yards.
A mouthwatering semi final stage with Arsenal was next, and the opportunity to stamp a message as the country's premier footballing side lay in wait. It was an opportunity eagerly seized, as United bombarded the Gunners with wave after wave of breathtaking attack, but having just a John O'Shea strike to show for a first leg of utter dominance. Cristiano Ronaldo struck the crossbar from fully 35 yards and appeared anguished at not getting another wonder goal. It turned out he wouldn't have that long to wait.
Rather than seize on United's profligacy in the first leg, Arsenal's home advantage was quickly equalized by Gibbs slipping and Park converting to silence an unusually atmospheric Emirates. 11 minutes gone and it was game, set, match as Ronaldo impossibly struck from 41 yards from a free kick. As if to put the exclamation mark on what seemed to be a personal hunt for a Champions League goal of the season competition, the World Player of the Year started and finished a move that was as breathtaking as it was devestatingly clinical – with Park and Rooney providing the path for Ronaldo to coolly convert. It was a goal that summed up the entire tie and was arguably as brilliant as the number 7's more spectacular long range drives.
Despite such a dominating performance heartbreak was to follow for Darren Fletcher, who was harshly sent off for a foul on Fabregas when replays suggested he won the ball fairly. Down and out, the Arsenal players did nothing to redeem themselves and let the referee dismiss Fletcher. The resultant penalty was converted but still did not put a blemish on one of the most stunning Champions League semi final performances.
There was time for the team to put their feet up and wait, just as they did last year, for a result at Stamford Bridge to reveal their final opponents – it seemed for the longest time to be Chelsea as Barcelona gradually become more and more defensively decimated, but then the Blues imploded in injury time (after 4 or 5 justifiable penalty shouts) and Iniesta sweetly grabbed Barcelona an away goal to set up the most eagerly anticipated final for a generation.
If United win the final then this squad can rightly claim to be the best in the clubs history and have a real chance next year to really cement their place among football's all time elite. Going unbeaten on the road to winning it twice is the stuff that legends are made of, of that there can be no arguments.
If the potential of the likes of Anderson and Berbatov in the United side can finally come of age to stand shoulder to shoulder alongside the established world class Ronaldo and Rooney double act and the timeless brilliance of the likes of Giggs then a true footballing spectacle may just be about to be unleashed, rather than just tantalisingly teased.
Starting, hopefully, in Rome Tonight.
Source: (Yolkie)