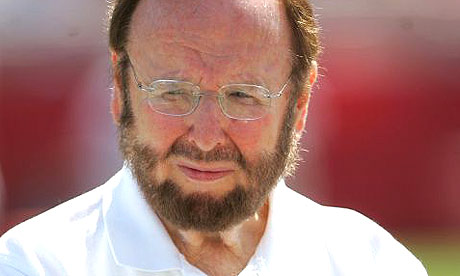 It is nearly four years since I was outside the Prince of Wales pub in Cardiff having a couple of beers waiting for our FA Cup final with Arsenal. The result was disappointing that day considering the fact that we totally dominated the play but couldn't find the back of the net, with Ruud VanNistelrooy being the biggest culprit – however there were more important issues afoot. Manchester United had been bought by Malcom Glazer the week previous against a barrage of protests – which I witnessed for myself at the Prince of Wales.
I won't go into all the details about the protests and the anti-Glazer feeling as it has been well documented but I would like to let you all know that despite ticket prices going up and up, the Glazer are in the top 10 years rich list published by FourFourTwo magazine. Other fans may be envious of our success in recent seasons, however this has absolutely nothing to do with the Glazer family, who are simply getting rich off the back of United's success. Yes, football is far too commercial these days and players and clubs are further away from the people that made this game great in the first place – the fans. Will be blogging soon about Jimmy Murphy after reading 'Strange Kind of Glory' recently, which may touch upon this issue further.
Below are the top ten:
1. Shekh Mansour bin Zayed al-Nayan (Manchester City) £15bn
2. Lakshmi Mittal & family (QPR) £12.5bn
3. Roman Abramovich (Chelsea) £7bn
4. Joe Lewis (Tottenham Hotspur) £2.5bn
5. Bernie & Slavica Ecclestone (QPR) £2.4bn
6. Stanley Kroenke (Arsenal) £2.245bn
7. Alisher Usmanov (Arsenal) £1.5bn
8= Lord Grantchester & The Moores Family (Everton) £1.2bn
8= Dermot Desmond (Celtic) £1.2bn
10= Lord Ashcroft (Watford) £1.1bn
10= Malcolm Glazer & family (Manchester United) £1.1bn
You can read the full richest men in football list at the FourFourTwo website. Would like to hear your comments on this matter – should we forget this as we're winning trophies and having a great time or do we need to remember what is important in football and what made Manchester United great in the first place – which has nothing to do with what the Glazer family stand for.