You may also find these links interesting: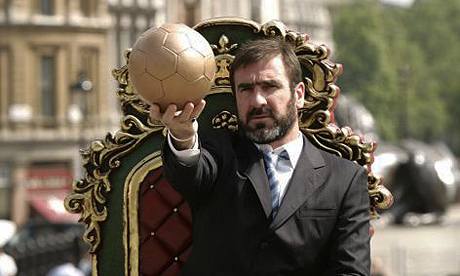 Eric Cantona may have spent only just under 5 years at Old Trafford but his influence on Manchester United can still be seen today – whether it is in the crowd, who still remember him fondly in almost every game, or in the team, with the thrills of exhibitionist football.
Cantona's impact spread nationwide and there is a strong argument that he had the biggest individual influence on the evolution of the English game from somewhat of a kick and rush, long ball reputation to the fantastically glossy product seen on Saturday's in this era.
Eric Daniel Pierre Cantona was born in Marseille in May 1966 and had a stormy start to his career in France. Starting at Auxerre before moving to the club of his birth town, with loan spells out at Martigues, Bordeaux and Montpellier, Cantona's on pitch brilliance was tempered with controversy – even at the age of 21, when he punched a team mate at Auxerre!
Further issues of controversy included red cards, kicking the ball at the crowd and abusing the French national coach on television, leading to a one year international ban (well, he did call him a "bag of (naughty, naughty)"!!). His switch to his boyhood club Marseille (for a then French record fee) did not go to plan as Eric typically struggled to fit in, and his subsequent loan spell at Montpellier was the scene of another team mate altercation – this time, half a dozen players protested that Cantona should be sacked.
His on pitch form, however, was such that Marseille were persuaded to recall him, but after a couple of managerial changes, found himself under the stewardship of Ray Goethals. Despite being instrumental in Marseille's league triumph Cantona found himself on the move again, to his final club in France, Nimes.
It was here Cantona had his infamous referee spat, throwing the ball at him after being angered by a decision – Cantona was banned for a month, and at the hearing, Eric called each committee member an idiot, leading to a two month increase. So incensed, Cantona "retired" from football in December 1991.
Legend has it that Sheffield Wednesday turned down the chance to sign Cantona because they wanted "to see him play on grass", Cantona didn't want to wait around, and Leeds offered him the chance to sign in January 1992.
The Frenchman had some contribution as Leeds won the league title, and in the season that followed, showed a real flash of his ability with two hat-tricks – one against Liverpool in the Charity Shield, and one against Spurs. But his stay at Leeds was again relatively short – as his career moved onto its final destination, Old Trafford.
The transfer itself came about peculiarly – Howard Wilkinson, Leeds manager, phoned Martin Edwards to ask about the availability of Denis Irwin. Edwards and Alex Ferguson were in a meeting and were able to tell him "no", but Ferguson thought to ask on the off chance about the availability of Cantona. Edwards and Wilkinson set to work and Alex Ferguson had a lunch with Peter Reid, then Manchester City boss.
During the lunch Ferguson was called by Edwards to confirm the signing, which was met with a mixture of bewilderment and humour by Reid. Indeed, such was the divide of opinion that Liverpool legend Emlyn Hughes wrote a two page spread in the Mirror declaring it a "panic buy", to "not look to him as a match winner", and best of all, that Ferguson was "clutching at straws". (The entire article can be read in all its glory in our forum!).
Ferguson was taking a risk but at £1.2m it was one worth taking on a player with considerable talent. Manchester United were clearly in need of an individual who could provide the glue and a little extra sparkle for a team that were promising but threatening to become nearly men.
Cantona's debut was as substitute against City at Old Trafford, but after that he never started another game on the bench. His first goal was against Chelsea but the first real flash of the difference Cantona could provide was against Spurs in January 93, when a sensational stabbed ball over the defence provided a goal for Irwin. And he was inspirational again as in a crucial match at Carrow Road against Norwich, he was among the scorers as United swept to a victory that started a title winning sequence of 7 wins to finish the campaign. The Red Devils had won their first league title for 26 years, and Cantona had been a big player. More was to come the following season.
United had been transformed into a truly dominating force, equally capable at pressing their opponents or destroying them on the counter attack using the pace of Giggs and Kanchelskis, with Cantona more often than not pulling all the strings in either mode of attack.
Goals came in their droves, and not just tap-ins, truly stunning efforts that seemed beyond the technical capabilities of other players. Orchestrating a comeback from 2-0 down at Maine Road with two goals and then a last minute amazing juggle to start the move for the third, hitting the bar from almost the halfway line against Chelsea, a full pitch break and goal against Sheffield United, and a flick up and volley in the top corner at Wimbledon in the FA Cup were all memorable moments.
As ever, though, Cantona was embroiled in on the pitch problems, and in the spring he was sent off in consecutive games against Swindon (for stamping) and Arsenal (for nothing), leading to a five match ban. United suffered two league defeats in this time and stumbled to a semi final win over Oldham as their season threatened to self destruct.
The return of Cantona coincided with a 4 game title winning streak, the first of which was a triumphant first half double against Manchester City. And the season was rounded off in style as Le Roi scored two penalties in the FA Cup final to secure the double. Despite his on pitch misdemeanors Cantona was named PFA Players' Player of the Year.
Things were going swimmingly for Cantona with his national side as well – named as captain by coach Aimé Jacquet as the team prepared for Euro 96. Prior to the 1994 World Cup, however, Eric had a public falling out with David Ginola following a mistake by the latter leading to a crucial Bulgaria goal in the final qualifier, which ultimately meant France didn't qualify.
If 1993-94 was Cantona's most successful in terms of goals and assists, the 94-95 season was certainly his most notorious – and illustrated just how vital he was to United when he wasn't on the pitch.
The events of Selhurst Park in January 1995 need no introduction, but prior to that Cantona had been in sizzling form as United looked to make it a hat-trick of titles. The season (of course) began with its controversy, as the number 7 saw red in a friendly against Glasgow Rangers, rendering him suspended for the first 3 games. Typically, he scored a penalty on his return at home to Wimbledon. Scoring crucial goals in the home and away fixtures against Blackburn Rovers summed up Cantona's contribution but reminiscents now cast their opinion over what they suggest were Cantona's weak points – Selhurst, and his apparent inability to perform in Europe.
While somewhat true – United never hit the lofty heights in Europe as they did in the Premier League – it is equally true that perhaps Manchester United were severely handicapped by the foreigner rule. And, what is more true, is that Cantona was actually suspended for the first 5 group games following his altercation in Galatasaray the previous year. His return, against the same opponents, was in a team that was not at all familiar to the one he would line up with on a Saturday. The subsequent opinions that Eric was a failure in Europe are in my mind grossly unfair – the one real season where we were able to play as a unit was 1996/97, which will be documented later.
Of course no review of Cantona's career could be complete without mentioning the Selhurst Park incident, where he "kung fu kicked" Crystal Palace Matthew Simmons. It was an incredible scene, coming after Cantona had harsly seen red and was walking off. Simmons claimed he had been targetted and was innocent, Cantona claimed Simmons had hurled vitriolic racist abuse at him – no-one can be 100% sure of what happened other than that was shown. What cannot be disputed was Simmons' prior conviction for a violent racist attack, which would lend itself to Eric's account, who would of course have had no prior knowledge of the mere existence of the numskull in the crowd.
The kick cannot be condoned and Sir Alex Ferguson was in agreement with club directors that they should suspend Cantona for the rest of the season. In discussions with the FA, Manchester United were led to believe that this was a satisfactory conclusion (in addition to whatever criminal charges he was due to face), though as always the FA sought to make an example out of a Manchester United player and imposed a further 4 months suspension.
Such a decision in isolation cannot be declared unjustified but when taking into account the fact that, for example, Jamie Carragher's coin throw at Arsenal in 2002 went relatively unpunished and the fact that several players have committed far worse offenses than Cantona and have had far less severe – if any at all – suspensions, then the chagrin of Sir Alex is slightly more understandable.
What was clear, was that Cantona's suspension was probably the defining moment in the title race, as his absence saw three goalless home draws against Spurs, Leeds and Chelsea. Blackburn won the title by a single point and Everton won the FA Cup – if there were any doubts lingering regarding Cantona's influence, the following season would dispel all of that.
Eric Cantona's suspension was up on the 30th September 1995, and television scheduling (along with a cute fixture list) meant that his return would be at home to Liverpool. The expected media whirlwind that tagged along asked all sorts of questions – would he be fit? Would he be the same player? Even ridiculous theories like, will he attack the crowd? As it turned out, Eric was back in the crowd, but for totally different reasons.
The conversion of a penalty after McAteer had rugby tackled Giggs in the box, to rescue a draw was the fitting conclusion to a game which had started in spectacular fashion, as the Frenchman provided the assist for Nicky Butt to score in the first minute. It was the introduction to a season (which, in inducing heartbreak of a few thousand Scousers, would have a similar climax) that was possibly one of the only seasons in British football that was completely dictated by the form of one man.
The United side he rejoined had a far different complexion than the one he had been suspended from. Gone were stalwarts Ince and Hughes, gone was the lightning speed of Kanchelskis, in their place were not expensive thoroughbred replacements but wet behind the ear kids in the shape of Butt, Beckham and Scholes. Cantona's role in the team had been transformed from puppet master to nurturer and leader and he had not even been there for the event. In truth, the side took some time to adjust, with a 5 game winless streak in the winter threatening to undermine the title challenge.
When the slide was halted with a 2-0 win over title rivals Newcastle, it looked as if a faint glimmer of hope remained, but a 4-1 defeat at Tottenham on New Year's Day seemingly ruled United out of the race. They were 12 points behind and had lost a host of experienced players to call upon.
The White Hart Lane mauling was the making of the character of the kids as United went on a twelve game unbeaten streak which included a return to Selhurst Park (in which Cantona scored a penalty and jumped in the crowd, again in celebratory fashion), and a sensational return fixture at Newcastle where Cantona volleyed in a winner completely against the run of play. The St. James Park game was the beginning of a four game run where Eric scored United's only goal, with a last minute equaliser at QPR, a magnificent 30 yard half volley to earn all three points at home to Arsenal, and a stunning solo effort to win against Spurs a run of games that would be pivotal to the season.
The King scored goals in the win at Manchester City and against Coventry as the Red Devils really got a grip on the race – and the FA Cup was the number 7′s playground, too, with goals in every round aside from the semi where his goalbound effort was tapped in on the line by Andy Cole. His contribution to the side was not restricted to goals, however, and in the semi against Chelsea Cantona's goalline clearance was crucial to the side's progression to the final.
The League title was sown up at Middlesbrough and so came Wembley and Liverpool in the FA Cup final. Cantona was named captain as Steve Bruce was dropped, and the game seemed to be drawn towards extra time, when a corner was punched out to the edge of the box by David James. In true Eric style, he volleyed the ball back through the crowd with expert accuracy and consummate ease to reclaim the double for United.
For Cantona it was complete confirmation that he had made the right choice by toughing it out and staying at United when most players would have jumped ship – for the club itself and it's manager, complete justification in retaining faith in the unpredictable genius that had now manifested itself in the presence of the armband. In the space of 12 months Cantona had gone from fallen idol to king of his domain.
Few could have predicted, even with the Frenchman's penchant for the unexpected, that 12 months down the line he would go from king of his domain to another member of the clubs illustrious history book.
The year in between is seen by most as a failure – Cantona had begun to fall out of love with the game, citing his performance against Liverpool as so bad that "he had forgotten he could play so badly". The truth was Cantona's standard was set impossibly high, his performances on the pitch were of course not the shambles they are now implied to be – perhaps he had one or two imperfect moments, but the truth of the matter is he was still the best player in the British game capable of moments of genius that no other player, including the likes of Zola and Bergkamp who had joined Chelsea and Arsenal respectively, could achieve.
In his final season Cantona scored 15 times, with the standout moment the goal against Sunderland where he wriggled past challenge after challenge, played a one two and scored a chip of supreme quality. It was hardly the disaster it is painted to be, particularly with a league title in the bag, meaning that for every season he had completed in English football he'd ended with at least a domestic championship winners medal. The truth of the matter isn't that Cantona had become less effective, but that his influence had been so great that the likes of Beckham and Giggs had become capable of moments of genius like that of their leader. In that respect, Cantona had been so successful that he was demanding some kind of self perfection to improve even further, believing there was something greater than the pinnacle he was already at.
Seemingly frustrated by his gaping miss against Borussia Dortmund in the Champions League semi final, Cantona informed Sir Alex of his intention to retire less than 24 hours after the game. When he did so publicly, in late May of 1997, the news came as a bombshell to United fans. Cantona had been an iconic figure during the rebirth of the club as the major force in English football, the personification of the team during that period, and had provided the on pitch influence to the youngsters coming through that Ferguson had craved – helping them to play the game as an art form, and not a tactical battle. And in all truth, it's an influence that still stands today and a philosophy and style Ferguson clearly still adopts.
Eric Cantona's comments since retirement seem to illustrate the point – when asked about his ideas for coaching, he has spoken about creating a style of play never before seen, a concept he is dreaming of.
There is a real double shame in the timing of Cantona's retirement as it would seem it coincided with Sir Alex's tactical approach to Europe – the abandonment of this to trust in his side to play their natural game paid dividends in 1999, with a style of play that Cantona would no doubt have revelled in.
Talk of the King returning to Old Trafford has never ceased since day one of his departure ( and he has indeed graced the pitch since then for testimonial matches ) whether it be talk of returning to playing, which seemed to last until he was 40, coaching, or even taking over the managers role when Sir Alex finally vacates it. Certainly in recent years he has expressed an interest and has frequently indicated that United is the only place he could return to football for, such is his love affair with the club – and, in the same vein, most United fans dream of Cantona as manager regardless of his lack of experience or any managerial reputation!
After retirement Eric still found time to be at odds with the French national set up and now actively supports England at international events as his adopted homeland.
Away from football, Cantona explored his passion for acting and has won acclaim in many roles, while also becoming somewhat of a legend in the sport of beach soccer.
Still typically outspoken, the King makes clear his everlasting affinity for the United fans who still sing his name, at almost every opportunity he has in interviews. His time at United was shorter than the likes of Ruud van Nistelrooy or even David May but his impact was as significant as, if not more than, any other player in the clubs' history. Cantona's arrival and influence was the vital ingredient in the clubs' victorious rebirth, an era which is still in existence more than 15 years on.
His relationship with the club and its supporters is something that the fans look for in every player – such was the bond between Cantona and the fans in the sense that United are the only club, that supporters cannot accept anything less than anyone who wears the red shirt.
It is perhaps this factor that has led so many fans to be reluctant to adore the current number seven, Cristiano Ronaldo, in the same way, though at the time of writing there is of course time for that to change.
So there you have it, a biographic review (that was intended to be in a nutshell) of our King Eric and no mention of trawlers or fishermen. D'oh..
Source: (Yolkie)