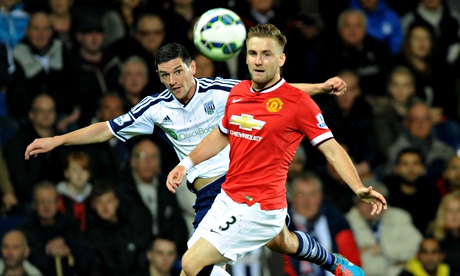 Luke Shaw had difficulties at the Hawthornes, but will surely improve as he regains fitness.
Manchester United salvaged a point at the Hawthorns with a late goal from Daley Blind. United had been behind twice in the match, following a superb strike from Stéphane Sessègnon in the first half. United pressed, with Angel Di Maria in fine form on the left flank – putting in some superb crosses, however went into the break 1-0 down.
Louis van Gaal brought on Marouane Fellaini, who made an immediate impact. The out of favour Belgian, who was linked with a move to Napoli in the summer, scored a superb equaliser and silenced a number of doubters with his exquisite strike. United were well on top for the first twenty minutes in the second half.
However, the in-form Saido Berahino latched onto a through ball following poor defensive play from United, and slotted a smart finish past the helpless David De Gea. The United manager brought on Radamel Falcao, who nearly had an immediate impact, cushioning a long ball for Robin van Persie who struck the post. But it was down to his fellow countryman, Daley Blind, to net a well-deserved equaliser.
Here we discuss the Talking Points from an entertaining draw, and as always we welcome comments from both sets of fans.
Marouane Fellaini scores a blinder
Fair play to him. The tall Belgian came off the bench to make an immediate impact with a superb strike. Marouane Fellaini has not had many great moments in a red shirt, but this was definitely his finest moment. Tainted by the last ditch attempt to bring someone to the club at the birth if the ill-fated David Moyes era, Fellaini has often appeared out of favour or off the pace in his thirteen months at Old Trafford.
But against West Brom he showed that he can play a bit and scored his first competitive goal for the club since that £27.5 million move from Everton. His first touch released Angel Di Maria down the left hand side and when he smashed home the equaliser, it looked as if United would take control of the fixture and grab all three points.
During half time, the WBA social media team decided to tweet the following regarding the Belgian's imminent substitution:
Fellaini has now taken his tracksuit off, fortunately he has a Man Utd strip on underneath #WBAMUN

— West Bromwich Albion (@WBAFCofficial) October 20, 2014
This, of course, was met with an equalising goal, by Fellaini, two minutes later. Anders Lindegaard decided to post the following after the game, defending his team mate:
Complete lack of knowledge, class and respect on Twitter from @WBAFCofficial on Fellaini!! #united #karma #keepbelieving

— Anders Lindegaard (@ALindegaard) October 20, 2014
Fellaini has come in for a lot of stick in his time at United. Against WBA, he put in a decent display and deserves praise for his performance. There are still questions marks over whether he has the class to be a permanent fixture in the United first team, but he definitely provides a different option for van Gaal, who will face a physical challenge in the form of Chelsea next Sunday.
Juan Mata didn't take his chance
Juan Mata is a very talented footballer and has a decent goal scoring record for the club since joining from Chelsea in January. With Wayne Rooney suspended and Louis van Gaal opting for a 4-3-3 formation instead of the 4-4-2 diamond, Mata had a superb opportunity to stamp his creative flair on the game.
Sadly, for United, he was far too anonymous throughout and his only sniff of a chance was a ballooned free kick, which was in a very dangerous area. He was too negative in his play, opting to play the ball backwards to sideways far too often, which was in stark contrast to United's best player Angel Di Maria, who was constantly looking to create something. Of course, a player should never force it – but a footballer with Mata's ability should be probing and looking to create chances.
In his Chelsea days, he was a thorn in United's side – scoring freekicks, volleys and creating chances (think of the glorious ball for Demba Ba in the 1-0 FA Cup defeat at Stamford Bridge) – but he simply doesn't look a player with confidence to be able to influence a game at the moment. Playing in a three man midfield gives him the option to bomb on a support the front man, but he was simply too quiet on a night that was made for him to have an impact. Radamel Falcao replaced him in the second half.
Di Maria's genius, poor defending and great WBA goal
Angel Di Maria is Manchester United's best player. He may have cost a fortune and is now the most expensive player of all time in Britain, but he is an absolute joy to watch. Versatile, he was operating wide left and put in a number of brilliant crosses, which the other United players failed to capitalise on.
The Argentine was a revelation at Real Madrid, especially in his final season, and United fans are lucky to now have one of Europe's finest players on show. He's a superb dribbler, blessed with great touch and a engine that gets him up and down the pitch with ease. United lost a spark when he went off through injury, which hopefully won't keep him out for the Chelsea game next Sunday. Fingers crossed.
Conclusion
Di Maria was of course unable to stop WBA scoring a second goal through Saido Berahino, who will surely be called up to the full England squad soon. Berahino capitalised on a poor defending from Rafael, who was too deep and not in line with the rest of the defense. Phil Jones had decided to close Sessègnon, and with United's high line, Marcos Rojo decided to play offside, not realising that the Brazilian was playing Berahino onside. A cool finish ensured that WBA scored two goals from their two shots on target.
Lastly, credit must go to Sessègnon for a wonderful opener that beat De Gea with ease. Andre Wisdom, on loan from Liverpool, burst down United's left hand side after Luke Shaw, how still does not look match fit, failed to win the ball on the halfway line. Wisdom played in a low cross to the Frenchman, who proceeded to curl the ball past the falling Rojo and into the net. A well-taken goal that reflected the opening ten minutes of the game.
Manchester United are in sixth position and are ten points off leaders Chelsea, who travel to Old Trafford on Sunday teatime.