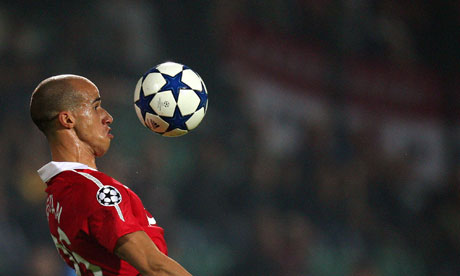 AUTHOR: – Doron
Gabriel Obertan has signed for Newcastle United on a five year deal for an undisclosed fee. He leaves after two full seasons at Man United having made 28 first team appearances.
Newcastle United have confirmed they have signed United's versatile French winger, Gabriel Obertan on a five year deal. The fee is undisclosed but said to be around £3m. Obertan joined United for a similar fee in the summer of 2009. His signing was considered to be low-risk due to the fee and obscurity of the deal. Obertan had previously been hyped up as one of Europe's hottest prospects but a back injury at Bordeaux had stunted his progress and ended with a poor loan at Lorient. French doctors had been unable to pin-point the cause of the problem and he failed to live up to early promise he'd shown as a 17 year old.
Upon signing for United, doctors quickly identified what his long-standing back problem had been and he spent his first few months at the club recovering from treatment. His first season saw him start only one league game and he made 13 appearances in total without scoring. He often showed promise off the bench as his pace, trickery and unpredictability caused tired defences to panic – most memorably away at Wolfsburg in the Champions League.
In the summer of 2010 he had an excellent pre-season showing maturity and confidence in his play but he picked up an ankle injury that meant he missed the beginning of the season. He made a few more league starts and played 15 times in total, scoring once away at Bursaspor in the Champions League. He scored his fair share of goals with the Reserves and regularly performed well at that level but his attitude to not getting first team minutes was often questioned as a rumoured January transfer request was handed in and he was spotted away at Wigan with headphones in, not watching the game – however he regularly gave his all playing for the Reserves and never moaned or complained publicly once. His issue is more a case of mental strength and self-belief than attitude.
This summer he had another good pre-season tour in America and this has lead to Newcastle signing him. He has told their club website:
"I spoke with some of my friends and Newcastle is a big club with history in England, so it's a great move. I'm just really happy to be here because this is still a big club for me. It wasn't really a difficult decision to come here. I spent two good years in Manchester but it was a bit difficult with the competition and I really needed a club where I could play more games. I know it won't be easy to play each game here, because there's a good group, but I want a fresh start in my football. Manchester United are one of the biggest clubs in the world but Newcastle is a massive club in England so I'm looking forward to making my debut in front of the fans I've heard so much about."
His new manager, Alan Pardew added:
"Gabriel is a player I've watched for the last couple of seasons since he arrived at Manchester United. He has great pace and excellent technique and he has improved his power in the last 12 months and is ready now to make a real impact in the Premier League. I contacted Sir Alex about him early at the start of the summer to see if there was an opportunity to bring him to Newcastle, but it wasn't until Wayne Routledge joined Swansea that we were able to bring him in. His best years are ahead of him which is exactly what we want at this club, and with the backing of our magnificent fans I'm sure he will prove an excellent signing for us."
Good luck to Gabriel, if he can learn how to use his physique well then Newcastle could have a good player on their hands.
AUTHOR: – Doron