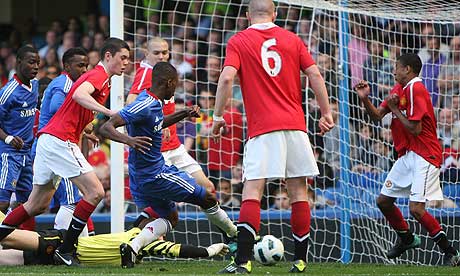 AUTHOR: – Herzog's Child
There is a naivety amongst football supporters that the entrusting of youth will ease all prolonged concerns. Particularly now, as United's midfield plunders on, an emphasis has been projected towards its young battalion, as those panicked by a middle blight lean aimlessly towards any semblance of hope. Cat-calls for the promotion of an impressive reserve have sounded regularly this season – a sad, if telling, tale of an issue too often presided over for the past two years. The truth, of course, is that United – as they did in the summer of '09 – again failed to address its most problematic liability in the summer of last: its midfield. The reasons why they bypassed resolving the crisis can be anybody's guess: lack of, ahem, 'value,' money, overall concern – take your pick. Or, indeed, perhaps they trusted that what they had was enough; which, despite our current position, has been somewhat disproved on too many occasions over the course of the campaign. There's no need to relay. Those who have regularly provoked sighs have done so again this year, and those who we've relied on heavily before – the Carricks, the Fletchers – have too often trundled along. Yet, lost in the noise of anger, misplaced notions of promoting youth have sounded louder than ever before – which has not only highlighted the crumbling effect of our central pairings, but also, too, the naivety with which some willingly view the game though. As with all football brouhahas, the greatest casualties are sense and perspective, as pained calls fervently echo.
On Sunday, as United's youth team fearlessly battled a rigorous Chelsea at Stamford Bridge, the stratosphere of Twitter – that all-engaging, somewhat perplexing platform – verged into a new, dislikeable juncture. Despite United's plundering first-half display, some, oddly, took it upon themselves to proffer early tags to United's readying charges. Paul Pogba, who, it should be noted, is a distinctly fine talent, was lauded as a 'beast,' someone who will alight United's future midfield with his 'Vieiraesque' physique and style. Which would have been a fine assertion, but for two reasons: he was, at the time, having no effect on the game, and he's only alike Vieira in the way I'm like Nemanja Vidic: we're both similarly tall and Caucasian. Also in the mix was Ryan Tunnicliffe – our 'new Roy Keane,' as a keen observer openly drooled in seriousness. Comparisons between the two are perfectly fine, of course – it's a steadfast summation and one with more than a sprinkling of merit, given Tunnicliffe's drive and combativeness – but such rushed tagging immerses a player in new, unneeded, and often unmerited, pressures. That they both performed triumphantly in the second half was beside the point; all the plaudits, the excited salivating and enrapture came in the first half; a period where United, who looked jaded and too often clumsy, had been little above mediocre.
As United's first team, as they had been threatening, eventually succumbed to increasing ineptitude, falling at first to Chelsea, and then – appallingly – at the enemy, the vulture caws aired again. Derision, in the form of requested demotions and replacing promotions from the youth set-up, came forth, with the all too popular names of Morrison, Tunnicliffe and Pogba receiving nominations. Gibson, of course, was the chief fall-guy, coupled with Michael Carrick, who is, only now, starting to show shadings of the player he once was. Even Magnus Eikrem, it was argued pre-Christmas, was a prime candidate to slip in and become part of a renewed United midfield. Within weeks he had returned home, to Molde and Ole. All requests, we know now, were ultimately futile, as could only have been expected given the enormity of the task laid out. Ferguson, for all his faults, is a keen orchestrator of youth; the unsettling rigor of a frenetic end of season clambering is a breakable period – he was never going to burden his prime talents with such penetrating labour, and rightly so, too. The midfield base is a beastly arena, as we've seen only too often in recent times. It is where the tackles crunch most viciously, where 50/50s are most often imperative, and, with its open spaces, acts as the most unforgiving of areas in its exposing of those who won't make it. Character, as so often seen in title-winning sides, is a chief necessity alongside quality. This season, coupled with last season's suffrage, we have slumped hard due to a lack of both. Our current positions on all 3 fronts are curiously surprising, given the scores of underwhelming performances over the course of the year. There is an efficiency to United now – a resilience that has ensured that whilst we've been particularly hard to defeat, we haven't, in our defeating of others, been as engrossing as previous United sides. 'Hey-ho,' many will retort – most, come May, will be sufficiently chuffed if trophies come a-flocking, and all will be well. It misses the point. United, after losing their grip-hold on the incredible Ronaldo, suffered the following season – not, particularly, as a result of his loss, but more so as a result of not gaining through the funds which his sale garnered. £80m, up-front, went largely unspent. It's a fee that should have heralded a new United – a United that, despite losing one of the world's finest talents, could have been made even stronger if they had invested the money in areas which were nakedly problematic. We didn't, and huffed and puffed as a result. Our 2nd placing, a near 1 point miss off top-spot, significantly skewed reality – we bobbled along then, as we have done many times this season; fortunately, Chelsea have worsened and Arsenal, as they're prone to doing, have stuttered, stumbled and encouraged us even more.
This summer, no matter what May concludes, needs to see a significant change in United's midfield set-up. Many, goes the common consensus, yearn for a modicum of quality and pace – a Modric, say, or, even, a Sneijder. Merited nominations, one concedes, but ultimately bound to the superfluous listings of previous requests. Boundaries lie in the way – cash-based, mostly, whilst greedy-chairmen, as they have every right to, enforce strategies aimed at milking every penny out of baying clubs. The other belief, as noted, is a little odder – bypassing a necessity to spend, instead entrusting those who are starring at youth level. It is, perhaps, a nostalgic return to the glory of 95/96, when a swathe left, and were replaced by those who 4 years later when onto become a significant part of the backbone that secured a historic treble. Beckham, the Nevilles, Scholes, Butt – along with the then already introduced Giggs – obliterated all previous misconceptions by alighting a new, resurgent United squad. Our current crop, however, are distinctly less developed than those who began then and who are still – in the case of Giggs & Scholes – influencing one of Europe's finest. Pogba, whose stature and technical ability is on his side, is a year behind Tunnicliffe and Morrison. At just 18, he continues to mature, strengthen and adapt to the harsh climates of British football. Tunnicliffe, perhaps, at this moment, the most finely-tuned to be thrown in, will be granted a loan spell next season, as his progression grows. Feisty and pumped by the right amount of attitude, he will, ala Fletcher's rise to the first-team, be rewarded for his tireless grafting. Yet it is the name of Ravel Morrison, the otherworldly gifted talent, who is most often touted as the next star. And, as showcased illimitably in his short career thus far, very rightly so, too. His promotion to the first team, however, needs to be meticulous in its evolution, given his somewhat perilous nature. Vulnerable cracks in the player have ensured that he will need to be nurtured into the side slowly. There will be no deep-end casting by United with Morrison, particularly because, as it stands, he is the most gifted and likely of the three to make it. His introduction will be a slow, gradual process – but he should, as past youngsters have, be supplied with early platforms with which to reveal his talent: F.A. and League Cup ties. With him, the ability, in terms of quality, is unquestionable. All that we're reliant upon is attitude.
Miracles, however, should not be expected. Not from them – not next season, anyway. As they continue to impress, and as they prepare to overcome Chelsea's slim lead in next week's return leg, it's becoming increasingly easy to get carried away. Under Old Trafford's bright glare, and before the screens of many, the future, it is hoped, will play out as we want it to. A final against Sheffield United awaits, as United's finest young crop since its propelling cast of 94 stride towards glory and dreams of first team opportunities. But the line between cruising along on auto-pilot and raising oneself to the most rewarding of all accomplishments is distinctly gargantuan. Many – David Jones, Febian Brandy, Sylvain Ebanks-Blake, Frazier Campbell, add a plethora of others – looked would-be stars and failed to ever make an impact on the grandest of all stages. Those there now have a finer chance, but past youth sides have shown that quality, in most instances, is only the half of it. Attitude and restraint, bottle and the ability to hold one's nerve is required just as much – all traits that cannot be fully judged in the lower-levels of youth football. Time will ultimately tell. Next season, as the trio reach closer to 19, should, by right, herald a scattering of squad outings. Tom Cleverley, who has racked up vital league experience with Wigan, impressed on pre-season duty stateside last summer. A return this year, with decent opportunities, is deserved after proving his quality throughout the season. Ditto Danny Welbeck, whose return will likely see the releasing of Michael Owen. Two players who've promised much, who've delivered elsewhere, and who will return with priceless experience. Though their futures at United are devoid of clarity, both have forged and deserve decent opportunities next season. Superior, on all levels, to the cumbersome – at times awful – Obertan and Bebe, both should be granted first-team squad berths; attuned to the league, they are now more than capable of serving as reliable outlets on which to call upon as the season progresses. Their time is here.
The proposition of cashing our chips in on a world-class talent this coming summer is as unlikely as a total entrusting of our youth to rid us of all inherent woes. The snaring of Jack Rodwell, it'd seem, is a likely conclusion, given the all too loud whispers. To spend £20m+ on someone who A) doesn't merit such a grossly absurd fee, and B) appears to be fashioned from balsa wood is an unwelcome proposition, for a number of reasons with merit: we already have bright prospects at our club, and we already have – as realised so cruelly in Hargreaves – squandered too large sums on too large risks to too little long-term effect. The midfield needs character – someone not prone losing oneself like our current crop so often do; someone unafraid of battlement; someone who'll ensure our midfield is not bullied. There needs to be quality, also – a drifter with the ball, who can offer a threat, who will supply. Mentioning names here is a futile, unneeded exercise; United's world-wide scouting troops are loaded with that task. If, as the term goes, value is the issue, it's up to United to source out those who go against the trend. It's a risky venture, of course, but, in the case of Smalling and Hernandez, one that presumably can be achieved to maximum effect if done correctly. Anderson and Gibson, in the scores of opportunities they've been granted, have failed to enliven any hope either will make it long-term. The latter's issue is his frequency in doing the basics incorrectly; too often we see skewed passes, horribly inaccurate shooting, and a tendency to drift out of games as games progress. He also needs to shift a stone, or seven. Gibson's lack of mobility, and character, will hamper his chances of a future at the club. Carrick and Fletcher are the only two who have shown a long-term iota of sustained quality, though both, to varying degrees, have slunk down into new lows this season. Carrick, to his credit, has appeared revitalised recently. Fletcher, for the time being, remains sidelined. The sustaining of both players' qualities needs to be ensured by surrounding them with quality.
Come what may, there are many fine things about United's current crop. Javier Hernandez continues to enamour all appreciative reds with his smiles and his goals. In Nani and Antonio Valencia, we have two of the finest wingers in Europe. The defence, Evra's blip aside, retains its solidity. Berbatov continues to baffle everyone but himself. Park's engine, the evergreen Giggs – along with fleeting masterful displays by Scholes – , and the renewed brilliance of Rooney have resurged a United that on numerous occasions appeared running on empty, puffing steam. It is, therefore, a nagging irritant that we haven't made things more comfortable for ourselves. Or, perhaps, that's just not the United way, as previous campaigns will testify. Elsewhere, the youth of tomorrow continue to prep themselves to carry the light. Whilst it's easy to float away on the giddiness of our current drive towards May's glory-days, it's imperative we do not con ourselves into the belief that it has been a breeze. All the above, dear reader, may sound like the inevitable sounding off of a much-trained doomlord, but I request your trust when I say that it's not. This season has seen many good things, yet a litany of blockades have crippled us along the way. That we have come this far, under such odd form, is a testament not only to the players who have fired us this way, but to the spirit of the club, also. If we can somehow reinforce our current set-up with proven quality, whilst at the same time placing enough leeway for those emerging through the reserves, we may, once again, be onto something great here. But it's vital, in the case of youth players, we retain patience. They will be good enough, but only in time. To drop them in now, and to expect miracles, would be more detrimental than beneficial to those we must engrain into the side slowly. To ease them in alongside a renewed, gutsy United midfield, and give them chances alongside proven quality, would be a warming sight. Their time will arrive shortly, no doubt. What the future will unearth is, as always with United, anyone's guess. Quality is needed. Pace, gutsiness, and qualities which harbour the United way of going about games is desired. The present and future will soon combine, and then, with hope, greatness will again prevail.
AUTHOR: – Herzog's Child