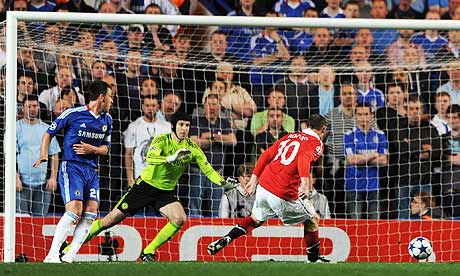 AUTHOR: – Stretford-end
Manchester United scored a vital away goal against Chelsea on Wednesday night to earn a 1-0 victory over the West Londoners. Wayne Rooney scored on the 24th minute, following a superb cross field ball from Michael Carrick and a excellent take and low cross from Ryan Giggs. It is United's first victory over Chelsea (excluding Community Shield) since the 3-0 win at Old Trafford in January 2009. Here we discuss the talking points of a great United away victory in Europe.
Talking Points
Impressive Michael Carrick
Some see him as the best cultured English midfielder for years, others continue to scratch their heads in amazement that our number 16 gets into the side in the first place. Having said that, I thought Michael Carrick was excellent tonight, breaking up play just in front of the backline and distributing the ball intelligently. Yes, Carrick has not found the back of the net this season for United but his patience on the ball and ability to switch play is an extremely useful asset in United's play.
His excellent cross field ball for Ryan Giggs, who still had a lot of work to do and plucked the ball out of the air with ease – cushioning it onto his legendary left foot, started the move that led to Rooney's tidy finish – as he passed the ball in to the back of the net. As mentioned he continuously broke up play in the midfield (See Total Football screenshot below), whilst was very tidy on the ball, only misplacing five passes (also in screenshot below):
Michael Carrick Passes
Michael Carrick Interceptions
Xavi once remarked that Michael Carrick is a 'complete player' and with a performance like this under his belt, there is no reason as to why he cannot dominate more games like this.
Crazy Chelsea Substitution
I am eager to find out as to why the menacing Didier Drogba was withdrawn rather than the ineffective and theatrical Fernando Torres? Could any Chelsea fans reading this Talking Points blog explain the reasoning behind the substitution? I was quite happy to see the back of Drogba who was starting to cause some trouble down the right hand side with Evra and who had looked much livelier than his Spanish counterpart throughout the match.
Drogba tested an der Sar in the first half, whilst offering options both short and in behind – with Torres looking distinctly average and losing confidence throughout the game. Is this another Shevchenko/Ballack case?
Previous Quarter Final Ties
The last time United won an away quarter final 1st leg was back in 2007/08 – with a 2-0 victory over Roma. United went onto beat Roma 3-0 on aggregate, although Di Rossi missed a golden opportunity when he struck his penalty high into the Stretford End, early in the second half. To my knowledge, United have never won a first legged away tie 1-0. The last five quarter final first leg ties that United have played in have ended as follows:
2009/10 – Lost – Bayern Munich (2-1) : Lost the tie 4-4 (AG)
2008/09 – Drew – Porto (2-2) : Won the tie 3-2
2007/08 – Won – Roma (2-0) Won the tie 3-0
2006/07 – Lost – Roma (2-1) Won the tie 9-2
2002/03 – Lost – Real Madrid (3-1) Lost the tie 6-5
So we've only won one of the last five Champions League quarter final ties, but overall have progressed through to the semi final three times. Four of those ties were away from home, with the exception being the 2-2 draw with Porto in 2009. These stats mean little, considering there is still a vast amount of work to be done in the second leg – however, United have a fantastic lead – backed up by an impressive performance – and history bodes well for the Reds.
Wayne Rooney
After a crazy couple of days debate around the country on whether he deserved a two match ban for his swearing in front of a television camera, Wayne Rooney done his talking with his feet as he scored the only goal of the game. His neat finish indicates even more that United's tailisman is returning to top form, right smack bang in the middle of squeaky bum season. Sir Alex Ferguson spoke after them match of the importance of Wayne Rooney at this time and how he could well be the difference between nothing and silverware this term:
"He's now been more regular with his goalscoring which, in the last part of the season, is going to be important to us. That was important. We were pleased with that performance. Work-rate, desire, he was top quality [against Chelsea]. He took a great lot of abuse and late tackles on him, but he was excellent."
Rio returns
It was the 1st of February that Rio last played for United. The fear was that his season was well and truly over. However, after a couple of weeks of training he returned to partner Vidic in the heart of the United defence. Whilst in many ways he hasn't been overly missed as Smalling has risen superbly to the challenge of stepping-in, there was an air of authority and calmness that returned. It's Rio's ability to read the game that is somewhat irreplaceable – there were a few occasions where he was just perfectly positioned to get rid of the ball or win a tackle or make an interception.
Rio may be older and may be a bit slower but there is little doubt that he has quality about his game as well as experience. Speaking to ITV post-match, Rio declared himself fit for the run-in; a massive boost for the club with some important games coming up. The question now is whether he'll need to be managed for the next couple of games so there is no reaction to his injury – don't be surprised to see him miss out on a start vs. Fulham on Saturday. Vidic was full of praise post-match for Rio, speaking to MUTV he said:
"Rio had a great game. It's very important in these matches to have experience in the team and we definitely had it tonight – the fact we kept a clean sheet showed we did some good things defensively."
Match Conclusion
Although Chelsea hit the woodwork and saw a Frank Lampard effort cleared off the line, United were worthy winners and defended comfortably for large periods of the game. The goal was top quality, with Wayne Rooney netting his thirteenth of the season (in all competitions). Edwin van der Sar was against magnificent in terms of shot stopping and positioning, although his distribution wasn't up to its usual standard.
Michael Carrick and Ryan Giggs provided the creativity in midfield, whilst also breaking up play deep in United's half before distributing to the flanks for Antonio Valencia and Ji Sung Park to chase onto. Valencia's return is a massive boost to United, especially as he showed how versatile a player he can be, putting in an excellent shift at right back in the absence of Rafael, who was substituted for Nani after a clash with Drogba. Chelsea couldn't break United down and although there were a number of shouts at the end of the game for a penalty, following an Evra challenge on Ramires, I don't think many Chelsea fans can argue with the scoreline.
United host Fulham on Saturday, before welcoming Chelsea to Old Trafford on Tuesday evening.