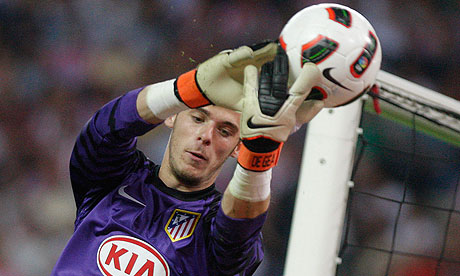 AUTHOR: – Doron
Despite the wishes of many Man United fans, Edwin van der Sar is retiring this summer and the club are looking to replace him. There have been many rumours about who this could be but the biggest indication of who Edwin's replacement might be is in The Times today…
James Ducker has written in The Times that Manchester United have had a bid of £17.5m turned down by Atletico Madrid for goalkeeper, David de Gea. Despite being only 20, de Gea has played 74 times for Atletico's first team and has been in the full Spanish squad. United have been linked with him for some time now and recently the Spanish media have reported that a deal is close.
Without any extra pressure heaped on the new goalkeeper's arrival, de Gea has long been compared to current United keeper, van der Sar. De Gea, who is 6ft 3in is still growing and Ducker reveals that Fergie believes he has the qualities to be a top keeper for United. According to Ducker, Eric Steele (United's goalkeeping coach) is taking Spanish lessons to help de Gea settle in.
In truth, de Gea has had a mixed season for Atletico but he has had a poor defence in front of him and as Graham Hunter recently wrote, he has saved them many times this season. If de Gea is a new name to you or you don't know much about him, I highly recommend Hunter's article which you can read here.
Personally, de Gea is the goalkeeper I'd like to see us sign. Despite his age, I've regularly been impressed with him and he stood out even aged 16. Failing de Gea, my next choice would be Manuel Neuer. Who would you like to see take over from Edwin and why?
AUTHOR: – Doron