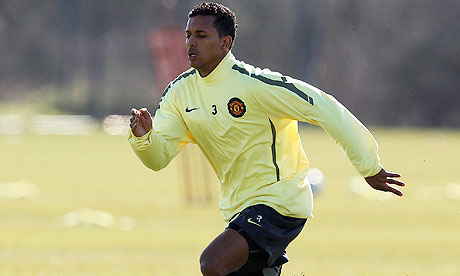 AUTHOR: – Doron
The break from league football continues for United as they host Marseille in the second leg of the first knock-out round of the Champions League. The formula for United is simple, win and they're through, only a scoreless draw would take it to penalties. After a morale boosting win on Saturday, spirits are high and with players returning from injury United
After a 0-0 draw in the first leg, United host Marseille needing a win to guarantee progression into the quarter finals. A score draw will see Marseille triumph just like Monaco did in 1997/98. United's record at home to French teams in the European Cup is very good with six won out of eight and two drawn (in all European ties it's P11 W7 D4 L0). Against Marseille specifically, the one meeting the two sides have had at Old Trafford was won 2-1 back in September 1999 with goals from Cole and Scholes – it was United's first Champions League home win since lifting the trophy in Barcelona.
Marseille, managed by former French international and Chelsea player, Didier Deschamps are still are going well in the league. Since meeting them a few weeks ago, they have dropped to fourth but only on goal difference and remain only 4 points off top of the table side, Lille. Their away form has been good – no team has picked up more points on the road (P14 W6 D5 L3) and whilst they are the third top scorers (19 goals), no team has conceded fewer (12 goals). Since last playing them, Marseille have played three league games and won two – their most recent result being a 2-0 win away at 2nd placed Rennes on Friday night with goals from Remy and Lucho. They suffered their first league defeat of 2011 with a loss at home to Lille nearly 10 days ago.
In Europe this season, as mentioned previously, Marseille qualified 2nd in their group behind Chelsea, winning 4 of their games and losing 2. Away from home they won two of their three group games, initially losing 2-0 at Chelsea before winning 7-0 at MSK Zilina and 3-0 at Spartak Moscow. Marseille's excellent league defence has stretched into Europe this season as they've only conceded 3 goals in their 7 games (and scored 12).
Marseille have the luxury of a fully fit squad. Only Bradao is missing as he is in Brazil and under investigation in an alleged rape case. Deschamps chose to use Kabore and star man, Valbuena from the bench on Friday night and both are expected to start tomorrow. Valbuena, a tricky, fast playmaker only came off the bench in the first leg after a month out. He has been heavily linked to United this season.
Expect Marseille to line up in their usual formation of 4-5-1/4-3-3. Last time we picked out Lucho, Kabore and Ayew. This time we'll very briefly describe Gignac, Heinze and first, Mbia. Stéphane Mbia is a central midfielder come centre back. He's quick, strong, aggressive player who has been linked with Arsenal in the past. Such was his reputation that aged just 23 he moved from Rennes to Marseille for over £10m. André-Pierre Gignac is a 25 year old French striker. He moved to Marseille from Toulouse where he shot to prominence in 2008/09 scoring 24 league goals – the most in the league. Despite only scoring 8 league goals a year later he moved to Marseille last summer for a fee in the region of £13m. His form has been far from breathtaking this year – he's returned only three league goals in 17 games but has done better in Europe with three in four.
Finally, should he play, much of the attention will no doubt be on Gabby Heinze who left United in the summer of 2007 in ugly circumstances. He quickly became a fan favourite due to his no nonsense style but as soon as he and his agent tried to engineer a move to Liverpool the love was lost. In the build-up to the first leg, Heinze said he regrets leaving United and how he left United. Aged nearly 33 now, Heinze has been a bit-part player in the league but has featured in 5 of the 7 Champions League games. It will be interesting to see what kind of response he'll get at Old Trafford.
Enough on Marseille…onto United and my predicted line up:
Having played a 4-5-1 in the first leg and drawn 0-0 I think United need to play on the front-foot and go with a 4-4-2. Whilst Marseille know an away goal would spice the tie up and give them a real chance, they won't be playing attacking football – rather they'll try to counter attack United. On the injury front, there is better news – Carrick and Nani have been declared fit whilst Valencia played 45 minutes on Saturday. Vidic didn't train ahead of the tie but is expected to play. Ferdinand, Anderson, Park, Owen, Evans, Fletcher and of course Hargreaves are all at different stages of returning to the side. Lindegaard too is likely to be unavailable with a minor muscle strain.
Edwin should play in goal barring any last minute injury and should have Smalling, Vidic and Evra in front of him. I've picked Rafael ahead of O'Shea for the right back spot – I feel he offers more going forward and was subbed off early on Saturday whilst O'Shea played the full 90 minutes.
My midfield four is of course up for much debate. I've picked Valencia to start on the right purely because he's been training longer than Nani. I think there is more risk associated with starting Nani and if need be, he can always come off the bench – although the same can be said of Valencia too. In short, neither are really ready to start the game but I've gone for the one whose been training longer. On the other wing I think Giggs will start. In the middle, Scholes will almost certainly start. He has a domestic ban coming up so there is little need to preserve him for future games right now. I feel he'll be partnered by Carrick purely because he's experienced. Other options include Gibson and O'Shea. Gibson may actually be a sensible inclusion; in recent games he's played he's made very sensible forward runs, something a pairing of Carrick and Scholes may not offer. One other thing to consider is the Da Silvas – either could again play wide after impressing against Arsenal if Nani or Valencia aren't deemed fit enough to start.
I think Berbatov will return to the starting XI alongside Rooney who played with real passion against Arsenal. Once again this would be so harsh on Chicharito who recently has looked our most dangerous striker and against Arsenal was superb.
United are still clinging on to first place in the league but have suffered two more defeats since last playing Marseille. The club's home form has been simply immaculate in the league this season with 13 games won from 14 and none lost. The 9 goals conceded and 39 scored represent the best records in the league. At home in the Champions League though only two goals have been scored in the three games and only one conceded. Two of those games were drawn and surprisingly it was United's away form that took them through the group stages. What is impressive is that in the 7 European games played so far, only one goal has been let in (home to Valencia) – the best defence in the competition.
This season is United's 22 in Europe's top competition. 16 of those times United have got past this first knockout stage and incredibly on 11 occasions United have made it to at least the semi-final stage. Compared to Marseille, United's experience at this stage of the competition, particularly under Ferguson, is invaluable. Marseille have only ever one on English soil once, at Anfield in 2007. Finally, United have scored 7 goals in the competition so far, each one scored by a different player.
I think the result against Arsenal will have lifted spirits at the club and there seems to be a new air of confidence brewing. The home record is just so strong that it's hard to look past a win. With players starting to return from injury, particularly out wide, I think United can beat a stubborn Marseille side and progress through to the quarter finals. With that in mind, I'm going to predict a 3-1 win.
You can share with us your thoughts ahead of the match and your favourite Champions League matches against French opposition or knock-out moments on the forum.
AUTHOR: – Doron