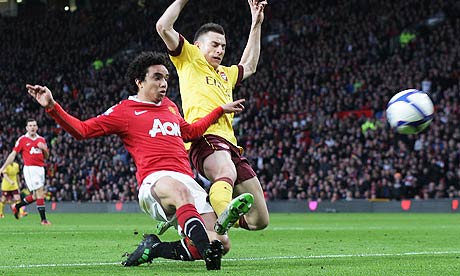 Manchester United booked their place in the last four after a 2-0 victory over Arsenal at Old Trafford. Brazilian full back, who was operating on the left hand side of midfield, scored the opener midway through the first half before Wayne Rooney scored a header early in the second half. Both Arsenal and United had good chances throughout the match – however Edwin Van Der Sar put in a great performance to deny Arsenal time and time again. Many Reds are hoping that Sir Alex Ferguson can convince the Dutchman to change his mind on retirement and sign for another year. Here we discuss the talking points of today's game and welcome and comments from both United and Arsenal fans.
Talking Points
Team Selection
With the exception of Alex Song and Cesc Fabregas – the outfield ten looked pretty much the strongest side Arsenal could pick, whilst United fans were left scratching their heads when it was announced that Rafael, O'Shea, Gibson and Fabio would make up a four man midfield. If starting O'Shea, who hasn't played in the centre of midfield since the 2-1 victory over Wolves, in midfield along side an under fire Gibson wasn't enough – then the thought of two fullbacks pushed on into wide left and right areas maybe didn't fill me with great confidence to be honest. However, all four put in decent performance to combat Arsenal's passing style through the middle of the park.
United's first goal was made in Brazil, as Rafael and Fabio exchanged passes on the edge of the Arsenal box before a Hernandez header was parried into the path of the onrushing Fabio who smashed the ball into the top of the net. Fabio's first goal for United only came last month in the 4-0 victory of Wigan Athletic and brother Rafael's first goal for the club was against Arsenal in the 2-1 defeat back in 2008 at the Emirates. Fabio was withdrawn at halftime, and I have spoken before about a little concern that Fabio hasn't completed the majority of games he has featured in for the first team.
The shape of United changed in the second half due to the introduction of Antonio Valencia – who has been out of action since September last year – as Ferguson shifted to a 4-3-3 with Rooney operating on the left hand side, Hernandez through the middle and Valencia on the right. United's central trio was changed from O'Shea, Rafael and Gibson to Giggs, Scholes and Gibson – with O'Shea dropping back into defense. The team selection was an eyebrow raiser at first but looking ahead to Marseille, Ferguson made the correct move to rest players that will be involved and demonstrate that he believes he has a squad capable of challenging on multiple fronts.
Edwin Van Der Sar, Wayne Rooney & Jack Wilshere
We are massive supporters of Edwin Van Der Sar at www.stretford-end.com, and his retirement at the end of the season is a massive blow to United who will have to try and find a replacement for one of the best goalkeepers ever at the club. Against Arsenal he demonstrated he still has superb reflexes, distribution and is an still an assured shot stopper. Chants of 'one more year' and 'Fergie sign him up' rang around Old Trafford in the hope that Sir Alex Ferguson may be able to change his mind. Marouane Chamakh should have beaten him from a header, however Van Der Sar got across to his right to stop, what turned out to be, a tame effort from the Arsenal substitute. A superb performance from United's number 1 and a reminder that he still has so much to offer at the top level,
Wayne Rooney's has at an awful season in comparison to previous years – however, I must say that he was excellent against Arsenal. Rooney got on the score sheet early in the second half with a header to the far post that spun off the surface. His distribution, vision, selfless running and tracking back on the left hand side was exceptional. Glenn Hoddle or David Beckham would have been extremely proud with some of his cross field passes from left to right to find Valencia, whilst his deft touches and through balls were a constant worry for Djourou and Koscielny. Hopefully Rooney can find some consistency and hit top form as we approach the business end of the season.
Lastly, I was again very impressed with Arsenal's youngster Jack Wilshere – who must surely win the PFA Young Player of the year award. Although some his Twitter ramblings (as with many players that sign up to the social networking site) may appear somewhat juvenile at times, his talent and style of play resembles that of a player who has played first team football for many years. What I like about the lad is his acceleration to get away from his marker into space once he has played the pass. These driving runs from midfield draw players into him, which allows him to dribble or pass to a team mate. If Fabregas does leave in the summer for Catalonia, I doubt Arsenal fans will be as concerned as they were last year after the impressive emergence of Wilshere.
Valencia back & Smalling impressive again
What a great sight it is to see Antonio Valencia galloping again down the right hand side of the pitch. The Ecuadorian winger suffered a horrendous leg break in September in the 0-0 draw with Rangers but made his comeback at half time against Arsenal. Valencia had an impressive debut season at Old Trafford, hitting the back of the net six times and accumulating twelve assists. He was expected to be a big player in United's season – however, progress was halted due to his injury. Stretty Rant blogger Bricki wrote an informative piece on Valencia being United's ace in the pack for the season – sooner rather than later, we are going to find out.
Chris Smalling continues to impress with his reading of the game, anticipation and composure – which were all on show against Arsenal. His ability to step into midfield and provide a counter attacking option is a signal that the boy is growing in confidence and can provide a useful counter attacking option when required. He was very unlucky (although I thought it was a penalty) against Chelsea two weeks ago with the challenge on Zhirkov, but he will learn from the experience and although I have no doubt that Ferdinand will partner Vidic if fit this season – next term may be a different story.
Match Conclusion
Manchester United were worthy 2-0 winners despite Arsenal having more chances. Edwin Van Der Sar put in a good performance, although United's tactic of sitting deep and restricting Arsenal to wide areas worked yet again for Ferguson. Fabio's opener highlighted the Brazilian's urge to get forward and showed good anticipation to follow up on Hernandez's header. Rooney's header skimmed off the Old Trafford turf to slide into the far corner, with Almunia scarpering on the floor.
Ferguson's decision to go with a makeshift midfield in preparation for the Champions League tie with Marseille worked a treat – with the versatile twins impressing. Arsenal now only have the Premier League to concentrate on, after being eliminated from two cups in a week – something that could bode well for the North London club when the games start to come thick and fast for United. I wouldn't swap our position for Arsenal's at all – however, I remember in 2007 when United simply 'ran out of steam' and were eliminated from the Champions League by Milan and lost to Chelsea 1-0 in a dire FA Cup final. The games do stack up but hopefully with Valencia's return, Hernandez's continued form and players eager to prove their worth – we won't have a repeat of the rainy night in the San Siro.
United's next match is at home to Marseille on Tuesday.