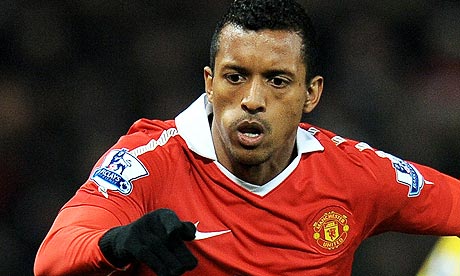 AUTHOR – Stretford-End
Nani, or to give him his full title of Luís Carlos Almeida da Cunha, has become an intricate part of United's attack over the past eighteen months and continues to go from strength to strength as we move towards the 'squeaky bum' period.
To date, Nani has scored nine goals in 23 Premier League appearances (goals per game ratio of 39%) and a single goal in six Champions League appearances (goals per game ratio of 17%). Although his goals have been of vital importance for United, its his creating of chances that has stood out this season. Nani can be unplayable at times, either going on the outside of the left back or cutting in from the right and striking with his left foot.
I want to start doing some in depth reviews and analysis of United players and I thought that I would start with our influential Portuguese starlet.
Luis Nani
Season stats 2010/11
Any regular readers of the blog will know that I grew frustrated at Nani's progress since his impressive debut season in 2007/08. We were linked with Angel Di Maria, then at Benfica, and reports stated that Nani was to be used in a bid to land the Argentinian forward.
At the time, I thought it would have been a good piece of business, considering that an interview in late 2009 stated that Nani was critical of Ferguson's management style (albeit lost in translation) – it looked like his time was up at Old Trafford.
Nani's turnaround in 2010 was exceptional. January 2010 saw a run of two impressive home performances, against Burnley and Hull City, where he setup Wayne Rooney three times in a four goal rout:
Nani assists vs. Hull City last season
From then on in he never looked back, playing superbly on the right hand side to give Gael Clichy a torrid time in the 3-1 victory over Arsenal at the Emirates before playing a blinder in the 3-2 victory over Bayern Munich, which unfortunately wasn't enough for United to qualify. Nani's goals per game ratio is improving every season, which is highlighted in the table below:
Nani goals per game ratio over seasons
Nani's goals 2010/11
So far this season, when Nani has scored United have won 35% of games where Nani has played (27% overall of United games). What is interesting is that Nani's goals have come against ten different teams, with Dimitar Berbatov finding the net against eight different teams and Wayne Rooney six.
This highlights how he is spreading his goal tally across the course of the season against different teams. He is yet to score more than a single goal in a game, whilst Wayne Rooney scored two against Aston Villa and Dimitar Berbatov has notched hattricks against Liverpool, Blackburn Rovers and Birmingham City – whilst scoring a brace against Blackpool and Sunderland. I've put together the following tables comparing Nani, Rooney and Berbatov so far this season.
The first column highlights the amount of games accumulated for either a win, draw, loss each time the player scored in a fixture this season (all competitions excluding charity shield). I've also included the amount of 'winners' the player has scored along with the different opponents (opp) the player has scored against. An example is that Manchester United have won seven games that Nani has scored in, which works out at a 35% goals per appearance ratio in the games United have won:
Nani goal statistics 10/11
Berbatov goal statistics 10/11
Rooney goal statistics 10/11
So based up on these stats, Nani is equally as important as Berbatov this season – as United have won 7 games when either player has scored. Wayne Rooney has a better goal per appearance percentage, however I wouldn't consider that an indication of Rooney being more important to the team than Nani (or Berbatov for that matter) this season. Interesting to note that Berbatov has only scored one 'winner' – against Liverpool earlier in the season. Interesting to note that Hernandez has 'six' winners to his name (all competitions).
There was some debate as to what counts as a 'winner', so I've decided to state that it is when a player scores a goal to make the difference between the sides – although there has to be a notable hat tip for Berbatov's brace against Sunderland at Old Trafford this season and of course he has been unplayable in some fixtures this season. Nani and Berbatov are more successful at converting chances at Old Trafford than away from home, with 80% of Nani's strikes (and 79% of Berbatov's) coming at home:
Nani, Berbatov & Rooney's goals home and away breakdown
Nani's Assists 2010/11
Nani has already surpassed his assists tally from last season (excluding Charity Shield again) as highlighted in the extract from out statistics below:
Nani assists 2010/11
What is interesting is to review the breakdown of these assists and where Nani is most dangerous from:
Nani assists breakdown 10/11
This table clearly highlights the strength of Nani on the right hand side of the pitch, with seven assists coming from right sided crosses. The only two assist that have come from the left hand side are crosses against Aston Villa (for Vidic to score) and on Saturday (for Hernandez to tuck away). He has setup Michael Owen against Bolton from a deep freekick and has also notched an assist from a corner against Fulham for United's only own goal of the season. Nani's delivery from freekicks and wide areas has improved greatly over the last few seasons.
Nani's responsibility and discipline
My biggest problem with Nani in the early days was his decision making, which I thought slowed many a United attack down – despite the fact that he has blistering pace that would leave any fullback for dead. He would often slow right down before attempting to take on a defender, usually operating on the left hand side and checking back onto his right foot. His best performances for United have come on the right hand side, which have been more prominent this season due to Antonio Valencia's injury against Rangers.
Now there are many variables tha you need to take into consideration when assessing the progress of a player throughout the seasons. If they are a deep lying playmaker, you may look at their pass completion rate compared to the season before or maybe you would assess a young goalkeepers distribution prior to a counter attack. The example below highlights how Nani has improved his discipline in the three and half seasons he has been at the club.
The first diagram highlights his pass completion rate against Tottenham Hotspur in 2007/08 (the day he scored his first goal for United – a screamer at the Stretford End) and the second highlights his more disciplined display against Spurs this season:
Nani passes vs. Spurs 2007/08
Nani passes vs. Spurs 2010/11
Of course you do not want to restrict a talent like Nani and operate with a rigid shape, however this example demonstrates that when he needs to be disciplined when facing an attacking outlet he can deliver (whilst notching up a goal and assist in the process). He is of course at his best when he is free to roam as an attacking threat – much like Ronaldo was. Of course there has always been unfair comparisons with Ronaldo, and although I do not think Nani is in the same class, nor ever will be, as his countryman – he is clearly one of our best players over the past year and statistics do not lie.
Both Sir Alex Ferguson and UEFA's Andy Roxburgh have spoken about forwards that start out wide and cut inside at pace. Cristiano Ronaldo and Lionel Messi are the obvious two standout that have this ability – whilst both can operate through the centre . Nani can also be placed into the same category of a forward player that is extremely dangerous when cutting inside from the right hand side and getting onto this left foot. He scored goals against Birmingham City, Bursaspor and Stoke City this season by doing this.
Nani's player of the season?
We can sometimes go overboard on statistics, facts and numbers, which of course are a plenty in this post. However, not to sound pretentious – but football is an art that sometimes can't be captured in a database of statistics. Nani is a modern day forward, who can operate on both flanks (we will see how much time he spends on the left when Valencia returns to the fold) and is at his most dangerous when cutting inside from the right hand side, which of course leaves vacant space for Rafael to gallop into. He has worked on his physique and there are even suggestions that we could see Nani as a more central player in the future (check the blog in a few weeks on this).
If I were to vote for the player of the season so far, I would opt for Nani – just ahead of Vidic and Berbatov. His turnaround is quite remarkable and should now be considered one of the most dangerous wide men in the league. He tops the Premier League's assists chart and is United's third top goalscorer with ten goals. His inclusion against Chelsea tonight and Liverpool on Sunday are crucial and it will be very interesting to see his match up with Ashley Cole, who was given a torrid time by Antonio Valencia last season. Valencia is lightening quick, but doesn't have the trickery of Nani. Again, lets see if Mikel is quick to move across to help Cole out with Nani cutting in onto his left foot. There is a type of footballer that is 'free moving' and 'artistic' – which is commonly known as 'A Creole footballer'. A term that could well be used to describe Nani.
Luis Nani – I thought he was goner in December 2009, i'm very, very glad that I couldn't have been more wrong.
ord