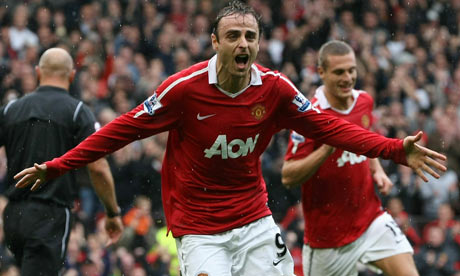 The Manchester Evening News is reporting that Dimitar Berbatov will be awarded a new contract by Manchester United. The Bulgarian struggled to settle in at Old Trafford during his first two seasons, but this campaign has seen him become one of the squad's key players. Berbatov's contract expires at the end of next season, and reports suggest his new deal will be a three-year extension worth £120,000 per week.
Berbatov is currently the Premier League's leading scorer with 14 goals, which is already an improvement from his 12 goals last season. Prior to this season, some believed Berbatov had failed to live up to his £30.75m transfer fee. His talent was unquestionable and he was capable of producing moments of sheer brilliance, but some felt he didn't carry his weight in goals. That no longer seems to be the case, as he has shouldered the goalscoring burden during Wayne Rooney's drought.
Perhaps the only concern is that his goals have not been spread out over more games. Eight of his 12 goals have come in only two matches; three against Liverpool and five against Blackburn. His consistency in front of goal has been questioned. There was a two-month goal drought between his hat trick against Liverpool and his five-goal performance against Blackburn, a point which Doron made in November. Regardless, it seems the striker has done enough this season to earn an extension.
Berbatov's loyalty to the club has been admirable as well. Before arriving at Old Trafford, he made it clear that United was the only club he was interested in and famously turned down a move to Manchester City. He has since gone on record that he hopes to end his career at Old Trafford and has even suggested that he'd rather retire than quit United. If reports of a three-year extension are true, Berbatov may well get his wish as that would take him to the age of 33.
As a fan of Berbatov from his Tottenham days, this comes as exciting news for me. I've always thought him to be a brilliant player, and I was glued to the television on deadline day in September 2008 hoping United would sign him. While there is no doubt he can be frustrating at times, he has always been one of my favourites. His assist to Cristiano Ronaldo against West Ham is easily one of my most watched football clips on YouTube. Some may disagree, but I firmly believe that extending Berbatov's contract is a good move by United. The duo of Berbatov and Rooney is finally starting to blossom into a lethal attacking partnership, and it is ideal to keep that partnership in place for the sake of chemistry.
—————
Follow Kyle on Twitter at KDill_MUFC
Stretty Rant is featured daily on False10.com