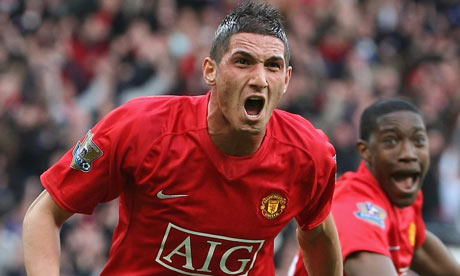 According to Sky Sports, Sampdoria has confirmed that Kiko Macheda will join them on-loan for the remainder of the season. There has been no confirmation from Manchester United at this time.
DEVELOPING STORY. WILL BE UPDATED.
Ahead of the winter transfer window, Sir Alex Ferguson made it clear that he would consider loan moves for Macheda. The striker's agent suggested that such a loan move would likely be to Italy, and even went as far as to claim the deal may include an option to buy. Though nothing has been confirmed, it does not seem that an option to buy was included in the loan agreement with Sampdoria.
I am admittedly torn on how I feel about this move. Macheda would certainly benefit from playing on a regular basis, which he has not done at United. With Antonio Cassano's departure from Sampdoria, there is a void to be filled which would allow Macheda to play on a regular basis. Fellow striker Danny Welbeck has thrived playing regularly on loan at Sunderland, and Sir Alex is likely hoping the same will happen for Macheda.
At the same time, the loss of Macheda does not allow for any major injuries to our striker. Michael Owen has returned to fitness, but he is prone to injury and thus a liability. Should Wayne Rooney, Dimitar Berbatov, or Javier Hernandez suffer a bad injury then problems could develop due to the lack of depth. Should that happen, Sir Alex has suggested that Bébé and Gabriel Obertan are both capable of playing as makeshift striker.
I do worry that if he goes home to Italy, he may want to stay. Although there has been no sign of homesickness, it is still something of a concern. However, Sir Alex has always maintained that Macheda is in his plans for the future, so I wouldn't expect him to allow a permanent deal.
Ultimately, this seems to be good move for Macheda. He will get invaluable experience playing regularly for Sampdoria that he wouldn't get at this time with United. I look for him to return to Old Trafford a better and more experience player.
—————
Follow Kyle on Twitter at KDill_MUFC
Stretty Rant is featured every day on False10.com