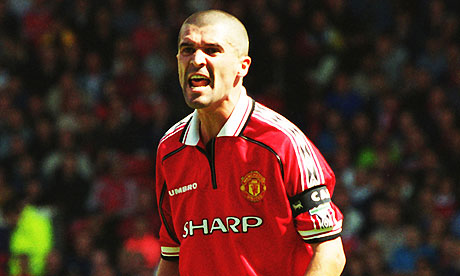 The Stretford-End XI switches it's attention to midfield today, but it's still not too late to vote for the goalkeeper and defenders. We will be accepting votes for all positions until 00:00GMT on 24 December. The first midfield position we will be voting for is centre midfield. Like the centre backs poll, there will be two votes per person and the top two candidates will be included in the Stretford-End XI. The choices for centre midfield are Duncan Edwards, Sir Bobby Charlton, Paddy Crerand, Bryan Robson, Roy Keane, and Paul Scholes.

Duncan Edwards
He may have become the greatest player the game has ever seen, but sadly we'll never know. At the age of 21, Edwards died as a result of the Munich air disaster. Though he me a tragic fate at such a young age, Edwards had already made 175 appearances for the club showing the immense potential he had. Tommy Docherty once said "there is no doubt in my mind that Duncan would have become the greatest player ever. Not just in British football, with United and England, but the best in the world."
Sir Bobby Charlton
Second only to Ryan Giggs in appearances for the club, Sir Bobby Charlton remains an icon for the club to this day. After rising through the ranks as a schoolboy with Manchester United, Charlton went on to make 758 appearances for the club. He remains United's all-time top scorer with 249 goals. Charlton was a survivor of the Munich air disaster and played a crucial role in the club's rebuilding under Sir Matt Busby. He went on to win the World Cup with England in 1966 and was a member of the United squad that lifted the European Cup in 1968. He is also one of only four United players to be named European Player of the Year. Charlton still maintains close ties with the club and has served on the board of directors since 1984.
Paddy Crerand
Never has someone seen the world through red-tinted glasses more so than Paddy Crerand. As part of the 1968 European Cup-winning team, Crerand played a massive role in the club's history. Though he was never the star of the team, his tireless contribution made him a valuable member of the squad. Crerand now works as a pundit for MUTV where his Manchester United-bias is always on display to the delight of fans.
Bryan Robson
Nicknamed "Captain Marvel" by the fans, Bryan Robson was the longest-serving captain in Manchester United's history. United broke the British transfer record when they signed Robson for £1.5 million in 1981, and he made 461 appearances for the club before leaving in 1994. In 1990, he became the first United captain to win the FA Cup on three occasions. It wasn't until 1993 that Robson won his first league title with the club, and in the following season he tasted league success once again before leaving the club. Robson now works for the club as a global ambassador and is the manager of the Thailand national team.
Roy Keane
There may never have been a more dominating force in midfield than Roy Keane. Another record signing for the club, Keane spent 12 successful seasons at Old Trafford making 480 appearances. In 1997, he was named United's captain, a title which he maintained until his departure for Celtic in 2005. His intense competitive and passionate attitude made him a fan favourite at Old Trafford. Perhaps Keane's best performance in a United shirt was the 1999 Champions League semi-final second leg. Trailing by two against Juventus, Keane was inspirational as he led United to a 3-2 victory and a spot in the final. Keane moved into management following his retirement, leading Sunderland to promotion in 2007. He is the current manager of Ipswich Town.
Paul Scholes
For nearly two decades Paul Scholes has been a fixture in the Manchester United midfield. He has made 649 appearances for the club, which is fourth all time. Scholes was one of Fergie's Fledglings and is a rare breed of one-club men. He is arguably one of the best passers ever, and his passing is still capable of unlocking any defence. Scholes is also a capable goalscorer known for his outside-the-box scorchers, though his goals have decreased in recent seasons. Perhaps the only criticism to his game is poorly timed tackles. At the age of 36, Scholes continues to perform at the highest level. His honours include an incredible nine Premier League titles, three FA Cup titles, and two Champions League titles.
—————
Follow Kyle on Twitter at KDill_MUFC