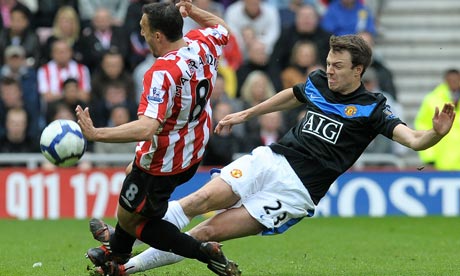 Monday morning's stories are mainly centred around the current Man United squad and who will or won't stay. Former player Ryan Shawcross is linked with a return too.
Jonny Evans in line of fire as Fergie prepares Old Trafford axe – Manchester Evening News
Jonny Evans is set to be axed by Sir Alex Ferguson following a series of poor performances. Evans had a great start to his career at United following a successful loan spell at Sunderland. Until recently he'd yet to have any kind of dip in form – how he picks himself up from this slump will count for a lot. The Manchester Evening News are the latest paper to confirm the Stretford-End.com exclusive from last week – Ferguson will have big money to spend in January and/or in the summer. The same story suggests Ferguson has failed to be impressed by Obertan's recent form too, but Darren Fletcher insists the young players will learn from their errors and return stronger.
Owen Hargreaves prepares for exit – The Metro
Owen Hargreaves may leave Man United this summer when his contract expires. The club are yet to offer him a new deal with uncertainty still looming over his future. Hargreaves was a surprise starter against Wolves in November but picked up a hamstring injury within the first five minutes. The signs are that his knee may actually be ok but to recover from a knee injury in total confidence is hard and like he's already experienced, it's easy to pick up other injuries with so much focus on the knee. United fans will rue any further set backs to Hargreaves – his popularity is unquestionable amongst the fans, such was his huge role in the 07/08 League and European triumphs.
Edwin wants top spot – Sky Sports
Edwin Van der Sar is adamant United must get top spot in their Champions League group. A win or a draw at home to Valencia tomorrow night will confirm first place and will guarantee facing a second placed team in the first knock-out round. A clean sheet for United will create a piece of history; so far they are yet to concede in this season's competition and one more shut out will make the club the first side ever to go through the group stages without conceding a goal.
Manchester United keen on bringing Stoke defender Ryan Shawcross back to Old Trafford – Daily Mail
United's chief scout, Jim Lawlor, was at Wigan on Saturday monitoring the progress of Tom Cleverley but also to check out former player, Ryan Shawcross. Ferguson was always reluctant to let Shawcross leave for Stoke but could never guarantee him first team football at the time. With Evans making a string of recent errors, Ferguson is keen to add to his centre backs and feels Shawcross would be perfect.
Discuss all today's news and rumours in the forum
Follow Doron on Twitter at DoronSalomon