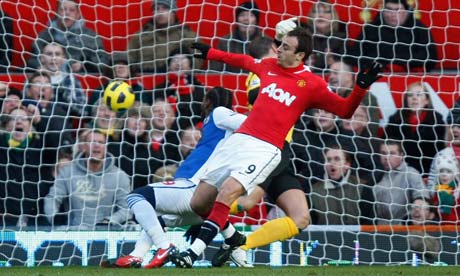 Manchester United 7-1 Blackburn Rovers
Dimitar Berbatov scored 5 goals, equalling a Premier League record, as Manchester United produced their best performance for over 3 years to destroy Blackburn Rovers and move to the top of the table for the first time this season. It was a truly stellar performance with star turns all over the pitch, however the haul and overall performance from Berbatov and a supporting role from Anderson will last long in the memory.
 The tone was set as early as 72 seconds in, when Anderson charged down a loose ball, causing keeper Paul Robinson into a panicky clearance. The ball fell to Nani, who crossed in towards Berbatov, with the Bulgarian converting easily from 5 yards. Blackburn's response was not forthcoming so United accepted the invitation; Anderson was involved again as he pushed Blackburn up the pitch with a probing run, bulleting the ball in towards Park – the South Korean exchanged passes with Rooney (with Rooney's return, it has to be said, an exceptional ball) before coolly finishing. 
The assist for the next goal – on 28 minutes, just 4 minutes after the second – was equally as inviting, unfortunately from the visitors point of view,  it was from Pascal Chimbonda – his woeful pass back to the keeper gifted Berbatov all the time in the world, and he made no mistake. 3-0 could have been 4 as Vidic headed a Nani free kick against the post, and it should have been 4 when Berbatov's sensational footwork was stopped in its tracks by Salgado who cynically blocked him in the box – referee Lee Probert didn't award a penalty, though. 
Any lingering disgruntlement after half time was extinguished as United added two goals within 5 minutes of the restart – Berbatov fittingly the architect and scorer of the fourth. Deep in left back position, his control was exemplary, with a backheel finding Evra. Berbatov ran into midfield, and Evra played the ball back inside – the forward spread the play wide to Nani, who raced into the box and delivered a perfect ball onto the boot of the onrushing Bulgarian to complete his hattrick. 
Less than 60 seconds later it was 5 – a stunning slide rule pass from Anderson caught the defence cold and Nani cut inside Chimbonda to score with aplomb. With such breathless attacking exploits – which by this stage, had forced Rovers into making all their changes – it was time to take stock and take in what was happening. One of the observations to be made at 5-0 could be that Rafael was surprisingly not imposing himself, but he made amends for that when making a trademark bombardment down the right side, exchanging passes with Nani before playing in Park. Park, just 5 yards out, should have registered his second, but his shot was blocked. Fortunately Berbatov was there to pounce for his fourth goal. 
United's scoring was done by the 70th minute, when Anderson fizzed another incredible ball into the number 9 – Berbatov's first effort was blocked, but he made no mistake with the second bite. After the inevitable changes, chances still followed as United attacked with purpose, but with the best chance, Obertan saw the chance that was wonderfully provided for him by Rooney well saved. Rovers grabbed a consolation in the last minute when Samba headed in; the reborn Rooney almost gifted Berbatov a double hat-trick but it was not to be. 
Recent positivity has surrounded the club after what was essentially a year of negativity; with the team finding form somewhat ironically 29 games into an unbeaten run, United fans can look forward to the Christmas schedule. Special praise should be reserved for Berbatov who was outstanding and rightly man of the match with this stunning effort; but Anderson, whose link away from the club on Friday was the strongest yet, was absolutely magnificent. In fact, everywhere on the pitch was a player giving a strong performance; if Ferguson is tempted to stick to 4-4-2 in the upcoming games, the chemistry displayed by the eleven he picked today have surely made certain their selection for their next game. 
Ratings : van der Sar 6, Rafael 8, Ferdinand 8, Vidic 7 (Evans 6), Evra 8, Nani 9, Carrick 8, Anderson 9, Park 8 (Obertan), Rooney 8, *Berbatov 10