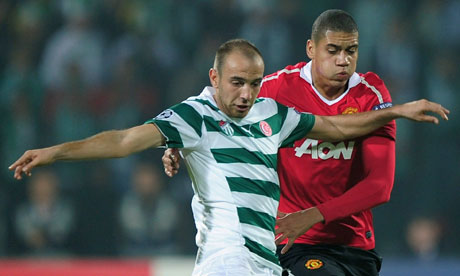 Recently, I predicted that within eighteen months Chris Smalling would be called up to the England squad following what I believe to be an impressive couple of outings for United since his move from Fulham that was agreed in January of this year. However, I was quite shocked, considering I made this prediction a mere month ago, to find that our young centre half has been called up to the full England squad to face France this week. Smalling is yet to start a Premier League match for United but has in three of United's four Champions League matches. So I'm asking the question – is Smalling the next big thing?

Now, I raised this in the forum after the Bursaspor match as I was so impressed with his performance in Bursa. Of course the opposition were playing their fourth ever game in the Champions League, compared to United's that spans back to the season after the birth of the European Cup. Smalling hasn't been tested domestically against a Drogba, Torres, Bent or Elmander – but he has made two substitute appearances, in very different circumstances, against West Ham and most recently against Aston Villa at Villa Park. There will be a time this season, when of course his composure, positioning and pace will be called into question – however in all League Cup and Champions League matches – I have been very impressed.
Initially when the Smalling transfer was announced, I was sure that this was due to the inevitable departure of our current captain Nemanja Vidic – which of course was totally inaccurate and ultimately wrong. Paying a reported £10million for a youngster with limited experience always has fans raising eyebrows, however this is probably why fans sit in the stands and why Sir Alex Ferguson and his coaching staff are where they are. Smalling looks like he could be a snip at the reported price United paid for him, just like Ronaldo was for the £12.24Million, and his England call up – along with a number of other players for the future – demonstrates the potential he has to become one of the top centre halves in the country. He is composed on the ball, has an excellent reading of the game and has shown what a good distributor of the football he is. There is no doubt he needs to be tested against top class opposition, although you feel will only get his chance this season if of course Ferdinand or Vidic are injured or suspended – but Fergie will of course manage Smalling's situation carefully and a Premier League start cannot be far off.
Koeman, Baresi and Scirea all had to start somewhere and there is not reason as to why Smalling cannot perform at the highest level – both for club and country. I'm sure there are hundreds of blog and forum posts like this praising a teen prodigy, stating they'll win three Ballon d'Or awards, lead their club to Champions League glory and basically rip up the eternal Maradona v.s Pele argument only to find they end up getting substituted for Parma reserves. There is no way you can predict the future, but we all like to think we can see a good player when one comes along. So what about you? Is Smalling going to be a great asset to United in the years to come or is it far too soon to stake such a claim? Also with his England call up, is this the result of his early assured performances in a United shirt or has United open the door for a youngster with potential to be called up in what can only be described as an 'inexperienced squad'?