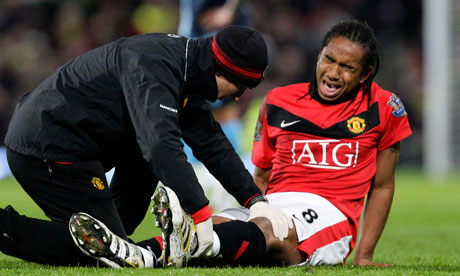 After rumours surfaced again this evening (Friday night) regarding Anderson potentially leaving Man United on loan I decided it was necessary to update a blog I posted way back in the middle of July. So here is that blog with my updated thoughts on Anderson. Enjoy. Comment. Debate.

Here is that blog from July, I will add my updated thoughts at the end:
It's always exciting when there is a new signing at the club. This summer will be no different. Expect the same buzz and hype of anticipation around the latest recruit, a 22 year old Brazilian play-maker. I think we've met him before somewhere, his name is certainly familiar. He's been tipped to make a big impact this season, I've no doubt he's exactly what the squad requires. He's a proven goalscorer (ok too far)! Introducing…Anderson
Every summer transfer window provides an opportunity for fans to discuss who the club should sign. At Manchester United, every signing must improve the squad in some way. Whether a player is signed as a replacement or as an addition, the expectations remain the same.
In the depressing post-World Cup days, Reds have come to the conclusion that a central midfielder is required. More specifically, a creative midfielder – someone who can play behind Rooney, run beyond Rooney, score goals and link play. Being Manchester United means that there will be transfer rumours linking us to every player who might be vaguely available. This summer it's been Luka Modric, Joe Cole, Wesley Sneijder, Steven Ireland, Mesut Ozil, Mario Balotelli, Steven Defour, Alexis Sanchez…I could go on. Regardless of whether the club has the money to bring in a prodigious talent or not, my recommendation is from within the ranks.
Anderson is one game off playing 100 for United. He only turned 22 recently and I think for anyone his age, to have featured so much is some achievement. When he signed, three years ago a quick Wikipedia or YouTube search would have revealed that he was an exciting, skilful, goalscoring attacking midfielder – he was dubbed the next Ronaldinho. Against Arsenal in the Champions Leauge, whilst at Porto, he played in the number 10 role off a striker and stood out as a dangerm man in a team that performed poorly. Three years after signing, with one goal to his name and some crunching displays usually against Arsenal, the player I thought our club had signed has gone missing.
I find Anderson incredibly confusing. There is little doubt that he has a lot of talent. He is adored by a lot of fans. Yet, since his first season ended, he's rarely had a run of games in the side. When he has, his role always seems to be slightly different. His form has been so up and down that the press love linking other clubs with our man.
Roll the clock back two years and Anderson had just completed his first season with Man United. The club was celebrating title number 17 and there was a famous night in Moscow too. Anderson had a central role in that first year, playing in two thirds of all league games – more of a contribution than I felt he'd make in his first year. He used his surprising strength and physicality to dominate and get on top of opposition midfielders. I expected tricks, flair and cunning. Instead I saw pace, power, strength and aggression.
The Brazilian press were agog to discover that Anderson was being played so deep and in the role so associated with Roy Keane. It's not the Brazilian way. He'd never done it before and it meant that when in the national team, there would be a problem. He plays one way for his club and his country want to play him another way…you see the problem. However I believe the Brazilian press misinterpreted what his role truly was.
To describe the role he had in that first year is hard. I believe that was the year he played with most freedom. Although he was clearly told to play deep as a ball winner we witnessed one of his strongest assets that year – running with the ball. Picking the ball up, and driving with it is when Anderson can be at his most dangerous. I've picked out a few examples of this from his first year: vs. Roma, vs. Aston Villa, and vs. Liverpool. As I said, I felt he had freedom in his first year and here's why – Paul Scholes was in and out of the team with knee trouble; Carrick was picking out the passes; Fletcher had a tough year and didn't play much; and Hargreaves when used was the strict defensive midfielder. So whilst Anderson played deep, he didn't have to stick to such a disciplined role – other more defensive players or players who naturally sit deep were often included alongside him, freeing him up. We don't realise it because infamously Anderson didn't score and we remember him bullying players off the ball, but he played high up the pitch a lot that season and was certainly encouraged to break forward.
So what's changed? Various factors came together to reduce Anderson's appearances and change his role. The key to a good Manchester United midfield is the combination of freedom and strict positional play. Whilst one midfielder has a job of winning the ball and passing it quickly; the other has freedom, time on the ball and the opportunity to float between the midfield positions. In Anderson's first year, he was a floater. Hargreaves would be disciplined and sit allowing Anderson freedom, or Carrick would pass the ball from deep allowing Anderson to be the ball winner but with license to push on. In year two, Hargreaves got injured so one of the other midfielders would have to be a more disciplined midfielder. When selected, Anderson got this role. His strength in the tackle that emerged in his first year lead to his selection in this capacity in his second and third years. Gone were the days of running with the ball. Now we saw an Anderson whose job it was to win the ball and pass it on. Only on rare occasions did Anderson break loose and run forward such as against Blackburn in the league cup when he so unselfishly set up tevez for a hat trick.
The Anderson of season two and three is not the Anderson we want to see. Whilst other players around him are kicking on, he appears to be at a standstill. Rumours of bust-ups do not help. Transfer stories do not help. His lack of a defined role does not help – and this in particular is why I think he can be like a new signing this season.
Anderson needs a position. All his attributes suggest this should be high up the pitch. He is good on the ball. He is a fantastic user of the ball. He is strong. He is quick. He is skilful. However, I am aware that one goal in three years is not a good return. He has forgotten how to run beyond an attacker and he seems to have lost the confidence to shoot. He must learn how to be selfish – the video of his assist for Tevez vs. Blackburn that I linked before is a great example; he could of smashed that ball from 2 yards into the goal but he didn't. He mustn't be afraid of shooting, he must be more instinctive. If he is given an attacking role with a bit of freedom he will remember how to do the things that YouTube once taught us he could do. Fletcher can be the engine of the midfield. Carrick or Scholes can be the passer, the player who sets the tempo. Hargreaves (I live in some hope) can be a ball winner. Even Giggs can come in and be the deeper lying passer. We've seen that the formation that suits the side at the moment is the 4-5-1/4-3-3 yet according the media and according to fans we don't have a player who can play behind the striker in the position we feel we need to fill. Well I say, we do. Anderson can be that player. He needs to be given a chance there. He needs the backing of the fans. He needs his fellow midfielders to work hard to create the space for him. If that happens we could be in for a real treat.
I am a big fan of Anderson. I don't know if it is because I like his energy and the way he plays; the fact he is Brazilian; that he is incredibly funny; because the players clearly love to play pranks on him; or the novelty associated with an Anderson goal. He is clearly great for player morale – if only to make you laugh then here are some of examples: marching, being interviewed, another interview, and dancing. His energy and enthusiasm no doubt lifts the players around him as well as the fans. When he slammed in penalty number six in Moscow the fans seemed to respond to his celebration of running into the goal and kicking the ball again – he reinvigorates fans with his passion. When he is happy, the squad are generally happy. Importantly, when he is happy, he plays well.
Here at Stretford-end.com we like to back our players. We have always been ahead of fashions and trends; we backed Fletcher in July '08, February '09, and September '09; and Nani in October '08, January '10, and March '10. We even pushed the idea of playing a 4-3-3 in bigger games and amazingly, soon after, that's what happened. We are rarely wrong here, sometimes our opinions and beliefs are unpopular at the time of writing but we are usually proven right. This year we want Anderson to become a key member of the team, he's one of our favourites and there is no doubt he can go on to be recognised as one of the best players at the club. Anderson is going to receive our full backing – we believe in him.
My suggestion of playing Anderson further forward is not a new idea. I hear fans suggest it all the time, he's even played been tried there a couple of times in cup games. I hope that when he is fit again at the end of September he will be given the opportunity to play in the way that I and many other Reds expected. His time out through injury at the moment will hopefully serve as a motivation for a positive comeback (a la Roy Keane who returned with a new determination after he was injured in 1997/8 and really redefined his role and career at the club). I want more of his first season, but higher up the pitch, he can become a key component in this side. At a time when money is tight, as Yolkie suggested, the best way forward may be to look within – hence when September comes and Anderson returns from injury we must hope he's selected in this role and then we can welcome our new signing.
————————————————————————————————————————————
So that was 4 months ago before the season had started. As I'm sure most fans would agree, they were fair, rational thoughts and correctly optimistic. Here's where I am today:
As reported by various outlets in the past few days, Anderson is being rumoured to leave Old Trafford in January on loan with destinations such as Vasco da Gama, Newcastle and Panathinaikos all suggested. I'm well known as a staunch defender of our Samba Man and therefore wanted to state my position on these rumours and the future.
To begin, a brief update on what's happened since the original blog. A couple of weeks after publishing it, Anderson was involved in a car crash in Portugal and spent the night in hospital. He had been pulled unconscious from the car before it blew up. Fortunately he had no long lasting injuries or damage from the incident. He returned to training following the serious injury he picked up last season and made his comeback as a late sub against Liverpool on the 19th September. Since that appearance two more in the league, one in the Carling Cup and three in Europe have brought Anderson on to a total of 7 appearances for this season. Nothing spectacular. He's had another injury he picked up that kept him out for the best part of a month (he returned against Rangers on the 24th November).
There wasn't much to report about Anderson's return. As expected he looked a bit rusty and overweight. Understandable when you've not played for so long. What was interesting was that he was used, most noticeably away at Valencia, in a more advanced position just off the striker – somewhere United fans have been itching to see him deployed.
There seems to be a general consensus that indeed Anderson's time is up and that we should cash in on him now. I personally disagree. Anyone who is judging him on this season so far is not giving the lad a fair chance. He has been used intermittently and has been injured. To add to his problems, Scholes has been excellent, Fletcher is very much first choice, and Carrick has once again found some form. On the plus side, Gibson hasn't been involved and lately has been given time off to attend his young daughter who is very ill (needless to say that we all are thinking of her and wish her better), whilst Hargreaves attempted return ended with another injury albeit an unrelated one – so Anderson is ahead of them, probably fourth choice at the moment.
I totally appreciate that when given the chance one must grab it with both hands and there will be a lot of people who will argue that Anderson hasn't done that. I'd be inclined to agree but I'd hastily point out that he's been unlucky with injuries since his debut season. Yes, this is his fourth year and yes like Nani we'd all expect him to now be making a mark but every time Anderson seems to get a brief run in the side something unlucky like an injury falls upon him. United cannot possibly let Anderson go without giving him the opportunity to flourish. Of course we will not get results from him by not playing him and we will not get results from him if he's brought on as a sub or started here and there. In some ways he needs a lucky break, an injury to one of the players ahead of him. Against Blackburn today he may well start because of an injury to Fletcher and a knock to Scholes and this is the kind of opportunity for him to impress. However, if he does start it's no good him starting just this game, he has to be given a run and a chance.
The one argument that irks me is people clamouring for Anderson to be shipped out so that someone new can be brought in. I find it hard to believe that to get midfield talent in, we'd sell midfield talent. I can understand the want for new players, when things aren't ideal everyone wants a new signing, it's the easy option. Certainly in Tom Cleverley and Magnus Eikrem there are two young midfielders both of whom play in Anderson's position who I'd hope would be given a chance before anyone new was brought in. I can't believe Anderson will be sold without being given a chance this year when he's back fully fit. I don't think Ferguson would pass up on a kid who he spent a lot of money on and who clearly has stupid amounts of talent (that we witnessed in his first year when fit) – he'll find a place for Anderson. Surely if there's one thing we United fans are, it's patient, we waited long enough for Nani to find a place in our team and some get in form, he's older than Anderson so will learn quicker. It's very very rare that United in the past 15 years sell a young player with such talent, more often than not they stay at United and are given a chance. If we were a selling club because a young player wasn't quite 'doing it' then Fletcher wouldn't be at United today.
If Anderson himself has motivational issues and does not want to work hard then fair enough. He'll just have himself to kick. The intriguing thing is I can't think of a player that splits United fans so much. Everyone wants to back him but so many are so quick to write him off. We forget that Anderson is only 22, he won't be close to peaking for years. The last thing we'd want is to sell him and watch him flourish elsewhere. There is no harm in keeping him and hoping he'll grab an opportunity. Chances will come for him. Scholes won't be around forever. Carrick is getting older and is often rotated whilst Fletcher, the mainstay, cannot play every match. When you look at it like that, there is a position up for grabs.
So, this loan rumour. If it were to be a loan with a view to a permanent transfer then I'd be disappointed. If it were to be a loan which would help him to find form and confidence by making him first choice in a good side elsewhere, i.e. if it benefits us, then fair enough, it's probably a good idea. A loan however, makes little sense to me. United have good depth in the squad. However we can't really afford to lose a member of the central midfield playing team. At present there are six players in that area for the first team, including Anderson. Take him out, take Hargreaves out for obvious reasons and that leaves us with just Scholes, Carrick, Fletcher and Gibson. To me that's not good enough or enough. A minimum of two players per position is required and it would annoy me if one of them was Gibson. Of course both Giggs and Park can cover, but that's all they can do, cover. Should we have some injuries then it would suddenly all look a bit thin. I am aware Cleverley may be recalled from his loan in January and that would add another body but as talented as he is do we really want to heap pressure on him now by asking him to be a straight swap for Anderson??
I'm not the voice of reason, I'm not representative of every United fan, but I'd feel let down if he walked out of our club at such a young age having never had a proper run of 7-10 games since that first season. I ask everyone to give him the opportunity to get fit and lose the rustyness that is associated with a return from injury and I hope that he'll get the chances to prove my loyalty right! If not, then fine, I'll hold my hands up and admit it just won't work.
Let's hope the faith and patience I…we…have shown and will continue to show will pay off and be rewarded. Progress will come. Wasn't it roughly a year ago that the majority of United fans wanted Nani out? And look at him now, arguably this season's second most important player behind Vidic. It's time for Anderson to step up, no loan, no sale, be more than a Red cult hero, be the player we all recognise he should be.
Feel free to follow me on Twitter