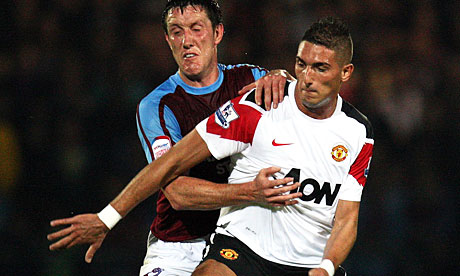 The United of Scunthorpe gave their Manchester counterparts a real scare in the first half but in the end the holders of the Carling Cup comfortably progressed to the 4th round. Darron Gibson, Chris Smalling, Michael Owen and Ji Sung Park got the goals that secured the Red Devils' status in the competition, but the hosts gave the tie a real go.
Indeed, with United making 11 changes from the weekend – not too dissimilar, in fashion, to the team they fielded in the Champions League last week – no-one could have blamed the lower league Irons from shutting up shop in similar fashion to Rangers last week, and going for penalties from the offset. But they didn't, and their early vigour – which, on the quarter hour, had Scunthorpe on 5 shots to none from their more illustrious visitors – was rewarded in the 19th minute when lifelong United fan Woolford worked well to set up Josh Wright, who finished well from 20 yards. He will remember that goal for the rest of his life, and rightly so, but Kuszczak's half hearted attempt to stop the shot (after he had already looked decidedly indecisive) will not have won him any favours after his earlier comments about wanting to leave the club should van der Sar continue to be first choice.
Thankfully, the early surge was quelled by United almost immediately. A raking pass from Chris Smalling – bound to draw comparisons to his partner in defence, Ferdinand – was collected by Darron Gibson, with work still to do, who brilliantly lofted over the goalkeeper from an acute angle. Gibson has his detractors but had any top profile player in the English league scored the goal it would have been talked about for weeks.
Fifteen minutes later, and Smalling turned scorer from provider to correct the axis of footballing confusion – a corner by Anderson (making his first start after injury) was cleared, then drilled back into the channel by Brown. Park was there, to cross, and Smalling cleverly finished across goal at the near post. Scunny skipper Byrne almost put them ahead before the Smalling goal with a header from a corner – and there was still time for Kuszczak to make another error when punching an effort needlessly and putting his defence under pressure.
However, it took just 9 minutes of the second half to put the result beyond doubt. After 49 minutes, Kiko Macheda threaded a ball through to Michael Owen. The England legend had been quiet in the first half but was never going to miss with more than 30 yards of time to compose himself and finish, which he did comfortably, via the post. Five minutes later, and a United corner found its way to Park via Smalling, 12 yards out. The South Korean rifled the ball in from 14 yards at the near post – creating a freak statistic, in that United had scored with each of their first 4 shots on target.
Obertan was brought on for Chicharito (who had put in a shift on the right wing), and Bebe made his hotly anticipated debut after swapping for Park, but in between those changes Park had created the final goal of the game. A surging run from the halfway line was finished with a shot at goal, the keeper spilled and Michael Owen was on hand to score.
A quick, nice move almost saw United score a sixth but Macheda was offside receiving Anderson's pass – and Scunthorpe scored the second goal their endeavour deserved in injury time, with Woolford finally getting in on the act via a Gibson deflection.
Bebe looked a little impressive on his first senior appearance while Anderson was his usual, energetic self, and Michael Owen's instinct – certainly in chasing down the rebound for his second – was encouraging, but it was Chris Smalling's colossal display from the back that was the standout feature tonight.
Ratings : Kuszczak 6, Brown 6, Ferdinand 6, *Smalling 8, Rafael 6, Chicharito 5 (Obertan), Gibson 7, Anderson 7, Park 7 (Bebe), Owen 7, Macheda 6
Man of the Match : Chris Smalling (8) Brilliant composure and a vital contribution to the team at a time when they were struggling, in creating one and scoring a crucial second, was enough to demonstrate his racing potential. Smalling certainly has a potentially incredible future at United and this performance will only serve to excite United supporters further.