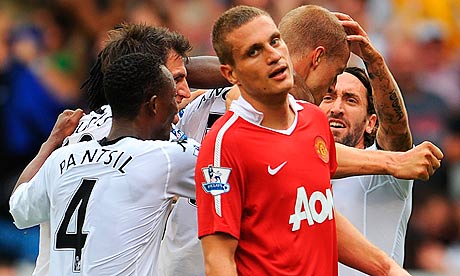 Sir Alex Ferguson has revealed that Gary Neville is no longer Manchester United captain following the questions raised at the handing of the armband to Nemanja Vidic, whilst Gary Neville was on the pitch on Saturday in the 3-3 draw with Everton. Vidic has captained the side in all four Premier League fixtures so far this season, with rumours spreading amongst Reds that the captaincy was part of his contract negotiations. Sir Alex Ferguson revealed that due to Gary Neville's injury problems and subsequent absence from the first eleven, the armband has been handed to a player that features more regularly – the question is who?


Manchester United have had some fine players over the years, with only a handful lucky enough to wear the armband. Neville replaced Roy Keane in 2005 but since his injury in March 2007 against Bolton, his first eleven appearances have been limited. Keane was a superbly determined captain as we all know that was honest and up front with his teammates, manager and press. Before Keane, Eric Cantona, Steve Bruce, Bryan Robson (who is still the clubs longest serving captain), Martin Buchan, Bobby Charlton, Denis Law, Roger Byrne and Johnny Carey all graced the Old Trafford turf leading United from the front. Neville's name will always be amongst those, however it looks as if Fergie has decided that his time is up as captain on the pitch.
Ferguson was quoted as saying:
"Gary is still club captain but I have been looking for someone who is going to be playing consistently every week. "Over the last two or three years we have had to pass the baton along the line a few times. We have not had a consistent captain because Gary's injuries have prevented him playing all the time. If he was available all the time he would be the captain. He would have been on Saturday (against Everton). But I have to look at the overall picture. With all due respect to Gary's time at United, he knows and I know, we don't play him every week and I am looking for someone who does (play)."
The big question surrounding the captaincy is whether Nemanja Vidic or Rio Ferdinand will be handed the arm band. Rangers travel to Old Trafford tonight (see Doron's preview here) and with Ferdinand expected to play, it will be a massive indication of United's captain if is handed the responsibility. The Stretty Rant did a blog back in February 2009 regarding the next Manchester United captain, with Vidic and Rio being the most popular choices. The inclusion of Ronaldo may have seemed an odd choice, and for the traditional English football supporter it would seem a completely wrong choice. I've read a few interesting thought provoking articles regarding the role, responsibility and impact of a captain on a team and a player of unquestionable ability can help to raise other players games with him leading the line.
Ronaldo's petulance may have limited his appeal to some of the old schools fans in this country, however his talents were rewarded at international level by captaining his country. Away from Ronaldo, Diego Maradona, Johan Cryuff and Franz Beckenbauer were all captains of their clubs and their countries but acted very differently when on the pitch (and off it in Maradona's case). So what do you think are the main attributes a captain should have? Don't forgot to vote in our poll at the top.