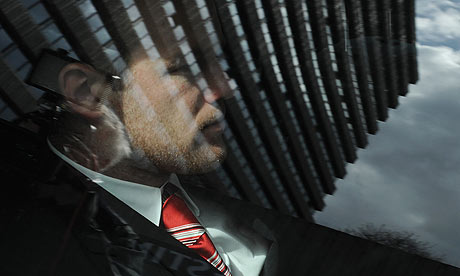 The Daily Mirror. Whether patting United on the back with hand and stabbing them in the same place with the other as in 2000 or whether employing someone whose CV must read of just "I hate Man Utd and I car not rite very wel", the Mirror have for a long time been the scourge of Britain's most popular football club. Their Wayne Rooney expose – published with no direct quote or evidence from anyone with a name, and published despite Rooney having obtained a "super injunction" – showed the lengths they will go to in order to attack Manchester United.
Coming just 18 months after a former Mirror journalist who now writes for Football365 proudly admitted to his part in encouraging the burning effigies of Beckham in 1998 (though backtracks with a "I didn't tell them to do it!" style comment) and implored England supporters to treat Rooney as "non human" for no other reason than dislike, one has to wonder where the Mirror will stop. The unpleasant thing is that you would imagine they won't stop until they've gone too far. And, sadly, splitting a family up doesn't seem like a step too far. Publishing the story with just a few days to go until Rooney heads to a venue – Goodison – where he is likely to come under extreme abuse, is asking for something else.
I implore all United supporters reading this and having the same thoughts on their conscience to do something about it. Stop reading or buying the Mirror, or write to complain. Read on, for why.
It matters not whether the story is true, in this instance. If it is true, then Wayne Rooney has been a very silly boy indeed. He will know that. But this is part of the celebrity culture we live in and the constant accessibility that players both court and feed from often comes back to bite them. Rooney's every move throughout his career has been under a microscope; this year alone has seen the majority of the media almost willing him to get injured for 4 months (ending with the inevitable) and castigating him for daring to indulge in normal young man activities like having a night out.
This shouldn't matter to the 70,000+ match goers every other week and those millions around the world who want to watch him play 90 minutes for United and concern themselves with supporting the club only. But the intended vitriol focussed on Rooney is done so with the one purpose of detracting from his club form so they can revel in United's subsequent probable lack of success. Rooney is a shy lad, but has still made himself accessible to the media, so it begs the question, why pick on him? There are other players with "injuctions" out, one "allegedly" a Liverpool player. No-one of course can touch that. Liverpool are currently afforded an indefinite blanket of media protection post-Hillsborough, where the Sun and the News of the World daren't publish anything truly negative about the club and the Mirror, having curried favour with them as a result for the last 20 years, revel in the fact they can do things to destabilise United. Why would they want to ruin the relationship with Liverpool now?
One can only look at the way they reported on the Gerrard / DJ incident and the angle they have chosen to pursue the Rooney story. With Gerrard, the Liverpool player was described as "gentle" and the DJ as "foul mouthed" despite this video evidence from Radio City revealing an unprovoked attack. Rooney has been portrayed as the villain of this piece against an "innocent" prostitute! The video "interview" with said prostitute consists of no information whatsoever save for an answer of "yes" to the question "did you sleep with Wayne Rooney", which is followed by a stupid smile. Without wanting to question the cast-iron credibility of someone who charges money for sex and willingly sleeps with expectant fathers, the beaming smile at answering the question screams of someone not quite being completely honest.
In the following days of the nightclub DJ incident the Mirror launched a hard defence of Gerrard; one only imagines what kind of childish insults resident fool Derek McGovern is conjuring up in his mentally challenged cranium considering his illustrious past. Please bear in mind I'm not comparing the incidents, I'm comparing the Mirror's treatment of both stories at similar stages.
As I said, though, it's the continued dedication to attacking Manchester United that is going too far. The alleged affair took place almost a year ago; the injunction talk has been around since April. The Mirror have chosen to go against the injunction because filth sells; that's no big surprise and my reaction isn't one of naivety. But choosing to reveal the story now, with Rooney looking like finding form and with Everton away as his next game? Choosing to go with the story now, with Rooney's kid almost a year old, knowing that you're sending the man into a lions den next Saturday. Very classy, fellas. Fergie is faced with two options, drop Rooney to save him the incredible level of abuse he is destined to face, or field him and put him through it. I've no problem with Everton supporters as a whole but let's face it, there will be one or two trying to get very personal with him when he's within earshot. And that's the best case scenario.
Is this kind of incitement what helps the people at the Mirror go to sleep at night? On their business charter is "constant harassment of Manchester United" their paramount objective? Over at Football 365 the writer who was working for the Mirror at the time (whose name evades me, I think it was Nick Miller but I can't be sure as the article has since been deleted) openly confessed with writing a piece after the World Cup in 1998 with the intention of getting up Fergie's back. Outstanding professionalism. Proudly describing the inspiration for the headline of "our duty to taunt Beckham". Why would any right thinking individual write such a thing?
Why, after seeing what happened with Beckham in the following months, would they think it's right to try and put another player through it? Why choose NOW to release a story that has been around the blocks for a while, with no evidence to support it? It's less than soulless, it's vindictive. It's seeing what happened in 1998 and hoping for similar or worse results.
Wayne Rooney might well be a silly boy; but it's those at the Mirror that should be ashamed of themselves even more. They were responsible for encouraging and inciting the behaviour towards Beckham in 1998. They're just as responsible for doing so now, with the knowledge of how their writing can influence the behaviour of thousands of morons. When will they stop? Sadly, the answer clearly seems to be, "not until they've gone too far".