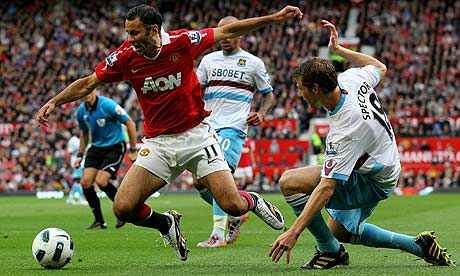 Manchester United comfortably overcame a West Ham side who have now lost three of their opening matches, their worst start to a League season since 1977. Wayne Rooney, Luis Nani and Dimitar Berbatov completed the scoring – with United's football breathtaking at times. If truth be told, United will face sterner challenges in the season ahead, but credit should be given for the way in which the players moved the ball once the West Ham players tired from their early pressing and high energy levels. The victory puts United in third place, level on points with Arsenal in second and Chelsea leading the table.

United started with a 4-4-2, as correctly predicted in the match preview earlier in the week, whilst West Ham adopted a 4-5-1 formation with Carlton Cole a lone figure up front. West Ham did start the game energetically, closing down Untied when on the ball but looking very unimaginative when in possession. As the rain got heavier and lashed down on the Old Trafford turf, United stepped up a gear and Rob Green deflected Nani's strike on to the bar. Wayne Rooney opened the scoring on the 33rd minute with a penalty after some great work from Paul Scholes and Ryan Giggs. Scholes found Giggs with a cross field pass from right to left, which was plucked out of the air with considerable ease by Manchester United's record appearance holder. Giggs proceeded to torment ex-United defender Johnathan Spector, weaving inside and out, before being brought down in front of a watching Stretford End by the American. Rooney slotted the ball past Robert Green, sending his England team mate the wrong way after somewhat of a unconventional run up, to give United a 1-0 lead.
United controlled the game throughout, however when called upon Nemanja Vidic was a rock at the back denying Carlton Cole on a number of occasions. All afternoon Vidic was there with a tackle to disposes the West Ham front man. Late in the first half Cole managed to carve some space, which saw him a yard ahead of the Serbian and closing in on goal. Vidic managed to put in a superb tackle on Cole, who fell to the ground clutching his shoulder after falling awkwardly. There were many rumours last season that Vidic would be on his way out after the purchase of Chris Smalling from Fulham, but today United's captain showed how important he is to United's cause, marshaling the back defense and restricting West Ham's attack. Sir Alex Ferguson was also full of praise for Vidic stating that "Nemanja Vidic put in two fantastic tackles, one in each half."
Although Vidic was impressive, the majority of the football was played in West Ham's half- with Scholes and Berbatov pulling the strings. Dimitar Bebratov is equally loved and loathed in United quarters. The grace and balance of a Russian ballet dancer but with the workrate of a a dead badger – is something the media would have you believe. The fact is that comparisons are always drawn with Carlos Tevez, who's work rate was of course commendable, but there is no doubt that Berbatov is a far superior footballer that has an abundance of talent and he is adding even more goals to his array of gifts. However, it was last season's turn around kid that scored the second goal early in the second half – Luis Nani. The Portuguese international demonstrated in the first half his quick change of pace – sprinting past Ilunga on a number of occasions – but the winger also missed sitter after a great ball from Ryan Giggs. He was to correct his error by picking up a superb layoff from Wayne Rooney midway inside the West Ham half. Nani then proceed to dribble his way to the edge of the box, faint to shoot – which left Danny Gabbidon on his backside – before rifling a left footed shot past Robert Green.
Nani, Berbatov, Scholes and Giggs were all involved in some brilliant exchanges in between the 2nd and 3rd goals. Slick one touch passing was a joy to watch, which if had of been Arsenal would have many journalists in a giddy state. Nani combined with Berbatov for the 3rd after a superb chip to the far post that was then volleyed home by the Bulgarian. Although only six yards out, Berbatov's scissors kick demonstrated the technique and ability he has. Ferguson opted to give Dimitar a rest, even if he has already retired from International football, and replace him with Michael Owen. Scholes and Evans followed to be replaced by Michael Carrick and Chris Smalling.
United ran out 3-0 winners after an impressive attacking display from Giggs, Nani, Scholes and Berbatov. West Ham's early energy couldn't be kept up throughout the game and the East Londoners were well beaten and face Chelsea in their next game in the League. United travel away to Everton after the International break, before hosting Liverpool the Sunday after. Seven points from nine isn't a bad start of the season, even if United did 'throw away' two points at Craven Cottage last weekend, however taking six points from the next two games will put United in a great positions once the Autumn kicks in.
Ratings : van der Sar 7, O'Shea 7, Vidic 8, Evans 8 (Smalling), Evra 7, Nani 7, Fletcher 7, Scholes 8 (Carrick), *Giggs 8, Rooney 8, Berbatov 7 (Owen)