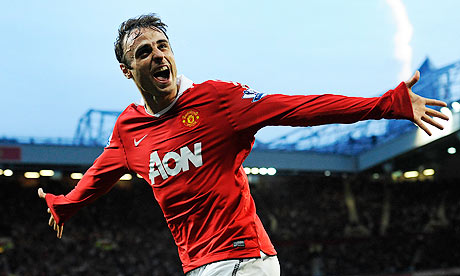 Form is temporary, class is permanent – so says the performance of Paul Scholes and the cameo from Ryan Giggs. Manchester United won 3-0 against their Newcastle namesakes and while they may not have scored the shedload that Champions Chelsea managed in their opening game, the message of intent was impressive in its own right. Dimitar Berbatov opened the scoring with Darren Fletcher grabbing a second just before half time before Giggs' classy volley in the dying moments secured all three points.
A typical first day start saw each side ease into the game – first, Wayne Rooney linked up with Nani but bent a 20 yard effort well wide before Andy Carroll won a corner off Vidic a minute later, flashing a header from the resultant set piece wide.
Carroll had the first effort on target from either side in the 18th minute, his 20 yard daisycutter comfortably handled by van der Sar. That was as good as it got for the Magpies in the first half as United, inspired by the – once more – magnificent Paul Scholes, began to really turn up the screw. The visitors were saved from the young debutant Perch being sent off for wrestling Nani when he was the last man only by virtue of Enrique managing to cover mid-wrestle.
It all came together on the half hour as Rooney spurned a glorious chance – he worked really well to keep the ball held up and then played it wide to Valencia. The Ecuadorian was a main source of creativity last season and his ball to Berbatov showed wide – the forward headed back to the on rushing Rooney who again couldn't control his shot as it went over. The hosts only had to wait two more minutes to get the reward for their spell of dominance – Newcastle again failed to clear, with Valencia impressively charging the ball down and winning it back for O'Shea. The Irishman played it inside for Scholes and the ginger prince's through ball to Berbatov was trademark. Berbatov's run was tidy, as was his finish across the keeper to score the first league goal of the season.
A mini resurgence after the goal was killed off when the Red Devils grabbed a second in the 42nd minute – Darren Fletcher started and ended a move which featured a Nani and Evra interchange on the left. Rooney's first touch on the crossed ball was heavy but was perfect for Fletcher, who span and converted from 4 yards out.
Using the second half as little more than a procession has been the hallmark of United sides of recent years and, perhaps with conservation of energy foremost in mind, that was no different here. Scholes continued to impress, pulling all the strings and having all of last season's runners up play going through him. Wayne Rooney was substituted without a goal on the hour with Chicharito making his league debut; while 10 minutes later Nani departed to be replaced by Ryan Giggs. In coming onto the pitch, the Welshman became the first player to play in every Premier League season (only Sol Campbell, not selected by the visitors, is likely to match that).
Another of Giggs' many records is at least one goal in every league season and it took him a matter of minutes to keep that one going too – Hernandez showed impressive willingness to force a Toon defender into an error which eventually landed at Scholes' (who else) feet. Scholes pass was inevitably perfect to Giggs who was way wide left but still managed to strike a sweet volley across goal into the far corner.
A 3-0 scoreline was no more than United deserved for their all round domination, with Sir Alex Ferguson's only real concern being a late injury to Patrice Evra. There has been talk among supporters of the need for big name signings to bolster the squad but the current players demonstrated yet again that there's nothing quite as golden as our oldies.
Ratings : van der Sar 7, O'Shea 6, Evans 7, Vidic 7, Evra 7 (Rafael), Valencia 6, Fletcher 7, *Scholes 9, Nani 7 (Giggs 8), Rooney 6 (Chicharito 6), Berbatov 7