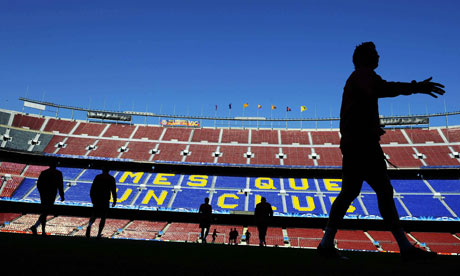 The Champions League draw is this coming Thursday. To whet the appetite, Yolkie talked to Dan Burdett, a supporter who has been all over Europe following United for more than 15 years and now attends most trips abroad alongside his wife Kim (whose excellent account on Moscow we published last month). Read on for our first edition of "Euro Trips", first stop, "Barcelona, 1994".
Following Manchester United abroad takes a heck of a lot of dedication. To even get the opportunity to go to these games, you normally have to have an impressive catalogue of places you visit in domestic games (unless you win a competition, or some other stroke of luck, of course…). There is a sense of togetherness, a true bonding experience. Every time United play overseas there is still a lingering feel of the pioneering hand of Sir Matt Busby guiding them, just as he did on our very first journey to Belgium against Anderlecht. If the feeling of a season long success is accentuated by a supporters own experience on the terraces then a triumphant European campaign for those who make the long flights (sometimes into the unknown!) must feel like it ranks alongside a lifetime achievement. And that's just for supporters!
Speaking to Dan Burdett to do the first of my series of "Euro Trip.." I was humbled – I classify myself as hardened a supporter as anyone, though money, relocation and currently a protest has meant that I've not been able to attend Old Trafford, let alone away games, as regularly as I would have liked. I see every minute of every game but the feeling is never the same as being there; so to speak to someone who truly has "graduated" to a description that could only read "super fan" is a bit of an eye opening experience.
Dan's first game abroad was the Barcelona mauling in 1994 – a baptism of fire for both club and supporter. That "venture into the unknown" was lessened somewhat as Dan had previously visited Barcelona on a school trip but he had certainly had a solid enough experience of extreme atmospheres back in England to prepare him for the worst. "I'd been doing away games since my first season watching United in 1986," Dan says.
"From 1992, I started going to virtually every away game in this country. The most hostile ones were the 3 obvious ones – Liverpool, Leeds and Man City, plus Stoke City in a League Cup tie in 1993. Leeds United was always the worst one though. My first trip there was a League Cup Semi-Final 2nd Leg Match there in 1991. Lee Sharpe scored a late winner, which confirmed we were going to Wembley – the Leeds fans went completely mental then… Loads of trouble and we were locked in the ground for ages afterwards, as the Leeds fans were waiting for us outside. We had a poor allocation of tickets that day, so for once we were glad of the police escort after the match."
That earlier trip to Barcelona came at a time when the Catalan club were celebrating their first European Cup win. Dan remembers, "The European cup was on display in their Museum… I remember hoping to return to watch United play there."
United were drawn against Barcelona, IFK Gothenburg and old foes Galatasaray in the 1994/95 Champions League group stages. By the time the trip to Spain came around the Red Devils position was already precarious – a comfortable win against IFK was followed by a creditable and safe draw in Turkey, before a classic encounter against Barca at Old Trafford which ended in a 2-2 draw. United knew they needed a result in the Nou Camp or Sweden to qualify; in the end they were beaten in both games and ultimately eliminated.
Dan's recollection of the game is vivid. "I remember the game very well – we were battered that night. The foreigners rule didn't help us, with some of our best players being left in the stands, including Peter Schmeichel. Eric Cantona was still suspended for that game after the ridiculous 4 match ban he received after the Galatasaray match. Stoichkov and Romario were on fire… That game was the biggest attendance that I've been at for a United match – I think the crowd was around 115,000 and the noise was amazing. I also remember a very young Paul Scholes coming on as a substitute in the second half."
Putting Paul Parker as a man marker on Romario didn't help matters; the Brazilian was unplayable, making United's handicapped selection something of a footnote. It was certainly a harsh welcome onto the biggest stage in European football for Scholes and also Nicky Butt. Fortunately, Barcelona were far more accommodating off the pitch than on it. "The Barca fans were fine with us the whole time we were there. No throwing of bottles, coins or missiles at us in the ground and no trouble inside the stadium either."
The good reception meant Dan was able to leave with relatively fond memories despite the result.  "Barcelona is one of the safest places I've visited as a fan watching United in Europe. Apart from being kept behind in the stadium after the match for a long time for no real reason – I had no other complaints about the way our fans were treated. A big contrast to what I would see in other countries in the following seasons.
Barcelona is a nice city to visit and thanks to it's excellent Metro system – easy to get around. Whilst there, I visited the usual sights – Sagrada Familia, La Rambla, Montjuic – including the 1992 Olympic Games Stadium and also the Olympic Village too."
Going to European away ties represented a Holy Grail for Dan. As I mentioned, to go to these ties on a regular basis elevates you to an elite band of supporters; those which you can't help but admire. He'd definitely "got the bug" after the Spain trip, too. The post Heysel European ban on English clubs delayed an ambition he had had for some time. " I'd wanted to watch United in Europe ever since I started going to matches. For my first 4 years as a fan, all English teams were banned from Europe. They were re-admitted in 1990, going on to win the now defunct European Cup Winners Cup in 1991. I was only really old enough to travel abroad watching United by 1994. The following season – United were drawn against Rotor Volgograd in the UEFA Cup. I remember at the time really wanting to go, but remember that the cost was really high (I was still at school, not working) so didn't go. I thought they'd beat Volgograd, so I could go to more European aways that season. Sadly they were knocked out. From the 1996-97, starting with Juventus, I then started to do the majority of all the European away trips."
So, what of the aftermath?
Whenever your club lose, it ruins the day. Sometimes even a week, and in extreme cases (such as Rome in 2009) it can put a downer on the entire summer. In 1994, because of a combination of Heysel and United's relatively recent re-introduction to the continent's premier knockout competition, the naivety seemed to be shared between the supporters and the players. The Nou Camp experienced prompted head shaking and much introspection.
"After being locked in the ground after the match, we were bussed straight to the airport and our flights back to Manchester left quite quickly. At the time, I remember thinking that the United team were a long way from being Champions of Europe. Although the foreigner rule didn't help we were well beaten. The previous season we had been brilliant in Domestic competition too, but that night in Barcelona we were well beaten and we never made it past the group stages. It took another 4 seasons before our team got it right, but thinking back now – the manager and players learnt a lot that night in Barcelona, which ultimately made us stronger in Europe in the following seasons."
It certainly did – United would return to Barcelona in 1998 with a much improved team, ending that season with another trip to the Nou Camp which ended rather better, too.
"Euro Trips.." will be a regular feature before Champions League games this season where Dan will share some of his experiences from the wonderful to the obscure. This season's competition will be decided at Wembley, immediately drawing comparisons for the club with their very first win in the competition back in 1968. We hope to be bringing you this article all the way to the end of May.