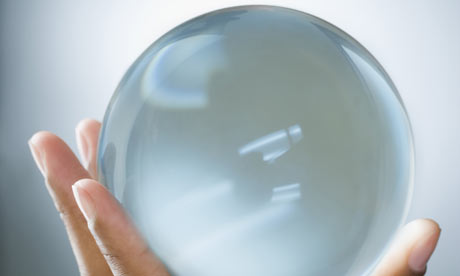 As pre-season drags itself to a close and the excitement of even the Community Shield manages to convince football fans to release their fevered grip on transfer gossip and gradually cease otherwise pontificating over the bones of the rest of the turmoil that currently surrounds Manchester United's ownership, there is that one last great pre-season tradition to indulge in, and that is the pre-season predictions, a page you can bookmark and remind us next May how badly we did. Step inside as the all singing, all dancing, new look Stretford-End.com team gaze into their crystal balls..
How do you expect United to fare this season?
Stretford-End : I expect United to challenge again, like last season, with hopefully a bit more luck on the European front. I blogged quite a bit after the Bayern Munich defeat as I couldn't believe that we had been eliminated after that first half performance in the 2nd leg. We were only a point short of an impressive Chelsea side last term – so I actually thought that we had a decent season. Many will point to defeats at Goodison and Fulham and the home defeat to Aston Villa as a indication that United didn't have the best of seasons, however there were many performances throughout the season that should have Reds confident of the season ahead. I believe it is difficult to call before the season starts as you don't know when injuries will strike and the burnout of certain players – but I don't see why United can't finish the season as Champions.
Yolkie: I don't know if we have enough to win the title with concerns over injuries all over the squad. I have faith in our ability because I think we are good enough, I truly believe our strongest eleven when fit is the best team in the country. Regardless of fitness and availability there is a huge responsibility on the shoulders of players like Carrick, Berbatov, Nani and Anderson, players with things to prove (yes, Nani has to prove that those 6 months were the real Nani). It was no coincidence that it was Paul Scholes who scored the winner at Eastlands, or that it was left to Ryan Giggs to score the penalties against Spurs. It's because these players are the physical embodiment of the spirit of the club; it's time for some of the other players to start assuming that responsibility and stop looking to our current legends in the same awe that we as supporters do. Thinking that we could reach the Champions League Final at Wembley would be nice because it would be a nice setting for a swansong for our legends, but it would also be good if we could win the FA Cup or, whisper it, defend the League Cup again (though history would suggest we'll probably get eliminated by Middlesbrough in the 4th round). We don't have a divine right to success so I'm not going to get on the teams back if we don't get it; I'm wanting it more on a vicarious level for the careers of Scholes, Neville, van der Sar and especially Giggs so they can retire on the ultimate high of a 19th league title.
Doron : Right now as it stands without any further transfers at any of the big clubs and barring an injury crisis like last year, things look good. There is so much depth to the squad. In all areas positions are covered by good players (arguably one more good centre midfielder might be needed). City have improved and providing their team can gel quickly I think they will be right at the top fighting out for the title with us. Chelsea have almost no depth, quite a few players have left and haven't been replaced, their four central midfielders are Lampard, Essien, Mikel and matic – two might be excellent but the other two won't scare anyone. Arsenal – same old story, young team, they'll play well and they'll lose silly games. They like Chelsea will be close at the end. Right now I back United for the title.
Kyle: I don't think I'm being biased when I say I believe we will win the Premier League this season. We just barely missed out last season and should the squad not suffer and injury crisis like last season we have to be favorites.
Who are United's biggest threat for the title?
Yolkie : Chelsea, without doubt. They are champions and despite my concerns over how they got their hands on it they did rack up some impressive scorelines and will not have lost any of that attacking firepower. Sure, they have let a few players go, but Essien looks like he will start the season and he is the best all round midfielder in the league for me. Of the others, City's spending looks concerning when looking at the figures but look at last summers huge spends, Adebayor, Lescott and Barry. Hardly a success story; I expect Arsenal to be in the hunt and drop off as usual but I think Spurs will struggle to keep that fourth spot.
Stretford-End : Chelsea will again be the main rivals, along with Arsenal if they can keep hold of Fabregas – although I still don't think Arsenal are strong enough to win the title. Of course fans will be expecting City to challenge having spent over £80 Million so far on new talent. David Silva is a fine footballer, however will take time to settle in the side and it will be interesting to see if Mancini uses him wide left or through the centre. I wasn't that impressed with Mancini's tactics last season as I felt that when their plan A was nullified (basically 4-2-4 with De Jong and Barry holding whilst Bellamy/Johnson supported Adebayor and Tevez) there was no plan B, which was never more evident in our 1-0 victory over them at Eastlands. City will be challenging for a European place but no more.
Kyle : For the past few seasons it's been Chelsea and I don't think that's going to change.
Doron : City if the new players can slot in fast. If not, Chelsea – they are the only other team with experienced players who know how to win, that counts for a lot.
Who will be the player of the season (at Utd)?
Doron : Having backed him myself I'd like to think Anderson will have a good year. I guess if Nani can continue his good form he'll stake a claim. Can't look beyond Rooney though!
Yolkie : It'd be too obvious to say Rooney wouldn't it? Obvious works for me here. He is the number one, the spearhead, the goalscorer. Add to this he has something to prove, after the World Cup and also with the backlash of every ABU saying it's wrong to talk about him alongside Ronaldo and Messi.
Kyle : Is this a fair question? Wayne Rooney without a doubt. He was absolutely phenomenal last season and I don't see than changing. It's not really fair to the rest of the squad, so I'll pick another: Darren Fletcher. He is the engine in our midfield. If we're to win the Premier League season we need him fit and in form, and I think he'll be fantastic.
Stretford-End : The easy option would be to say Wayne Rooney off the back of his marvelous run last season. Of course his disappointing World Cup may also play a massive part, as he most definitely wasn't the Rooney we all saw in a Red shirt last season. The not so obvious choice is Antonio Valencia. Although some non-reds raised a few eyebrows at the signing of Valencia, I believe he has been great value for money. Athletic, quick and collected a vast number of assists from wide areas last season – I expect him to push on another level, score more goals and play a big part as a wide forward in a 4-3-3.
Who do you think will be the breakout star?
Kyle : Tie between Anderson and Berbatov. I think Anderson is destined for big things this season. If he can get a run of games in I think he can really lock down the spot as our attacking midfielder. It all depends on how much Sir Alex plays him though and in what position he uses him. I also think Berbatov is finally going to live up to expectations. I don't know why, just my gut instinct.
Stretford-End : We've got some great youngsters coming through, who are now breaking into the first eleven. However, I'm a massive fan of Federico Macheda and believe he can be a top player for United over the next few seasons. He had his injury problems last term and there was a rumour that he had fallen out with Fergie – however he is big, strong, good feet and can finish. I'd like to see him get more playing time and improve his goal return.
Yolkie : Players like Rafael who have been in the team for 2 years probably don't fall under the terms of "breakout", even if he can finally make that maturity leap and the right back spot his own. Nani made blistering steps from the exit door to first choice within 5 months last season and I'm backing Anderson to do the same this year. Nani, Anderson and Rooney can be our next "holy trinity" who the team are built around.
Doron : Tough one. Anderson again comes to mind – funny to say that after 99 games already but it feels like he needs to reassert himself. Jonny Evans will certainly continue to be more involved and I think he's a class act. The manager likes Gibson (I don't really see it) but he'll get more games. I'm going to go for Macheda – SAF has made noises about him getting more chances and I'm a big fan of the kid, he's not 19 till August which is frightening.
Will the Glazers be here in 12 months?
Stretford-End : Unfortunately, Yes. I don't believe they are in it for the short term, however Stretford-end.com are all for the Green and Gold protest and the boycott of certain Glazer fueled products. Did you know that with the amount of interest United have paid since 2005 every fan that has been to Old Trafford since then could have watched the games for free?
Doron : Heart says no, head says yes.
Kyle : Unfortunately, I think they will be. They've said they don't want to sell and I don't foresee any big money bids coming in to change their minds.
Yolkie : Unfortunately I think so. They've shown no encouragement or invitation to takeover bids and seem unmoved by the vitriol that comes their way. Their history isn't illuminated with tales of them doing what's right for the club. It would take someone with a huge offer to even make them consider it long term, and that's as unlikely as the government doing something to step in and help out.
Best player outside of the club?
Yolkie : Drogba is a frightening player but I don't really feel threatened when he's on the ball (when he's onside, that is). Likewise, Fabregas with Arsenal. The two players that genuinely strike concern into me when they get the ball are van Persie and Torres. Fortunately they're made of balsa wood; so is Michael Essien, but to go on the risky assumption all play a full season, it's Essien hands down every time.
Doron : Essien. No doubt. Unbelievable player.
Stretford-End : If we're talking European based it would be Lionel Messi or Cristiano Ronaldo with Xavi/Ineista running them close. Domestically, I would have to say Didier Drogba. Sometimes I think he is unplayable, its just a shame his antics takes away what a great forward he is. Other players that impress me are Fabregas, Luka Modric, Michael Essien and when fit Fernando Torres.
Kyle : In this case I am absolutely being biased and refusing to pick any player from our rivals. My pick is Gareth Bale. Once a dread sight for Tottenham fans when he started, at the end of last season he finally started to show what he's capable of. Now that his role is more defined as left winger, I think he'll have a huge season at Spurs.
Which 3 teams will be relegated?
Kyle : This is tough because there are two very good promoted teams, so I doubt we'll see many cases of a club coming up and going straight back down. I do think Blackpool is doomed to relegation, but Newcastle and West Brom will survive. I also think Wigan is very likely to be relegated this season, they struggled last season and haven't seen much improvement. And finally I'll pick Wolves. Had high expectations for them last season and they never lived up to it; expect they'll go down this season.
Doron : Sorry: Blackpool but no chance; West Brom I think will be going straight back down; and either Fulham or Stoke.
Stretford-End : Blackpool, Wolves and Fulham – controversial choice but with Hodgson gone, I think they might struggle.
Yolkie : I'm usually of the inclination that it's a shame for teams to go down. I genuinely feel sad for each teams predicament, but after their supporters ridiculous behaviour last season I have a desire for Stoke to go down, go down with a bang and never come back up. Unfortunately I think they'll literally kick their way into survival, and I reckon that leaves the relegation trapdoor wide open for Blackpool, West Brom and probably Wolves.
Any other predictions?
Yolkie : Fulham to go into post-Woy fweefall and flirt with relegation, and I just get the feeling we're going to get a massive change at Old Trafford. Every few years we get rocked by a bombshell, we're due one. Logic would presume that would be a batch retirement of some of the elder players, but when did logic ever come into a club that writes it's own scripts? The FA will probably ban Antonio Valencia on account that his name was misspelled on a contract extension or something equally absurd.
Doron : 4th place and the Europa spots will be even crazier…but how about this…Liverpool to not get into Europe at all!
Kyle : Manchester City will not qualify for the Champions League. This is half prediction, half hope.
Stretford-End : Real Madrid to win La Liga. Anderson to score more than ten goals (gulp!). Xavi to win Ballon D'or and the Stretty Rant to grow even more..
You can follow the Stretford End team on Twitter… Doron, Kyle, Yolkie and of course Stretford-End.
Think you know better? Comment and give us your predictions for the new season, ask your own questions and we'll answer those too..!