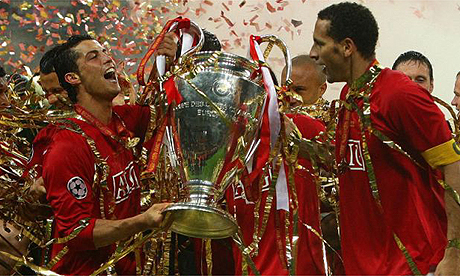 With essentially meaningless games getting us with sweaty palms it's sometimes easy to forget the end goal, what it's all about. We're getting excited over a silly dance from our reserve winger scoring a goal against an American team; but there is a definite chasm of emotion that exists between that and the pinnacle of the game. As a prelude to a new feature we have for the new season on Stretford-End.com, I read an amazing account of our 2008 victory in Moscow, which I am proud to say I can share with the Stretford-End.com community here.
This season coming we will bring to you some simply enthralling stories of following our club on the continent and we kick it off with a piece that will probably never be bettered. You will find yourself reminded of your own memories before being taken down a first hand experience of the Russian capital and whipped quickly into a familiar yet all new emotional whirlwind of that night when Ryan Giggs broke records, combining his left foot with Edwin's hand to return the European Cup to the team that first introduced England to the competition.
So sit back, crack open a cold one, and remind yourself of why the rollercoaster we are about to embark upon in just a couple of weeks is worth it. The account is written by Kim, (follow her on Twitter) and was originally written for a blog she contributed to at the time – I was permitted to edit it, but decided that the references that I didn't really know ultimately made the piece far more authentic.
Enjoy.
This was it. The big one. Champions League Final 2008, Luzhinki Stadium, Moscow. The opponents- our relatively new foes, Chelsea.

It was going to be a long day ahead of us as we were just doing a day trip to Moscow so we tried our best to go to bed early the night before, in an effort to get a few hours' sleep to keep us going. Of course, that plan didn't really work as firstly, it was not normal for us to try and go to sleep at 9pm when it was still light outside and secondly, it was the eve of the Champions League Final for crying out loud! Needless to say, I don't even think we managed two hours' sleep between us, and we were both awake before the 4 alarms that we'd set for 1.45am had gone off (after our alarm didn't go off before the Roma trip, we have been ultra paranoid about setting alarms ever since!). After getting ourselves ready and constantly checking that we had our tickets and passports safely in the bag, we made the short drive to Manchester Airport and arrived there just before 3am. Already, we could see loads of United fans around and I wondered how they all seemed to look a lot perkier and more awake than me! We made our way into Terminal 1 where our flight was departing from and we were instantly hit by the sheer number of United fans crammed into it- there was just an absolute sea of red in every direction. Looking on the departure screens we could see that over about 4 hours, there would be around 22 flights leaving Manchester Airport for Domodedovo Airport (the 'United' airport in Moscow) and that was just in our terminal- goodness knows how many there were in the other two aswell! We eventually managed to find our check in desk and thankfully, the queue was quite small. I managed to bag us exit seats (after cheekily asking for them!) and we were soon checked in and left with a couple of hours to kill before boarding. Before we left the desk though, we were given red wristbands which we had to keep on all day as we would have to show them at passport control in Moscow as part of a security check. For that reason, it was imperative that we didn't lose them and that set me on edge all day as I have randomly tiny wrists and I'm forever losing bracelets because of that! We headed straight through security which was an absolute breeze due to the upgrades that have recently been made and then on into the shops and cafes area. Not unsurprisingly for 3.30am, a lot of the shops were closed but there were some open like a sports shop which was full of United merchandise (they obviously spotted an opportunity there!) and WHSmith so we could buy newspapers and read all of the pre-match build up. Apart from that, all that was open were the bars and cafes so predictably, that's where we found almost all of the United fans hiding out! Most that were in the main bar looked as if they hadn't even bothered going to bed to be honest! Amazingly in amongst all of those people, we found European away guy! We were pleased to see him because we weren't sure if he would even get to be at the Final, despite him going on every European away all season, because he is only a One United member. We had a fair chat with him and he told us that for once, he was doing an independent trip as the official club ones had all sold out by the time his ticket was confirmed. He gave us a couple of tips about things to see in Moscow as he'd been there a few times, and we wished each other a good day. We then headed upstairs to the restaurant and miraculously found 2 seats which was a near impossible task despite the place being huge! We decided to split a cooked breakfast between us as neither of us could stomach a whole one quite so early in the morning, but we did take good advantage of the refillable mugs of tea! Amongst the hoards of fans and staff (who were all wearing 'Road to Moscow' t-shirts amusingly enough, to mark the occasion!), we spotted two families who looked like they were just going on their holidays. They looked totally bewildered by it all as I'm sure they were expecting to find a deserted restaurant all to themselves at that time! After wasting as much time as we physically could in there, we decided just to head to the gate. I wasn't getting a duty free perfume from Hubby this time as we were worried about being allowed to take it into the ground (usually we leave our bags on the coach when we get to the ground on Euro aways but there were no pre assigned coaches this time). As usual, it made me paranoid about it being bad luck as I'd had one before every Euro away this season and we'd won! I just hoped that I could balance it out with enough good luck with my lucky perfume, the same clothes I wore when we won the League at Wigan (obviously washed since then lol!) my lucky scarf and my nail varnish called 'Russian Navy' which turned out to be a good omen last time I wore it against Barcelona at home! Honestly out of millions of United fans around the world, god only knows why I think that me not having a duty free perfume or wearing the wrong clothes is going to be the thing that affects whether we win or lose! We got to the gate and we ended up with a 45 minute delay which wasn't entirely unexpected because of the sheer number of flights leaving and arriving in the same place. Evidently we got off lightly though as we heard tales of long delays, some up to 8 hours, and some flights that were cancelled altogether! Soon enough, we were boarding our flight on Transavia (an airline which I'd never heard of before but soon found out it was Dutch, after doing some Googling!) to Moscow. Almost all of the planes being chartered were non-UK based airlines so it wasn't at all unusual to see 'Air Slovakia', 'Air Mediterranea' or 'Corsair' flights going to Moscow, along with a myriad of other obscure airlines! I was just happy we weren't flying with Aeroflot as I had my doubts that they would have got us there and back in one piece! Our flight ended up being terrific actually. The plane was new so it was absolutely immaculate, the crew were really friendly, the food was actually edible and best of all, the flight time was only 3 hours 20 minutes! Most people chose to take the opportunity to have a nap on the plane which made for a rather quiet flight but we did have a bit of chat to the bloke sat next to hubby about the prospects for the match.
 
We landed at Domodedovo Aiport and straight away, we were all drawn to the windows, wide-eyed. Few of us on the plane if any, had been to Russia before and we were all clamouring to get our first look at this imposing country. The first thing we noticed were the state of the planes- a lot of the Russian based airlines had very old planes and I couldn't even imagine some of them ever making it off the ground, judging by the look of them! I thanked our lucky stars once again that we weren't flying on one of those! We entered the terminal building and contrary to our first impressions, was actually fairly modern. We braced ourselves for a long wait at passport control with all of the measures that had been put in place for travelling fans but I have to admit, it wasn't bad at all! It probably took about half an hour all in all including time in the queue and it seemed well organised. We had to hand in our passport, immigration form, match ticket and show our wristband to be permitted into the country and it all seemed so straight forward compared to the hassle there would have been over the visas. We then made our way through the terminal building and towards the exits and that in itself, was a task. It gave us a glimpse straight away into the pace and chaos of the city as people were jostling each other and racing around the terminal, barely even having time to draw breath. It was quite a shock compared with the orderly and mild mannered way in which the British tend to be in airports! Once we finally battles our way to the exit, we saw a massive line of buses, all with Manchester United crests in their windows, waiting to take us into the city. It's no exaggeration to say that the line must have been at least a mile long- it was incredible! We grabbed the first bus we came across and it happened to be one that looked as if it was build somewhere around the Stone Age period- it was only slightly better than us all having our feet running through the floor to make it move, like The Flintstones! The journey into Moscow was very long. Despite it raining quite heavily outside, the bus was rather stuffy so we had all of the windows open to try and get some air circulating. Unfortunately, the fumes from the bus were very strong and became rather overpowering after a while! So we closed the windows again, plumping for the lesser of two evils as the bus carried on chugging down the motorway. The traffic itself was absolutely insane- it was like Wacky Races! Nobody seemed to have any concept of lanes or indictors and eventually, the traffic just came to a standstill completely! The driver didn't appear to be helping matters as at one point, he actually had to pull off the motorway to ask a policeman directions!! Not a good sign! Eventually somehow, we arrived at Luzhniki Stadium which was where everyone was being dropped off on the buses. The journey from the airport had taken 2 bottom numbing hours.
 
Armed with our waterproof jackets (we'd checked the weather report the night before we went), we got off the bus and our first thought was to look for programs. After them all being sold out at Wigan quite a while before kick off, we didn't want to make the same mistake again. Thankfully there were plenty of people selling programs so we bought what we needed to and decided to leave the stadium area, and hop on the metro and head into Red Square as contrary to rumours, we were allowed to have as much free time as we liked in Moscow and even make our own way to the stadium. The metro was an experience in itself. We had bought ourselves a Moscow guide book before we left which had a street map and metro map inside it. Although the names were written in English letters, it was still the Russian names. However all of the metro stops were in cyrillic (Russian) letters and didn't look anything like the same names using English letters! There were no signs in English or any spoken in announcements so we were very reliant on guess work! We used our guide book map to count how many stops it was to Red Square from the stadium and try and work out from that where we needed to get off! Thankfully, our guess proved correct and we got off the metro and we were only less than a minute's walk from Red Square. As soon as we arrived in the square, we were dumbstruck- it was such a surreal experience being stood somewhere that we'd seen so many times on TV and in books. The vastness of it shocked us too- it was absolutely huge. This was illustrated pretty well by the fanzone that had been set up there which hosted lots of souvenir stalls, a huge room displaying the European Cup and even a five-a-side pitch and all of that only took up one tiny corner of the square! We took lots of photos there of the likes of The Kremlin and Kazan Cathedral. I asked a Chelsea fan to take a photo of Hubby and I in front of the St Basil's Cathedral actually but I don't think they realised we were United fans! The square was teeming with fans from both teams actually but it was evident even then, that United fans were outnumbering Chelsea fans quite a bit. Unbelievably in Red Square, we saw both Royal Mail Guy and Tweed Hat which I couldn't get over. Out of a city of millions, I see a couple of blokes that sit in K Stand!! They looked like they were having a good time anyway! We then nipped into the fanzone for a bit before getting back onto the metro to head to the Arbat which used to be, according to our guide book, the heart of Bohemian Moscow where nowadays there are lots of good souvenir stalls, bars and restaurants. Unfortunately for us, the station which we had to use to get to Arbat was almost identically named to another station further away. Naturally, we got off at the wrong stop and spent about an hour asking random Russian people and even some of the police who were milling around, which way we had to go. Again, our map used English letters which the Russian people didn't understand and they all ended up pointing us in different directions! Eventually, we found our way there only to find that the street was full of United fans! I would love to know how they all managed to find the place so easily! It was even more evident there that red was vastly outnumbering blue and I began to wonder if Chelsea had even sold all of their allocation. We stocked up on plenty of souvenirs there- Russian dolls and a Russian hat each for hubby and I (and I even managed to haggle the price down of my hat by 500 roubles- about £11!) and then headed on to Hard Rock Cafe for some more bits. We had been planning to eat there for dinner but the place was heaving so there was no chance of getting in there whatsoever! So in the spirit of embracing Russian culture, we ended up at a pizza place followed by Starbucks!! Interesting fact- caramel macchiato was called the same thing there! It was quite a bizarre feeling sitting there drinking coffee at 8pm knowing that at 8pm at home, the game would've already started. I had to keep reminding myself not to panic about running out of time! As I idly looked out of the window, I had to look twice as I saw Quiet Bloke walk past and down the street! I looked frantically for any sign of my remaining Yorkshires but alas, they were nowhere to be found. We then decided it was best to head to the ground, as we wanted to make sure we had plenty of time to get there in case there were any hold ups on the metro or we had lots of security checks in the stadium. On our way there, we incredibly bumped into Keith our program guy and all of his friends! I couldn't get over the coincidences of seeing so many people that we knew! We chatted to them for a while, and they told us they'd been sightseeing like us all day. They told us a bit about their flight too and they weren't very impressed to say the least! We carried on to the metro and thankfully, we managed to get on at the right station near the Arbat this time and although we had to change trains once, it was so much easier as almost everyone on the train was going to the stadium so we just followed all of them!
 
We arrived at the metro station by the ground and once again, it was obvious that there were more United fans about than Chelsea. United songs were flying around left, right and centre and eveyone was joining in. It was absolutely rocking and the Russian police and soldiers looked as if they'd never seen anything like it before in their lives! They were taking photos and videoing the fans but not for official purposes- they were doing it for themselves. They were clapping along to the songs and had huge smiles on their faces! Out of the station, we had a five minute walk to the ground and only then did any Chelsea fans try and pipe up. A handful sang 'We are the famous CFC' and one bloke on his own tried to make up a song about all United fans flying in from Stanstead *rolls eyes*. Apart from that, I never heard another peep out of any of them outside the ground. Looking around, all of the souvenir stalls with United stuff had sold out and I'm not just saying this, but there was honestly still loads of Chelsea things there. There were no programs left apart from a couple with some Russian people who had obviously bought a few earlier in the day and were now trying to sell them on for more than double the price! As we approached the stadium, we had our first security check of the evening and that was the point in which the United and Chelsea fans were separated and a fence and wall of police was between us. Our tickets were checked and then we progressed towards the stadium. A bit further along, we were stopped once again and had our tickets checked- not much chance of anyone jibbing into the ground for this match! Finally, we reached the turnstiles and as well as having our tickets checked, we had our bags searched. We were a bit nervous about this as Hubby had a carrier bag full of souvenirs including things like a shot glass, which we were convinced would be confiscated. The steward in question began to look through the bag and when he saw the hats and dolls etc, he exclaimed, "PRESENTS?!". We said yes, and he waved us through with a big grin! Everything there was good humoured actually as everywhere, people were getting their photos taken with the Russian soldiers, and the soldiers would plonk their hats on the fans' heads so they could pose with them on! Some of them were even trying to swap scarves and shirts for items of their uniform!! Once through the turnstiles (naturally, I kept up my ritual of going through the left hand turnstile!), we had one final ticket check to get to our seats. The steward who was checking my ticket looked at me and exclaimed, "Manchester fan!". I said yes. He then said, "Manchester fans- very nice fans" with a huge grin! I said thank you, and he looked genuinely pleased to see us there! This was quite a shock as from what we'd heard before we'd got to Moscow, the stewards, police and soldiers were supposed to be harsh and dour. But they were absolutely the opposite when we got there- we found them helpful, polite, warm and even had a sense of humour! And contrary to many, many European aways, I didn't see a single incident of a member of police or a steward having a go at a fan. It was all tremendously good natured. We got into our seats and found that we were in the first occupied row by the corner flag (the first 3 rows were empty, possibly due to the advertising boards like they do at Old Trafford). We were rather low down due to the gradient that the stands were on so it was going to be a view that I'd never experienced before. I nipped quickly down to the concourse to have a wander around and as weird as it sounds, check out the toilets as they have been the bane of my life on European aways previously! Happily, I found that they weren't holes in the ground, and they were immaculately clean. From the outside, the Luzhniki Stadium looked old and it was a concern that it perhaps wasn't up to scratch inside. But it had clearly been updated, and was more than adequate for hosting this game. And as I like my stadiums, it had character! I went back into my seat and all of a sudden, it hit me- I was at a Champions League Final. As ridiculous as it sounds, I don't think the magnitude of the game had quite sunk in before that moment. It hit me like a ton of bricks and a wave of nausea, followed by panic engulfed me. I had been unusually calm all day up until that point and all at once, nerves started to take over. I couldn't sit still- I became edgy, stressed and I just wanted the game to start. I didn't know how I was going to stand watching the whole match without giving myself a heart attack!! I decided to try and distract myself for a while with the pre-match build up. For some inexplicable reason, James Richardson (who those of you who used to watch Gazzetta Football Italia on Channel 4 many moons ago will remember, was the presenter) was doing the build up I can only assume on account of him being neutral (I'm presume) and also speaking English!! I have to admit, he actually did a pretty good job and came down to each end and spoke a bit about each team, getting the fans behind the teams. Of course, we were far superior to Chelsea in that respect lol! We then each had a montage of our road to the Final to watch on the screens and I don't care how biased I sound, but ours was so much more interesting and exciting to watch! The ground, despite it still being a while away from kick off, was now nearly full and the atmosphere was building. United fans were singing loudly and proudly already, going through the most popular ones like 'U-N-I-T-E-D', 'Viva Ronaldo', 'Anderson-son-son', 'United Calypso' and naturally 'Championes' to really rub it in to the Chelsea fans! We did notice that there were sections of the Chelsea end that had empty seats though and there were rumours that Russian people were being given tickets in the Chelsea end just to fill it up, and that would tally up with the amount of Russians around the Chelsea area of the stadium that we saw. The pre-match ceremony then began and it looked very pretty, but none of us could really grasp what was going on! To be honest, I think nerves were beginning to set in then so we weren't really paying close attention to it! Eventually, the show finished and shortly the players emerged from the tunnel to huge cheers! I found the experience quite surreal, being so far away from home and in a strange stadium but playing an English club that we knew so well. In fact, it was the first time I'd ever seen United play an English club in a European match. On the big screens, I noticed that the word 'Believe' was in a stand. Firstly, I thought it was showing when it was held up at Old Trafford but then I realised it was being held up right at that moment, and I turned around to see the word being spelt out behind me. It looked beautiful. Over at the Chelsea end, it looked like they'd had blue and white checked flags left on their seats which they were all waving, but it had nowhere near the same impact as our mosaic. The teams then lined up and the Champions League music boomed over the tannoy. I was caught totally off-guard as I felt a lump in my throat and began to get choked up. I was getting overcome with emotion at the occasion and I looked over at the players and hoped that they wouldn't do as I did!
 
The game kicked off and the roar from our end was immense. We all had to work even harder to create a good atmosphere because of the huge running track between the pitch and the stands. The lads started off brilliantly and this encouraged the singing even more from United. From where we were stood, it was actually very difficult to see the players very well because although we were on the first occupied row, we were so low down that there were lots of parts of the pitch which were blind spots for us in all honesty. The team did have a lot of possession to start with and I think we were all delighted with the way they had started the game. This was duly rewarded from an attack deep into the half when a fabulous ball from Brown was launched across the box and buried with a terrific header by Ronaldo of all players. We all went absolutely ballistic in the stands and it seemed as if everyone who had a scarf was waving it proudly above their heads and singing 'Viva Ronaldo' with so much passion. The stewards in front of us were smiling broadly and looked to be pleased that we were 1-0 up! Scoring seemed to spur the lads on even more as they took Chelsea to pieces with attack after attack. They were completely outplaying them at this point and we were so, so unlucky not to have gone 2-0 up when Tevez smashed a header towards goal which Cech got down to save. When the loose ball fell to Carrick, his shot looked absolutely destined to hit the back of the net. We were all ready to celebrate when somehow, Cech denied us once again to push the shot around the post. The look of agony on Carrick's face was mirrored by our own as we all stood with hands on heads, puzzled at how on earth the shot stayed out. The lads were playing such terrific stuff that we couldn't see Chelsea getting back into the game at all until somehow just seconds before half time, Chelsea took advantage of a lucky deflection which fell into the path of Lampard who benefitted from an even luckier slip (for them) by Van der Sar on the greasy surface to slot home the equaliser. Shock just reverberated around the United end and we were stunned into silence, I have to admit. I couldn't believe that once again, we had somehow succumbed to a Chelsea goal just before half time. In fact, I screamed as much into the now chilly Russian air and the stewards looked at me in surprise! The half time whistle went shortly afterwards and it was fair to say that their goal took the wind out of our sails a bit. I had a brief chat with the guy next to me and we decided that Ronaldo's goal in the first half quite possibly cemented his chances of being crowned European and World Footballer of the Year. The rest of the break was spent watching the first half highlights on the big screens and once again rejoicing in Ronaldo's goal but despairing over Lampard's. We were then surprised to see the United lads reappear for the second half so quickly as it seemed like almost no time had passed at all. I wondered if they had particularly stringent rules for half time in the Final. The Chelsea players shortly followed and although we'd barely had time to draw breath after the first half, the second half was about to get underway.
 
The second half kicked off and I felt a bit of a pang as I wondered where the Yorkshires were sat. I couldn't believe that despite seeing them at so many of the matches this season (not just home ones), that I didn't see them at all at Wigan or Moscow, two of our most important games all season. However, I didn't have too much time to ponder as I had the match to concentrate on! Chelsea seemed to be boosted by their goal just before half time and similarly, it seemed to knock the confidence of the United lads who had been so fearless up until then. Chelsea had a lot of the possession and were flinging a number of shots towards our goal, but Van der Sar didn't seem threatened too much. It bouyed the Chelsea fans up though however, and the previously silent blue end now began to be more vocal as they sang 'We are the famous CFC' once again (one of only about 3 songs they seem to have). We did our best to outsing them again though with our vast repetoire! However we were all beginning to get edgy and tense though and I'm afraid I didn't deal with the tension at all well as I screamed and bellowed towards the pitch, bollocking any Chelsea player who breathed near a red shirt whilst similarly trying my best to encourage the lads and drive them on. Once again, I had an audience as the stewards facing the fans (not being allowed to turn around and watch the match) seemed totally bemused and a little scared by my efforts. Time ticked on and still we were unable to get a breakthrough. Chelsea still had lots of the ball but were yet to really punish us with it. This almost wasn't the case though as deep into the last 15 minutes of the match, Drogba sent a long range shot curling towards our goal. All of us held our collective breath as it seemed absolutely on course to smash into the top corner of the net. Thankfully, it smashed into the top corner of the crossbar instead and the relief in our end was immense. From then, time just seemed to evaporate and then it dawned on me that if extra time was imminent, when on earth would we get home?! But at that moment, I couldn't have cared less if I'd got home next week as long as United would be lifting the European Cup! As the 90 minutes began to draw to a close, Giggsy was brought on to make his record breaking appearance and was welcomed onto the pitch with a roar of acclaim from the travelling reds. We were a tad puzzled that Scholes was making way for him and we briefly wondered if the manager had penalties in mind as Scholesy has missed a couple over the years. Of course we couldn't see that Scholes' nose had been smashed in by Makelele so that decision became much more understandable knowing that! The referee then whistled to signal the end of normal time and I slumped back in my seat, already exhausted from the first 90 minutes. I wondered how the players were feeling.
 
After a brief break, the players were ready to go once again as the first period of extra time began. Chelsea once again seemed to start off quite brightly and within a few minutes, Lampard had the chance to put Chelsea ahead for the first time in the match with a curling shot which once again, rebounded off the woodwork. It seemed as if our goal was beginning to lead a charmed life! After that however, it felt like we were in control. All the Chelsea players seemed to want to do was roll around on the floor and try and break up our rhythm. It was getting rather frustrating. Then we had a fabulous opportunity to go 2-1 up when Evra made a tremendous run into the box and pulled the ball back for Giggsy who thumped it goalwards, but somehow was cleared off the line by John Terry. None of us could believe it and we all looked at each other hands on heads, as we watched the replay on the screens. It was at that point that my legs just gave out on me. Whether it was tiredness or whether the sheer stress and tension of the occasion had finally caught up with me, I don't know. So I had to watch the remainder of extra time sat down as I just couldn't physically stand up any longer. The end of the first period soon came around and after just a couple of minutes, we were into the second period. The lads continued to play in a very positive fashion, and really tried to go out and tie the game up. Still I never felt like we were in danger somehow and we were all doing our best to get behind the team as we sang 'Forever and ever, we'll follow the boys…..' and 'We love United, we do…' amongst others. The Chelsea fans were non-existant once again. Maybe most of their end really was Russian, so they didn't know the words to the Chelsea songs! As time appeared to be running out, Cech put the ball out of play when a few of the Chelsea players yet again went down with cramp. As Chelsea had done to us several times during the game, Tevez put the ball out of play to give possession back to Chelsea instead of giving it straight back to Cech. Suddenly, almost all of the Chelsea team came flying over to the touchline and started jostling Tevez and shouting in his ear. Of course, I was screaming at John Terry (as if he could hear me lol), 'What the hell are you moaning for? You did exactly that to us earlier!'. I couldn't believe how they were behaving and I said to Hubby that this display just showed their arrogance and lack of class completely. In the middle of the melee, a red card suddenly appeared and Hubby started cheering. I said, 'Why are you cheering? How can you tell who was sent off? Couldn't it be one of our players?'. But somehow he knew it was Drogba although god knows how, as we couldn't see what the hell was going on from where we were! Of course Drogba was still bitching and moaning as he left the pitch, which he took a good few minutes to do. At that point, it didn't even cross my mind about the possibility that he would have been one of Chelsea's penalty takers as I was still concentrating on the possiblilty that we might still win the game in extra time. But as time continued to tick on, it looked less and less likely. With one last throw of the dice, Ronaldo launched a ball into the box and Tevez couldn't quite connect his head onto the cross so the chance went begging. Anderson just managed to get onto the pitch to replace Wes Brown before the final whistle went, with Fergie clearly thinking about penalties. When the whistle went, there was collective groans around the ground- none of us wanted a penalty shoot out, especially as our nerves were already shot to pieces as it was!!
 
We awaited with nervousness to see which end the penalties would be taken at and we were pleased to see that it was at ours. We hoped and hoped that it could make some sort of difference. I was now beside myself with nerves and I was resorting to clasping my hands together in a prayer almost, just saying 'please, please, please, please…' over and over again. I decided I had to stand up for the penalty shoot out too although I could barely stand- my legs were completely numb and wobbling like jelly. How on earth I didn't have a heart attack stood there, I will never know. So, we were to start taking the penalties first. To get the ball rolling so to speak, Tevez stepped up first. The roar of encouragement that greeted him from the reds was phenomenal. Strangely enough where we were positioned in the ground, we couldn't actually see when the ball was struck or indeed, see it go into the net. The only way we would be able to tell the penalties had been scored or missed, was to wait and see if the back of the net rippled or not! As a lot of you know from my previous AVFTS all season, I have a real problem watching penalties being taken. The pressure and intensity of the situation is just too much for me. But I was persuaded by Hubby to watch Ronaldo's penalty against Wigan and once again, he convinced me to watch the penalty shoot out, especially as we had come such a long way for it. I thought back to the penalties that I covered my eyes whilst were being taken- the likes of the Portsmouth one which knocked us out of the FA Cup and the one which Saha missed at Celtic. So I figured that if I'd watched Ronaldo's at Wigan and he scored, then maybe somehow I could bring good luck to the team by watching the shoot out. As you can tell, I was rather clutching at straws at this point! As Tevez ran up to hit it, a hush decended over the United end as we didn't want to do a single thing to distract him. In the background, we could hear the faint whistles of the Chelsea end. He smashed the ball and the net rippled so we knew from that, he had scored. Next came Ballack to take the first Chelsea penalty and I said to Hubby that there was no way Ballack would miss- after all, he was German and they are the absolute masters of penalties. As expected, Ballack slotted home to make it even at 1-1 despite all of the boos and whistles coming from us to try and put him off. At this point, even the stewards had given up watching the crowd and were turned towards the pitch to watch the shoot out. Absolutely everyone was just looking on with bated breath. Next up for us was Carrick which was a bit of a surprise but nevertheless, we put absolute confidence in him scoring and he didn't let us down as he sent Cech the wrong way. Belletti then followed and I hoped that maybe he would be a bit 'cold' as he hadn't participated much in the game. That remained just a hope though as he too, put his penalty away. With us both still evenly matched at 2-2, it was now Ronaldo's turn to step up. I immediately turned to Hubby and said 'He's going to miss this'. Hubby just laughed at me as if I was being stupid but to me, it was so obvious. He'd had such an amazing season that it was almost as if there had to be something around the corner to knock him down. I could just imagine all of the headlines in the papers the next day- the media would dine out on it for weeks. He was going to be vilified by them. I hoped dearly that I would be wrong but alas, my feeling was right. Cech saved the penalty and shock and dejection was etched across all of our faces. I looked over at the Chelsea players and they were celebrating as if their name was on the trophy. We all then looked to Van der Sar to try and do the same against Lampard as Cech did on Ronaldo but the net rippled yet again, and we were now behind. Next for us was Hargreaves, and I didn't know what to expect really. Well, we didn't have to wait for the net to ripple as the ball nearly smashed through the back of it with a terrific penalty to keep our hopes alive. Ashley Cole then took Chelsea's next penalty and for a split second, we thought Van der Sar had saved it as there was a slight delay in Cole kicking the ball and the ball hitting the back of the net. Unfortunately, Van der Sar's hand wasn't quite enough to stop it creeping in and still we were trailing. Nani then stepped up to take our next penalty and I was quite surprised to see that. It seemed like a lot of pressure for such a young player but he took his run up wth confidence and although he tried a little bit of a Ronaldo pause before he hit it, luckily for him it worked and we were still in the game. It was at this point that I didn't know how much more of it I could take. I felt physically and emotionally drained and I was so stressed and panicking, that I was almost hyperventilating. My heart was racing and for a second, I couldn't imagine why the hell we paid so much money to put ourselves through it. I clasped my hands together a little tighter and almost got on my knees to pray. John Terry then confidently strode towards the box, to take the next Chelsea penalty. I think my head had totally gone by this stage as I didn't realise at that time that if he'd scored the penalty, Chelsea would have won. I don't think I was even keeping tally of how many had been taken at the time, I was in such a daze- I was just concentrating on one penalty at a time. When Terry hit it, I waited for the back of the net to ripple. For a second, I couldn't understand why it hadn't as I could see from where we were that Van der Sar had gone the wrong way. It suddenly dawned on me that he'd missed. The United end went beserk but I only allowed myself one loud 'YES'. We still had work to do. Anderson was up next for us and I guessed that he must be quite good at penalties for Fergie to bring him on specifically for it. I was still very nervous seeing him step up but he muct have been the coolest person in the ground as he buried the penalty and then gave us fans a huge roar of encouragement to get the lads over the finishing line. We reciprocated with a huge roar of our own. Kalou then took Chelsea's next penalty and Van der Sar had no chance as he hit it hight into the top corner. Giggsy was next to go and I was absolutely terrified. Not because I didn't have confidence in him but because I couldn't think of a crueler twist of fate for a Giggs missed penalty to cost us the European Cup in his record breaking appearance for the club. I'm sure I wasn't the only one thinking these thoughts as everyone around me seemed to look more tense for this penalty than most of the others. He struck the ball and the net didn't just ripple- it bulged. And it may have been my imagination but I'm sure the cheer for his penalty was a little louder than most of the others. The tension was now at such a peak, that it was almost suffocating. I felt like I could hardly breath. Then up stepped Anelka. I thought bitterly that he was bound to score, being an ex-Liverpool, City, Arsenal and Bolton player. It seemed inevitable. In desperation, I shouted out to Van der Sar, 'Come on Edwin- you have to save at least one'. Then Anelka began his short run up. It was almost as if I was watching it in slow motion- it felt like a real out of body experience. I looked to the net. No bulge. Not even a ripple. I couldn't quite grasp it but then the realisation came crashing down on me- Van der Sar HAD saved it. We were Champions of Europe!! I let out an almighty scream, like a banshee and I just stood on my seat for at least a minute, just looking up to the heavens and screaming. My screams were lost in the pandemonium. The end just exploded. I mean, I've never seen euphoria like it in all my life. The players came tearing over to Van der Sar and then to us and I just burst into tears. I stood there crying my eyes out for ages- I just couldn't believe it. Even the stewards were celebrating!
 
The real celebrations then began. Fans were just jumping all over each other in absolute delirium. I even had one bloke come up to me, give me a huge kiss and tell me he loved me! Don't think Hubby would have cared less what that bloke had said to me at that moment but the bloke carried on and shook Hubby's hand anyway! The players came flooding over to us, some of them looking like they were in tears themselves and just let loose. They were jumping everywhere, especially the likes of Rio and Nani. Anderson then did another samba dance which was greeted with huge cheers! The United fans then broke out into a newly updated rendition of 'We've won it 3 times' which we were amused to see all of the United players joining in with, some of them knowing it word for word! This was then followed with 'Are you watching Merseyside?' as I'm sure all of the scousers who were watching the shoot out were full of disappointment! These celebrations continued for a little while until the lads had to go up and collect the trophy. Firstly, Chelsea had to go and collect their losers' medals and looking on the big screen, we saw that the lads had made a guard of honour for them although they didn't conceal their glee at all well!! I barely noticed the Chelsea players collecting the medals but what we did notice very much was Peter Kenyon leading them up. Cue a HUGE rendition of 'Peter Kenyon, you're a w****r, you're a w****r' which went on for a good minute or two. I'm certain he would have heard it loud and clear! Next, it was the lads turn to go and get that trophy and because it was over the other side of the pitch to us, we glanced at the big screen as they made their way up the steps. As I saw Sir Bobby leading the lads up and wiping away a tear himself, it nearly set me off crying all over again! I had a quick look around the stadium and I was surprised to see how many Chelsea fans had stayed behind to watch the trophy presentation. Less surprising was the amount of United fans revealed in the 'neutral' area. It was clear from there that we had heavily outnumbered them by at least a third. Michel Platini then handed out the medals to the lads and he then passed the trophy to Rio and Giggsy who lifted it together to such a roar from us that I'm surprised it didn't rip the roof right off and drop it in the nearby Moskva river! The lads each then took it in turns to lift the trophy and they then headed down onto the pitch for a team photo with the cup. Fireworks and gold streamers then went off behind them and the lads were covered in a glistening blanket of gold. They then made the way back over towards us and were surrounded by a crazy ring of photographers, all clamouring to get photos. Eventually, the lads managed to escape them and some even vaulted over the advertising hoardings and onto the running track to be nearer to us. The elation on their faces was indescribable. It was such a perfect moment that it almost seemed surreal. We were still singing our hearts out proudly and then lots of songs were coming over the tannoy- 'Glory Glory Man United' was the first, and players all joined in as well as twirling scarves above their heads. The United Calypso then followed and that piece of nostalgia took my mind to the significance of the win in terms of the club's history- 50 years since Munich and 40 years since our first European Cup win. I shed yet more tears then. Finally, the sanatised version of 'Take me home, United Road' started playing and although I usually dislike it, we all joined in and sang along! Eventually, the players made their way back towards the tunnel and with one last triumphant gesture in our direction, they left the pitch. None of us really wanted them to leave but they had more celebrating still to do! We were then kept back for about 15-20 minutes inside the ground but none of us could have cared less. Russian music was played over the tannoy whilst we were waiting and everyone was singing and dancing along to it which, bearing in mind how about half of the fans were also wearing Russian hats, looked absolutely hilarious!!
 
We were then let out of the ground and glancing up at the clock, it was well after 2am. It didn't matter at all to any of us though- I still felt like I was walking on air, and the adrenaline was still coursing through me. We headed back to the buses which took us straight to the airport and as soon as I sat down, it all seemed to catch up with me. Most of the journey back I spent asleep so before I knew it, we were back at Domodedovo Airport. Passport Control was an absolute nightmare with the sheer amount of flights heading to Manchester so we were queuing there for at least an hour as everyone had to have their passport stamped with a departure stamped as well as having the match ticket stub, immigration form and wristbands checked once again. Once through there, the security check took about another half an hour and I felt sorry for the poor people caught up in it that were actually going on holiday! Once through there, we looked at the departure screens to look for our flight and found that our flight number was nowhere to be found. Concerned that it might have already left, we asked one of the members of airport staff about the flight and we were directed to a gate where a plane was boarding. Apparently the decision had been taken that there was to be 'free boarding'. Essentially, we could board any plane that was leaving for Manchester despite the airline or flight number! This worked out brilliantly for us as we got to leave the airport quickly, with very little hanging around. So we ended up on some random Italian based airline and except for 5 minutes when we were given a tuna sandwich to keep us going, I slept for almost the entire flight! A couple of times I did wake up a little disorientated and it took a few seconds for me to remember that we were European Champions and when I did, I kept welling up again! The emotion of it all had just overwhelmed me completely. We soon arrived into Manchester Airport and bleary eyed and still wearing our Russian hats, we made our way through Passport Control and then into Arrivals where we were met with a blaze of lights, TV cameras and journalists all trying to interview us. Some enterprising people had decided to set up a table right as we came into Arrivals full of newspapers so needless to say, we stocked up with them all there and then!
 
Heading out of the terminal and into the beautiful Manchester morning, I felt on top of the world. It was a feeling I had scarcely dared to imagine, all the way through the season. Never in my wildest dreams, could I have imagined such utter joy when we kicked off our season all the way back in August. My heart just swelled with pride thinking back and reliving all of those months. The ups, the downs…..no other club in the world could send us all on such a rollercoaster ride of emotions. But it was worth every painstaking second. Manchester United- Premier League and Champions League Winners 2007/2008.