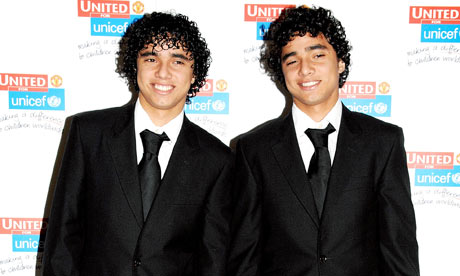 Since the days of Sir Matt Busby, Manchester United's club ethos has been to give kids a chance. The saying synonymous with football managers, 'if they're good enough, they're old enough' is so very prevalent with our club. At present the United squad is awash with talented young players. The biggest problem with young players is how to integrate them into the first team, yet we are fortunate enough that our young players are slowly starting to form the core to the club. What's more, they are all winners.
For many United fans this is a summer of discontent. The hope and expectation of signings comes round every year. Quite often the club doesn't disappoint with one new, familiar face arriving. This summer feels somewhat different though. The rumour-mill as ever has churned out lots of players linked to the club (totalling £1.578billion) but the reality of a signing seems to be but a distant dream. I should point out that Smalling and Hernandez whilst being new signings do not feel to me like summer signings as their deals were concluded a while ago.
As fans with high expectations it's quite correct that we should lament the lack of signings. Every year the squad should be strengthened and improved to make sure that it remains ahead of the nearest rivals. A new signing provides us fans with something to be excited about and it provides the players with a fresh challenge, competition. If we don't make new signings will we fall behind the competition?
I don't believe so. At Manchester United, preparing for the future is always important. Time invested in youngsters is wasted if they don't get a chance to prove themselves. We are so lucky that Sir Alex Ferguson is in charge managing and monitoring the progress of the young players. In modern football, rarely has there been a better judge of the ability of a youth player. A line from the commentary in the 95/96 cup final always sticks out: "he made room for the youngsters" – so much is his belief in youth that when given the option of signing a player or giving a youngster a chance (providing he's good enough), he opts for youth.
The hardest thing for a manager to do is to introduce youth into a winning side. Young players can be naive but also hungry for success. When Ferguson feels a young player is good enough we see him giving the player some exposure in the Carling Cup side. The beauty of this is that the Carling Cup is taken seriously enough so that the good youngsters are played alongside experienced players and as we've seen in the past couple of years, have been good enough to go on and win the competition. That winning experience cannot be replicated, and it means for the da Silva twins, J. Evans, Gibson, Welbeck, Macheda etc. that they grow up faster than at any other club. They learn what the club is about and how to win.
The obvious comparison with Ferguson's record is with Arsene Wenger. I think all Man United fans respect Wenger and the success he's had over a good period of time. Wenger is always praised for having a young team, but this current crop have won nothing. Not that I would like Arsenal to start winning, but if Wenger took the Carling Cup more seriously, then his players may start to understand what winning is about, and they'd catch the 'bug'. Therein lays the extraordinary feat that Ferguson continues to achieve – winning and producing youth.
I believe that this year will prove to be an important breakthrough year for some of the youngsters at the club. We're likely to see Rafael as first choice right back; Evans may end up playing as first choice for a lot of the season again whilst Smalling will get good opportunities; Gibson appears to be heavily backed by the coaches; I've made my case for Anderson; Macheda and Obertan will both feature more; Nani hopefully will continue from where he left off…I could do this for every youngster but the important thing is that these players must now be backed as more than squad players and must kick on to be a firm part of the first team. There are new young players ready to take on the mantle of squad and Carling Cup players – the likes of Corry Evans, Tom Cleverley, Joshua King, William Keane, Magnus Eikrem, Ben Amos etc.
Now more so than ever before these young players should be given a chance. Our beloved geniuses Giggs, Scholes, Neville and Van der Sar will all be retiring soon, while Brown, Berbatov, Carrick, O'Shea, and Ferdinand are not far behind with age. How fitting would it be if those players, some of whom have been with the club since their early teenage years, were replaced from within, by another player who has come up through the ranks. Furthermore, we as fans are usually prepared to give one of 'our own' more backing due to the loyalty we express towards someone whose progress we've been able to witness first hand. New signings are often expected to deliver straight away – by contrast, when Fletcher first broke into the side, whilst some fans sided with Roy Keane in questioning his ability lots of fans backed him right up until the 08/09 season when it became clear just how good he is.
There are a couple of practical reasons to back our youth too. Firstly with the finances in interesting shape at the moment, promoting youth to the first team doesn't involve a huge outlay on expensive transfers. At most it involves a slightly better contract for some deserving youngsters. Secondly, the new Premier League squad rules favour home-grown players and allow for players aged 21 and under (at the end of August) to play in the first team unregistered. It means that actually signing players right now would be rather impossible as the squad only has one spare space at the moment. Whereas our younger players can contribute without the need to be registered.
No one is claiming all our young players will continue to have fantastic careers at Manchester United but as Sir Alex said, "if you don't give them an opportunity they're going to stagnate and move to other clubs who'll get the benefit of the work we've done with them". We must trial them in our first team first, we've experienced losing some talented youngsters as a result of not giving them a proper go – Pique, Rossi, Tosic. On the other hand the club has definitely aided the careers of some youngsters by giving them a chance and helping them to get good transfers rather than lower league transfers that they may have got without the exposure – Simpson, Eagles, Spector, Frazier Campbell.
I'm certainly encouraged that on our forum, Man United fans have backed the calls for the youngsters to be played. The fans aren't alone, lots of the players have backed the manager in recent interviews and have called for the youngsters to stake their claim. We have a plethora of players who have impressed when given the chance and/or have had successful loan spells.
Manchester United is a forward thinking club, there is never a standstill, Ferguson always makes sure that the future is catered for. A signing is always exciting but progress can come from within – it has been done previously, and I firmly believe that now is the right time to promote the next generation. They are already winners, so now we must back them and see if they can follow in the footsteps of their predecessors to help maintain the success we've become accustomed to.
Feel free to follow me on Twitter