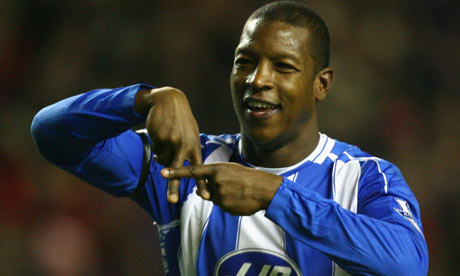 Ian over in our forum has put together a collaboration of events that look at determining the outcome of the Premier League title and finishing positions for Manchester United, Chelsea, Arsenal, Spurs and Europa League qualifiers Liverpool and Manchester City. Show your appreciation for a witty, humorous and insightful prediction of what could well happen on Sunday afternoon.
You can view the original thread in our forum. So make sure if you like the thread you let Ian know!

3.30pm – Richard Keys prattles on about how "anything can happen", while they talk about Spurs' last-gasp win over Man City on Wednesday and how it not only secured fourth place, but also gives them a sniff of third.
3.31pm – Even though they're not relevant to the title race any more, coverage of Chelsea and Manchester United games focuses primarily on Liverpool.
3.37pm – It's announced that Wayne Rooney's leg has fallen off. Fergie says there's "absolutely no chance of Waynre Rooney playing football ever again."
3.38pm – With the Rooney announcement, Manchester United fans swarm the dressing room and in the melee Dimitar Berbatov goes missing. Rumours that he's been bundled into a car and driven away from the ground by Manchester United fans are unconfirmed. Chelsea fans implore police to find Berbatov so he can start for United.
3.45pm – Rooney is announced in starting line-up.
3.53pm – Berbatov is returned to Old Trafford unharmed by relieved captors who heard on the radio that Rooney was starting.
4pm – Matches around the country kick-off.
4.01pm – Andy Gray sounds more cement mixer than man, as he always does on the last day of the season.
4.06pm – At Hull Rafa Benitez has retreated to the dugout briefly but returns to the sideline with a deck chair under one arm and a Lonely Planet guide to Turin in the other.
4.15pm – Stoke have spent the first fifteen minutes playing in a fashion that makes them unrecognisable from the team that got drubbed by Chelsea. They look like a proper football team for grown-ups.
4.17pm – United fans despair as the news comes through that Didier Drogba has just given Chelsea the lead. He celebrates by peeling off his shirt and revealing a tattoo of Steven Gerrard's face that covers his entire back.
4.18pm – Tottenham and Man City, away at Burnley and West Ham respectively, are doing their damndest to look like two teams who don't deserve to finish in the European places.
4.21pm – After 429 consecutive 3-yard passes from Arsenal, the move is capped beautifully when Brede Hangeland smashes the ball from the edge of his own penalty area and Bobby Zamora thrashes it past Polish ragamuffin Lukas Fabianski.
4.22pm – Arsene Wenger remonstrates with the fourth official for allowing Fulham to shoot the ball at the goal really quite hard indeed.
4.26pm – Hull score a hilariously offside goal to take the lead against Liverpool, and the cameras pan to get Rafa's reaction but he hasn't seen the offside because he was busy in a conga with Roary the Tiger, the fourth official, and a selection of Liverpool substitutes.
4.27pm – Darren Fletcher and Ryan Shawcross cause a tear in the fabric of space and time when they both go in for a 50-50 tackle two-footed and their studs fuse together.
4.34pm – Tottenham and Man City both take the lead in the space of a few minutes, and both look distinctly uncomfortable about it.
4.41pm – United go a goal down when Rory Delap, taking a throw-in from his own corner flag, sets up Ricardo Fuller who does one of those peculiar headers of his where he tries to head it one way and it goes in the exact opposite direction yet somehow still sneaks inside the post.
4.43pm – Iain Dowie looks flummoxed, or more so than usual, when Rafael Benitez starts reciting to him from an Italian phrasebook.
4.45pm – Refusing to finish the season on anything resembling a high note, Aston Villa go a goal down at home against Blackburn.
4.55pm – Alex Ferguson substitutes Dimitar Berbatov on for Michael Carrick. God help us.
4.56pm – Hope! Charles N'Zogbia is in one of his "being a footballer" moods and spoons a preposterous curler into Cech's top corner.
5.04pm – Damn! Dimitar Berbatov smashes an audacious volley into the top corner. Unfortunately it's his own top corner. On reflection he decides that beggars can't be choosers and he celebrates anyway.
5.10pm – Arsenal equalise at the Emirates. A nicely worked team goal. A safe third-place finish is back on.
5.12pm – The comeback is on! As a cross floats in towards Berbatov, Wayne Rooney grabs him and throws him to the ground before heading it into the bottom corner.
5.13pm – Rafael Benitez has switched clothes with the Hull mascot and is currently wiggling his backside at the Liverpool fans. The chap who was the mascot, however, is wearing Rafa's suit and doing a better job of inspiring the team than Benitez has in months.
5.16pm – Berbatov gets the ball and runs 'round the Stoke goalie before somehow smashing the ball against the bar from 3cm out. It hits him in the face and falls to Paul Scholes who calmly slots in the equaliser.
5.18pm – United are motoring now. Rooney passes the ball to Nani who nutmegs three Stoke defenders before knocking the ball into the air and putting United 3-2 up with an overhead backheeled chip into the far corner…. but no! The goal is ruled out for Rooney having bumped into a Stoke player. In a rage that wouldn't look out of place on Bruce Banner, Rooney kicks the referee so hard in the knee that his metatarsal fractures, ruling him out of England's World Cup group games.
5.22pm – Chelsea are in shock as after battering Wigan with 27 shots on target the visitors break down the field. John Terry catches a Rodallega shot with both hands and lobs it to the centre circle and then looks outraged when the referee whistles for a handball. He gets a stern telling off. Charles N'Zogbia scores from the free-kick and puts Wigan 2-1 up!
5.28pm – Carlos Tevez scores at West Ham but is booked for time-wasting when he celebrates by personally apologising to every Hammer in the ground.
5.33pm – Fulham score from a corner as a cross is nodded in. Arsene Wenger remonstrates with the fourth official for letting Fulham use their heads.
5.35pm – Oblivious to Hull having gone 2-0 up, Rafa Benitez is gleefully trying to start a "Stand Up If You Hate Fergie" chant.
5.39pm – With a minute plus injury time left and Chelsea still losing, Dimitar Berbatov's moment finally arrives. Valencia puts an inch-perfect cross in and Berbatov controls the ball, nonchalantly flicks it over two defenders and rifles a rocket-shot into the top corner! 3-2!
5.40pm – United seal a win, and surely a fourth Premier League title, as Federico Macheda taps one in from a yard out and reacts as though he's just scored a wondergoal. The smug-looking git.
5.41pm – Frank Lampard decides to remind England fans what they won't be seeing this summer by pinging a shot into the top corner from 45 yards out. Just a minute or two left for Chelsea to get the winner they desperately need…
5.42pm – Arsenal, who looked comfortably third for so long, drop to fourth as in the final minute Clint Dempsey tackles one of Wenger's WonderTots and accidentally boots him out of the stand and into the car park. A fine cross is played into the penalty area from the resulting freekick but various players leave it as they remember Arsene's warning that heading the football is for neanderthals. It drops to Nicklas Bendtner instead who sends Spurs fans into dreamland by fluffing the shot straight at the keeper as the whistle goes while at White Hart Lane Spurs took three points courtesy of a late Peter Crouch header.
5.43pm – United's game is over with a 4-2 win, and now all thoughts turn to Wigan. Chelsea force a corner and Titus Bramble tries to head the ball away but somehow ends up with the ball inside his shorts. As he flails around to try and remove it, he stumbles into the net, gifting Chelsea a 3-2 win and the Premier League title.
League finish: Chelsea (champions), Man United, Spurs, Arsenal, Man City, Aston Villa, Liverpool.