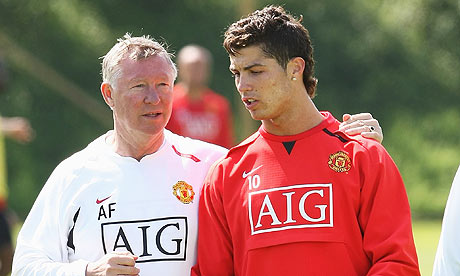 Apologies for the somewhat misleading title. We are not suggesting in any realistic tone that Cristiano Ronaldo is about to depart Real Madrid and return to Old Trafford, despite the fact that such a comment is not as absurd as it would have seemed 6 months ago. Nonetheless, one year since the best player in the world left Manchester United, a void exists, and when looking at the potential options, his name appears as likely as any.

This isn't a blog about the Glazers' raping of the club or David Gill's claim that United have £95m in the bank to spend on players. Nor is it really one that centres on transfer speculation with any great significance. In the past week alone we have celebrated the birthdays of arguably the most iconic wearers of the number 7 shirt in Eric Cantona and the now departed George Best and while the shirt itself is currently occupied, there is most certainly a vacancy for the X Factor that Ronaldo possessed.
Not that it's a slight on Antonio Valencia who not only exceeded expectations but did so by creating his own identity at the club – no mean feat considering the ego of the man he was reportedly bought to replace. United fans have never judged him as a like for like replacement and both parties have been better for it. Valencia has been tremendous in that he has added a direct dimension that even Ronaldo seemed to lack at times – but for his many qualities, he doesn't possess the sheer outrageous imagination that United's most famous number 7s did (not that that should count against him at all).
Wayne Rooney was required to stand up and score the goals and he did so in stunning fashion, but for his injury against Munich it's a fair argument to say he would probably have smashed the 40 goal barrier. His game evolved as Ronaldo left and it's fair to say that he has probably developed into more of a predatorial Hughes than a Cantona. Again, not a slight at all.
The man where most of the responsibility lied was probably Berbatov, and despite his detractors – I'm one – he did produce some moments of magic last season but they were just not at the times when they were most needed or anywhere near as consistent as they needed to be. The man who came closest then was probably Nani – he who should never be compared as the next Ronaldo. And he shouldn't, because they're different players. Nani clearly can't compete with his compatriot in terms of sheer physicality – who can – but it shouldn't be a dismissed or scoffed at point that he arguably has a more natural flair for beating his man.
It's probably that physicality, that presence, that sets the new holy trilogy of Best, Cantona and Ronaldo apart. So if the choices to step up to the role are not quite the same (Valencia or Nani), otherwise occupied (Rooney) or untried and untested (cases for Macheda, Welbeck or Cleverley) then logic dictates the solution is outside of the club. Disregarding the fact we're broke for a minute; who of the contenders is most suited?
Many United fans want David Silva of Valencia in precisely the kind of role we're talking about – and if he a) wanted to move to United and not one of Spain's big two and b) could easily adapt then despite his slight frame it's certainly a case to be made. He has the imagination as his goal a couple of years back against Chelsea at Stamford Bridge showed. He has the reputation as one of the premier schemers in European football. His face would sell posters/cups/bed linen. But remove the suspension of disbelief over cost and the reality is grim, a reality that says he will most probably be wearing white next season, whether that's the white of Valencia or Real.
For Silva, read Aguero. With Atletico traditionally refusing to sell to Real and David Villa's transfer to Barca, if he was to move, Aguero's destination would likely be away from La Liga. He is probably just a bit more established than Silva at present and has at least demonstrated he can perform in a league that isn't his home. Money talks again though and when you factor in the higher tax bracket and Chelsea or City's ability to offer far greater wages; even if we could afford a transfer fee of what he would command you are then relying on a footballer's desire for glory in a mercenary world.
A little closer to home and infinitely more realistic is the growing rumour that Joe Cole, available on a free after a spell at Chelsea where he was underused and probably underappreciated, could be joining us. Plenty of tricks, undeniable ability, more importantly something to prove – sounds a bit like a certain Frenchman, if you substitute the enfant terrible risk with a slight fitness concern. As good a player as Cole is – and I think on a free he would be an excellent signing – he still doesn't have the same wow factor (though if he does sign I reserve the right to withold definite judgement).
Leading us nicely round to the focus of the title of the blog, Ronaldo himself. Is it too extreme to think this could come true? Six months ago there were rumours of his unease in Madrid; possibly goldfish syndrome, possibly the contrast in the feel of the respective clubs. Arguably the two biggest clubs in the world but their feel could not be any more different – Madrid have been bankrolled by the country for as long as they've been successful, and have always bought their superstars. United meanwhile, though recently developing a successful franchise, built that upon their rich history that has included rebirth from tragedy and a generation of being the best team in the land with superstars that grew up with the club and were made BY the club. Cristiano was one of them; the shift in being one of a family to just the latest in the long line of high profile signings expected; nay, demanded to perform to unrealistic and never good enough standards was understandably difficult. With Jose Mourinho's arrival at the Bernabeu imminent and their very public disagreement a few years ago; the seeds are sown for the rumour mongers.
It is however that desire to succeed that Ronaldo shares with Mourinho – probably best described as "nomadic determination" that means Ronaldo will stay at Madrid for next year at least. Any problems Cristiano may have had off the pitch settling in were not evident – save for a couple of flashpoints – on it. He was in phenonemal form and for me is still the best player in the world, but with Real ending the season trophyless, Ronaldo's personal quest remains unfulfilled. He couldn't leave a failure now, could he? But he's made all the right noises about United since leaving, and Fergie has made it clear he would have him back in a heartbeat. This is very much a chapter in Ronaldo's career, not the swansong, and any disillusion he feels in Madrid will be compounded by absence making the heart grow fonder; and, significantly, Ronaldo's absence still felt at Old Trafford making his ego feel more needed.
If we are to entertain Gill's fantasies about such a pot of money then the Ronaldo story probably has greater solidity to it than a move for Silva or Aguero; back in the real world, however, the most likely scenario is a Joe Cole signing, and even that's dependent on if he can't squeeze top dollar wages from Spurs. That wouldn't be a bad thing in the short term; and I'm not crazy enough to think with the Glazers in charge we will ever have £60m for a single player at our disposal. But should they go; then the prospect of Ronaldo being back at Old Trafford in 12 months time isn't as crazy a notion as it first seems.