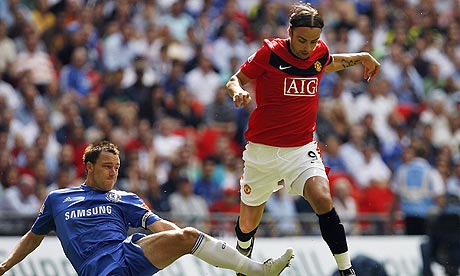 Manchester United have been handed a lifeline in their quest to make history, Stretford-End.com analyses the run-in for both the Champions and their greatest contenders (and only likely ones now), Chelsea.
After having used these pages to publicly state I believed we were out of the title race (after our defeat at Fulham and then the draw at Blackburn), we have been let back in by this crazy season – far from being one that has been poor, many neutrals would say it's been one of the most exciting ever, with any team capable of beating another.
Who would have expected, after 120 energy sapping minutes on an awful Wembley pitch in a game that ended in defeat, that Spurs could win back to back against Arsenal and Chelsea to boost United's flagging hopes. Such is the trend this season – nobody would surely have forseen Wigan taking three points each from Chelsea, Arsenal and Liverpool.
Far from being indicative of a worse league (and a weakened United side without Ronaldo that has admittedly had to adapt, but arguably is now more attractive on the eye) it is a huge testament to United's often underestimated true talent and their determination that we have stayed in the race even this long. There have been refereeing shambles (such as the Mike Dean stitch up vs Chelsea, and the constant stream of John Terry's wrestling moves that were finally punished at White Hart Lane) and widespread criticism of United, without taking into account the mitigating circumstances which has been an injury list the likes of which have been unprecedented.
Much has been made of Liverpool's and Arsenals absentees and has been used as the reason for their respective failures this year (some pundits even claiming that with van Persie fit Arsenal would have run away with the title) but with all respect a fully fit United would probably have romped to the title this year. van der Sar missed a huge chunk at the start of the season, at times all our four senior choices at right back were injured, it's only recently that Rio Ferdinand and Nemanja Vidic have managed to have a settled run at all (though Rio missed the derby, again Evans stepped in without any fanfare and did a magnificent job), the cover at centre back has been so crocked that we were forced, in the autumn, to use Michael Carrick and Darren Fletcher there, in midfield too we have seen long spells on the sidelines for Owen Hargreaves, Ryan Giggs, and Anderson. Up front, even though he wasn't a starter, Michael Owen's late winter injury that ruled him out of the rest of the season meant that when Wayne Rooney was eventually injured following a media run ouija campaign, Sir Alex was left trying to fit a Dimitar Berbatov shaped square peg into a round hole. Perhaps for £30m that square peg should have been able to adapt; there's no mistaking though that the injuries have been of huge hindrance to our hopes of winning a historic 19th league title.
United and Chelsea have a 3 game race in which to win the title. The current holders of top spot are the West London club, with a one point gap. The hope was oddly rekindled when Chelsea put in a dour shift at home to Bolton and should have lost that game, had the Trotters been awarded two blatant penalty decisions. The only concern on Saturday (aside from our own game of course) was that Spurs might not have the legs after their recent performances. Gareth Bale (a player I've admired for a long time and think would be a great signing) proved the difference with man of the match performances in both games – it will need Neville and Valencia at their very best if we're to end their recent brilliant run.
Sat 24th April 2010
Manchester United v Tottenham 12:45pm
United are first up in the next round of fixtures. As I just mentioned, the major threat will come from the engine and ability on the ball of Gareth Bale. Luka Modric and Huddlestone had great games against their local rivals but with the return of Wilson Palacios it is likely that one of those (probably Huddlestone) will be sacrificed. This is of course assuming that Harry Redknapp sticks to a 4-4-2 but there's no reason to suggest he won't – he trusted it against the different systems in the last 2 games. I might be inclined to go as far as to say Sir Alex might field a 4-4-2 to match Spurs system which would be the ultimate compliment for 'Arry's team.
Tottenham are certainly capable of getting a result at Old Trafford and have done so with far worse sides than their current set up – their recent form will not have been missed by the United players though so you would expect there would be an absence of complacency. It will need to be a 90 minute concentration session, just as it was against City, and the result in this one will be no foregone conclusion.
Sunday 25th April
Chelsea v Stoke 16:00
Carlo Ancelotti's men take to the field a full 25 hours after United and Spurs will finish their contest. At this stage of the season, though, that extra time will not be of any notable benefit, and considering the damage playing second did to Chelsea psychologically last week, could work to their disadvantage. It's worth noting that it took an injury time goal from Frank Lampard to win this fixture last season – nothing against injury time goals, we know how important they are, but it goes to show that Stoke on their day can be a tough customer. That being said, Stoke did seem to be on holiday mode against Bolton and with their quiet but magnificent progress of a second consolidatory season in the top flight they might well be thinking of watching the World Cup. One thing that won't be lacking though is their integrity, but you just think they might not have the inherent determination to get a result as they might have done if this fixture had been 5 months ago. And who would blame them? Conversely, they have secured their status with games to spare and now face trips to the two powerhouses in the Premier League where they will have a major say in the destiny of the title. That's quite an incentive for players who will be playing without the monkey on their backs.
Sunday 2 May 2010
Liverpool v Chelsea 13:30
The integrity of Tony Pulis and his team won't be questioned but it will stick in the throat of all United supporters when it comes to team-sheet time in this game. We have to point out that Fernando Torres' injury is legitimate and he will miss big personal games against Atletico to prove the point, but aside from that, you do have to question the principles of Rafael Benitez and what will be going through his mind. If results have already gone against his team by the time this game comes around they could have no chance of fourth – and that leaves you hoping that it will be the integrity and pride of the club rather than the manager that the players will be playing for. The one shining light out of this is that it is Liverpool's last home game of the season and could actually turn out to be Benitez's swansong in front of the Kop. This is obviously the key factor in the title race; United fans looking to this one, on paper at least, as one that Chelsea could drop points in, though it seems far more likely that the white flag of our nearest rivals and the unraised offside flag of a Liverpool supporting refereeing team will be the defining factors of this title race.
Sunderland v Man Utd 16:00
There is no way that Sir Alex and his men won't be aware of the result of the early kick off before they start this huge game and I think that will have a huge bearing on the potential result of this one. Sunderland are enough of a threat – and have already got a point from us this season to prove it – without taking into account all of the external variables that will be running round the minds of the Red Devils contingent. Steve Bruce showed no hint of loyalty to his old manager when he took his team to within a few kicks of a win at Old Trafford though the media will obviously build it up as such in the hope that they can galvanise a club who are clearly so intent of winning their last home league game that they have severely cut United's ticket allocation. On paper, at least, you would say United should win this game, but football isn't played on paper and in front of such a passionate crowd this game will be every bit as tough as the Spurs one, if not tougher.
Sunday 9 May 2010
Chelsea v Wigan 16:00
I've said it before; if any one club is the personal, physical embodiment of this season, then it is Wigan Athletic. Their results, and the manner in which they have achieved them, has been one of the highlights of the season. Not always for the right reasons. The team that beat Chelsea, Liverpool and Arsenal on their own patch also shipped 10 goals over two games to United and by losing 9 goals at Tottenham have suffered the heaviest defeat by a non-relegated team in Premier League history. That being said, it would be too much to hope for them to put in the required shift here, and Chelsea are so formidable at home that United fans will bizarrely be hoping that Chelsea's greatest obstacle is themselves, just as it was in 2008 when they shot themselves in the foot with a draw on the last day against Bolton.
Man Utd v Stoke 16:00
We will learn much about Stoke's intentions by their showing at Stamford Bridge, although one would expect that they would still try and put in a shift on the grandest stage in British football. Regardless of Liverpool's expected towel throwing exercise, if United win both of the games prior to this one they will have a slim chance with that one point gap still intact. Sir Alex's mandate will them be quite simple; just win the game. With the focus and determination for the result you would have to reasonably assume that United will have too much for their Midland opponents. Whether that will be enough to send a few nerves down the M1 to Stamford Bridge? As with every other circumstance that surrounds these remaining six fixtures, we can but hope.