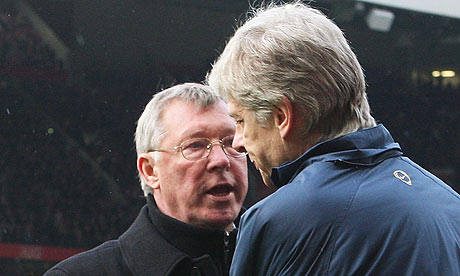 Having already beaten Arsenal twice this season, Sir Alex Ferguson may be slightly bemused as to how the Gooners are only two points behind the league leaders. However, Fergie believes that 'on paper' Arsenal appear to have an easier run in but at this point in the season that theory 'does not really work'. Arsenal travel to Birmingham City on Saturday, where both Chelsea and United have dropped points this season. This will be the first time Arsenal travel to St Andrews since the infamous 2-2 draw where Gael Clichy gave away a last minute penalty, Eduardo horrendously broke his leg and saw then team captain William Gallas sit bewildered in the center circle after the game.

Arsenal have lost four times to Manchester United and Chelsea this season in the Premier League, scoring two and conceding ten. United played Arsenal off the park at the Emirates, whilst narrowing beating Arsenal at Old Trafford. Many fans believe that Arsenal have an 'easier' run in, which sees them travel to Blackburn Rovers, Tottenham and host Manchester City. Although United have a title deciding match against Chelsea next weekend, Ferguson believes that at this point of the season every game is difficult:
"On paper they have the easier run-in, but at this time of the season I'm not sure that theory works or means anything. You can drop points anywhere as Chelsea did at Blackburn and your advantage on paper all of a sudden doesn't look so good. I don't think you can say with certainty you'd be confident going anywhere at this time of the season and winning. We just have to rely on our experience and hopefully we can keep a relatively clean bill of health between now and the end of the season. The name of the game is to win your games and hopefully we can do that. That's our best way of looking forward."
Arsenal boss Arsene Wenger believes that out of the three remaining teams for the title, it comes down to consistency:
"There are three teams in the race and it is down to the team who are the most consistent. We can only focus on our own performances. We know our route has to be perfect. To be perfect it is important we focus on our performances. We need some help from the other teams, but we know that will only work if we are consistent and keep our momentum. We have created a fantastic momentum and we have created a great belief within our squad. The consistency of our run is the most important. We want to keep the spirit, the hunger, the desire and the intelligence we have shown until now. For a long time we have fixed ourselves targets. We play every game like our life depends on it and it has been like that for a long time now. We need to bring consistency to our attitude. We have a remarkable attitude, a remarkable spirit in the team, and must just continue like we do."
However, Paul Scholes took a completely different view to that of Sir Alex Ferguson and stated that Arsenal should be considered a threat, based on their run in:
"You can't rule out Arsenal, especially with the run-in they've got. They've played all the top teams twice already, so they'll be confident of putting together a good run of results. But the bottom line is that if we win all our matches we'll win the league."
Although Russian and Arsenal forward Andrei Arshavin believes that Arsenal need more players to win trophies:
"I am still of the opinion that to win trophies Arsenal needs more players. There is the simple fact that last summer we sold two players and bought only one. So there is an obvious deficit of at least one. Then we lost Van Persie, Gibbs and Ramsey for a long time. So for me it is natural we need new players. Without the variety of players we have less diversity in attack. That allows our opponents to read our combinations more easily. Finally, it results in less ball possession for us and our defence comes under more pressure. The Premier League is very interesting, at least as long as we continue fighting to win it. But without new experienced players, real stars, it will be difficult to achieve success. Ideally we need three or four such experienced players and then among our youths there should be guys who are not only good at playing football but have real character."
So bit of a mix bag from both managers and players, however if you're asking me from a fans point of view the next two/three weeks will be massive for Arsenal. They led in 2007/08 for the majority of the season, before losing to United in April and generally 'running out of steam' before finishing third behind Chelsea. They were eliminated by Liverpool in the Quarter finals of the Champions League, which as we know United went onto win. Arsenal fans will of course fancy their chances for the title, especially with United and Chelsea playing one another next weekend and hoping for a draw. The European Cup is a different matter altogether and to be honest, I preferred our draw to their one!
Of course Arsenal can win the title, history has proven that in 1998 and 2002, when United lost their lead to the North London club who went onto win the double. But away to Blackburn Rovers isn't going to be easy, whist Tottenham will do everything in their power to stop Arsenal winning the title whilst pushing their own bid for a Champions League spot. Tomorrow's game – Birmingham away is a tricky tie, with United, although playing well, drawing 1-1.
Just a quick note to any potential abusive Arsenal fan on here. Don't care if you want to slag the article, Fergie or Scholes off – but if you do please back up a rant with some facts (i.e. please state what you believe has been said isn't true). My small observation is that if you give Arsenal a bit of praise, they're your best friends! However, if they disagree with you – they'll hunt you down.