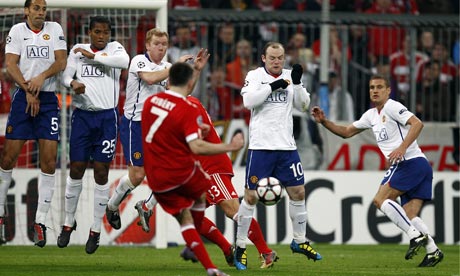 What started as a dream ended in a nightmare as incidents involving Wayne Rooney influenced the infant stage, the current stage and threaten to influence the future stage of this Champions League Quarter Final. The England striker scored his 34th goal of the season to hand Manchester United an advantage in the Allianz Arena before he deflected Franck Ribery's free kick in and was trod on in the build up to Bayern Munich scoring an injury time goal to give the Germans a solid advantage heading into the second leg.

Rooney's fortunes mirrored that of his side; less than 70 seconds were on the clock when Nani won a free kick in the corner and the winger's cross from the set piece was converted by him. The early goal merely bred complacency; though Nani did well but shot wide on 16 minutes and then hit the bar with a cross in the 21st. Bayern had offered their own threats in the first half but in the second period really stepped up the pressure – with the English Champions and league leaders unbelievably complacent in possession, the hosts really pressed home their superiority – a succession of early corners came to nothing, van der Sar was forced into saves from Altintop and van Bommel and then around the three quarter mark Pranjic's shot was deflected over from Scholes. van der Sar had to be alert to stop Olic's chance in the 72nd, but the equaliser was becoming an evitability – it certainly didn't need Neville's needless and unreal decision to handball 20 yards out. Ribery's 77th minute free kick ricocheted off Rooney in the wall and into the net.
Ryan Giggs's corner moments after being brought on did set up a Vidic header that smashed the crossbar but Bayern were always more likely to score a winner – it came deep into injury time, after Rooney was cast aside and trod on (though from the replay it would be harsh to deem it a deliberate foul), Olic was able to capitalise on Evra's out of character dawdle on the ball to cut inside and seal the result for the Germans.
It remains to be seen whether the severity of Rooney's injury will have a significant impact on United's trophy chances but early indications suggest he will probably miss the biggest part of the end of the season at least – a scenario that was met with bizarre euphoria by broadcasters at Sky Television, with commentators Martin Tyler and Andy Gray not only revelling in Bayern's last gasp victory (labelling it revenge, though they have beaten us in similar circumstances since 1999), but also treating the Rooney injury with more than a mere degree of glee. The ridiculous reaction of the British media should not really astound or even affect United followers as much as the potential impact of Rooney's injury; a night like tonight should be one of reflection to the regret and then a swift look forward to the packed run in. Sadly, given the doom-mongering that seems to set in, one feels the scene is set for a media attack when our country should be looking at their European counterparts, celebrating the efforts of their most decorated teams.
Introspectively, there are questions to be asked – in particular, defensively, United were awful, and if as likely Rooney is absent next week, Ferguson needs to swiftly conjure up a potent potion that is capable of scoring two goals in the return fixture. Otherwise, instead of looking forward to a great chance of winning two major trophies, in 8 days time, United could find themselves out of the reasonable running for both.
Ratings : van der Sar 7, Neville 6, Ferdinand 6, Vidic 6, Evra 5, Park 5 (Valencia), Carrick 5 (Berbatov), Fletcher 6, Scholes 6, Nani 5 (Giggs), *Rooney 7