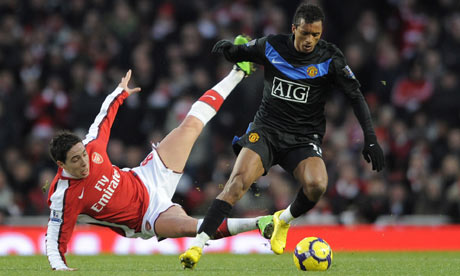 Like this blog? Follow Yolkie on Twitter.
After the battering by Fulham in December made it 5 league defeats in the season, Manchester United have responded by dragging themselves back into contention with 6 wins out of 7 in the league to set up a massive eleven days in the clubs season – three away games against in-form, top class opposition will undoubtedly prompt Sir Alex to use the 4-3-3 formation. In doing so, we'll find out more about the future of Anderson. Should Fergie swallow his pride if it is in the clubs best interests short term?

Anderson was dropped and fined after apparently going AWOL back to Brazil and there were reports of a deadline day move to France that didn't materialise. Like Nani, the Brazilian has divided fans opinions, but with huge games against Villa, Milan and Everton coming up, the fact that recently the most effective performances have come with a 4-3-3 will not be lost on the manager, and it is with this in mind that he really does have a decision to make.
Gibson's cameo at the weekend seemed to indicate this, because after Scholes, Carrick and Fletcher, without Anderson we are short of both numbers and variety. Giggs is an option; and a completely valid one; however he has been more effective as part of that front three. And as much as Gibson has improved, he still doesn't quite offer much in the way of the variety that will be needed against the experienced and energetic midfield we will be coming up against.
It's understandable that Fergie wants to teach Anderson a lesson; being named for the postponed reserves derby last week just a couple of weeks after giving a decent performance in the real thing was proof of that. And let's be clear, Anderson does only have himself to blame, it's a good thing that he is frustrated by not playing, but if the reports are true that he absconded then he has to be disciplined. The question here is whether the fine and the gesture of a reserves game is enough to shake some sense into him.
Beyond the bosses principles there is a recent example for the youngster to note; Nani's outburst cost him some time from the team (though Fergie cited injury, that seems to be a smokescreen) and he has responded in the right way – his on-pitch performances can only really be put down to increased concentration and awareness and these are mental factors – strangely, it's not really performance where Anderson has faltered this season with a notable improvement on last years form. There is of course plenty of scope for improvement but has the relatively short time since the incident been long enough to give him a reality check? Is it sufficient punishment?
Regardless of whether or not he has a future at our club – and I for one hope he does and that he goes on to fulfil his massive potential here – he has to look at himself and understand that behaving in such a way is unlikely to curry favour with any of the big European teams.
Of course, some United fans don't think his form this season has been that great and could argue that he doesn't deserve his spot in the team – whatever your opinion on that matter, though, it is unlikely Paul Scholes will complete 90 minutes or start in all of the 3 games coming up. The Carrick/Fletcher/Scholes combination looked impressive against Arsenal but I'm still not convinced that a midfield three wouldn't be better with Anderson – and let's face it, with the likes of Milner, Petrov, Fellaini, Arteta, Pirlo, Gattuso, Flamini, there is going to be a huge test on our energy levels – does Scholes or Carrick for that matter have enough to be able to firstly contain the opposition and also dictate the game throughout all 3 games?
I'm not ruling that out; our recent form has got me thinking anything is possible, but I just can't see it. Giggs and Gibson give us more bodies but aside from Fletcher (and Anderson) we don't have another bombastic, driving, mobile midfielder. Hargreaves may be back in training but the simple fact that Fergie, in dropping him from the CL squad, doesn't feel he's ready in the short term. What's after that? Possebon is back from his loan, Pogba has impressed in his performances at the various levels behind the first team, but neither of those are in serious contention.
At Liverpool earlier in the season we played a two man midfield and it cost us dear – Scholes and Carrick were not the most mobile, the absence of Fletcher and Anderson was huge. Against Chelsea Fergie changed to a 4-3-3 and Anderson put in one of the best performances of the season on Essien, with Fletcher similarly brilliant. The formation was used to good effect against an in-form Birmingham and then looked good against City in the away game despite the defeat – good enough to tempt Fergie to use it in the return leg and Arsenal the next game, with results that I'm sure you don't need to be reminded of. With this in mind you would reasonably assume Fergie will stick with a winning formula but you would also reasonably assume that the components of that formula will have to be mixed up.
So, what's the solution? Relent somewhat from his trademark disciplinary stance and recall Anderson? Stick to his guns and have faith in what's available even though it may cost us? Will he not even play 4-3-3?
Personally, I'm hoping for a "Nani effect", but my head says it will be between the five players I earlier identified. I'll keep the faith, I'm just not sure faith will be enough – these three games won't win us the title if we win them all, but they may just knock us out of the trophy hunt if we don't.