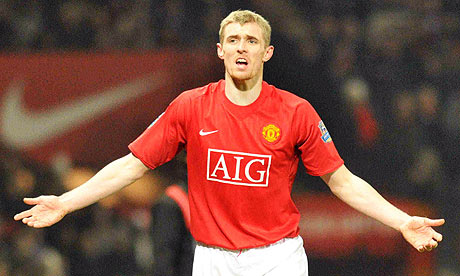 Darren Fletcher continues to prove that he is a man for the big occasion. Fletcher set up Wayne Rooney and Paul Scholes in the San Siro on Tuesday night to give United a 3-2 lead going into the second leg. Fletcher was inspiration against Arsenal in the two semi final games last season and was the unsung hero in the 7-1 thrashing of Roma back in 2007. It is quite clear how important Fletcher is to this Manchester United, both from an defensive side and creative side (Fletcher has eight assists so far this season).

It is a far cry from a time where some Reds would have put Fletcher in the same bracket as Djemba Djemba, Kieran Richardson and Liam Miller. Roy Keane didn't help with his infamous comments in a MUTV interview, but it is clear to see the quality that the Scot has in his locker. He has performed well in the San Siro before, dominating a midfield battle with Cambiasso of Inter Milan last season. The energy levels and passing ability the Fletcher has makes him one of the first names (alongside Wayne Rooney and Patrice Evra) on the team sheet. Something you wouldn't have thought was possible five years ago.
We have always been big fans of Darren Fletcher on the Stretty Rant and it is a travesty that due to an insane refereeing decision, Fletcher was suspended for the 2009 European Cup final. This season both he and Rooney have raised their games even more than last season and his performances in the 'bigger' games this season have be impressive. His absence from the midfield in the 2-0 defeat to Liverpool speaks volumes and his ability to fill in at right back when United were hit with quite possibly the worst defensive injury crisis under Ferguson shows what an asset he is to the club.
Last night we could see his versatility in full flow, operating in an unorthodox left sided midfield role – he worked extremely hard to get behind the ball, stopping the impressive Ambrosini stamping his authority on the game, whilst from an attacking point of view, galloped across the pitch to the right had side to setup Scholes and then swung in a right footed cross from the left for Rooney to nod past the aging Dida. There is no doubt that Fletcher is best in a three man midfield centrally, however his ability to become a right back or wide man is a quality that no other player – except for maybe Owen Hargreaves – has at United. Its laughable to think that some Reds two seasons ago thought that he should possibly move to 'Wigan' or 'Everton' – which would have suited his standard a bit more. Fletcher was coming through the ranks when the side was in transition and both Rooney and Ronaldo were still learning theri trade. Ruud Van Nistelrooy was a injury concern and Roy Keane was in the twilight of this United career before packing his bags and leaving for Celtic. Very different to the environment that Giggs, Beckham, Scholes, Neville and Butt came into back in the early 90's.