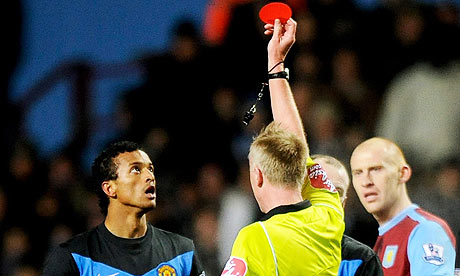 A chance missed; a man light but Manchester United came from behind to draw against Aston Villa. Carlos Cuellar's header was almost immediately leveled by a James Collins own goal to send United to within a point of leaders Chelsea who lost at Everton.

The Champions played well but were desperately handicapped by referee Peter Walton's decision to send Nani off in the first half – Sir Alex Ferguson's second half tactical reshuffle was constantly negated by Villa's almost incessant refusal to take the initiative on their own ground.
Despite a bright start from the visitors it was Villa who got the first goal – Carlos Cuellar reacted quickest to an attempted Rafael clearance to head a looping effort over van der Sar and into the goal. Cuellar had earlier headed a similar chance over but United were asleep for the second, but fortunately their response was pretty rapid. Nani had started well (an 8th minute free kick was struck well enough to give Friedel problems) and his cross was accurate to Giggs – the Welshman's volley went across goal and Collins diverted it into his own goal, taking "OG" for the Red Devils into double figures in the league.
5 minutes later, on the half hour, the whole approach of the game shifted for both managers – Nani was sent off by Walton for a reckless tackle where both feet left the ground. There was a case for complaint by the in-form winger who claimed he won the ball – a claim replays later backed up – but the truth is having lost control of his body the referee had no option and he had to go. To best describe, it was the kind of tackle that had it happened against your team you would want the player sent off for it, and it was the right decision.
Not that the decision suddenly influenced Villa to go all guns blazing. With Milner, Dowing and Young the home side have serious pace and creativity with genuine aspirations of a top four finish but their blunt refusal to take the game to a lessened United side ruined the game as a spectacle. The visitors could in fact have taken the lead in the remainder of the first half but Carrick's shot was tipped over and Friedel reacted well to snuff out Rooney who had been imaginatively put through by Giggs, though the hosts did have a shout for a penalty when Rooney's charging down of a free kick looked like it was assisted by a hand.
The second half promised much when Scholes was replaced by Valencia – Ferguson was making his intentions clear by still trying to exploit the width but Martin O'Neill was presumably more than happy with the point. Valencia almost made a real impact with his first contribution, Giggs' cross found him but he fired over. Villa's only meaningful effort in the second half came when Milner received an Agbonlahor pass to work van der Sar but the shot was still comfortable.
Chances were at a distinct premium in the second half – Giggs again found Rooney who found space but fired over before the English striker worked a chance of his own only to see it saved by Friedel, and other than that the most you could say is that the visitors were restricted by their hosts' own lack of ambition. Unlike the return fixture though, United could claim to have put in a real show this time round, at least until the last 20 minutes when Giggs was replaced by Berbatov which severely impacted on the forward mobility. The feeling after Chelsea dropped points may justifiably be one of frustration but the reality is that United did gain ground on the leaders in difficult circumstances, and every point counts in the run in.
Ratings : van der Sar 6, Rafael 7, Brown 6, Evans 7, Evra 6, Fletcher 7, Carrick 7, Scholes 7 (Valencia 6), Nani 6, Rooney 7, *Giggs 7 (Berbatov 5)