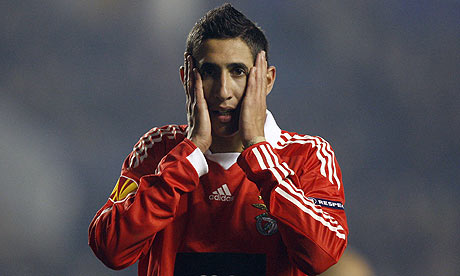 There has been a lot of talk over the last few days that Luis Nani has been included within a transfer deal to Benfica for the purchase of the talented winger Angel Di Maria and I for one would welcome the transfer of the young Argentinian. Nani has continued to frustrate since he signed from Sporting Lisbon two and a half years ago, whilst his comments suggesting that he was 'mis-managed' by Sir Alex Ferguson surely can't have gone down well with the manager. I think Nani's time is up at Old Trafford and I would welcome the winger who Maradona described as 'the next Argentinian superstar' to Manchester.

The reported bid was £10Million plus Nani – which has been rejected. Although his transfer fee is 'undisclosed' it is thought to have been in the region of £14Million. Although transfer prices are inflated nowadays, I can't see the young Portuguese being worth more than that if i'm honest – meaning that on paper the offer was £24Million. Benfica kindly reminded United that Di Maria had just signed a new contract, which included a minimum release fee of £40Million. It is that same old story when United come knocking and one of the reasons as to why I do not believe Ferguson spent much of the £80Million transfer fee received from the sale of Ronaldo in the summer.
So can Nani put all of this behind him and become a regular first team player at Old Trafford? Personally, I don't think so. Although he has a superb shot and, at times, can deliver a great ball from set pieces – he tends to slow play down immensely and looks short of confidence when in a one on one situation. He cited his lack of confidence in his interview, claiming that Fergie's decision to not include him within big games as a factor in this loss. That may be so, all players want to prove their worth against the best teams, however he hasn't performed at a high level for some time now and I would choose Antonio Valencia over him every time.
We have blogged on Nani before and I don't think much has changed since then. His last appearance in a United shirt was as a makeshift left wing back in the 3-1 victory over Wolfsburg and I think it is fair to say that if Ferguson had a choice of defenders – Nani would have been sitting on the bench or in the stands. Before that he played in 3-3 draw with CSKA (and was substituted with United 3-1 down) and his last start in the Premier League was against Blackburn Rovers at the end of October – where if I remember correctly – he was very poor and was again substituted. This for me is not the form of someone ready to 'step into the shoes left by Ronaldo'. I can't see him remaining at United for much longer and I think he personally needs a move to kick start his career.
So back to Di Maria, can you see it? He is being tracked by Chelsea, Manchester City, Inter Milan and Real Madrid – so we have some stiff competition. Some reports have suggested that Di Maria is unsettled at Benfica and would welcome a move to a bigger club. Current Argentinian coach Diego Maradona is a big fan of Di Maria as highlighted by his recent comments:
"Angel has the quality to be a worldwide superstar within the next two years. I have always followed his career closely and his level has increased enormously since he's been in Europe."
From what I have see the lad looks impressive. Although he has been criticized for holding onto the ball for too long (something I have suggest Nani does far too often) he looks confident when taking on defenders and has scored some great goals so far this season. It is a shame that Nani didn't work out at Old Trafford, considering he has shown glimpses of his talent (although I never understood the comparisons with Ronaldo) early on in his career. You never know, he might