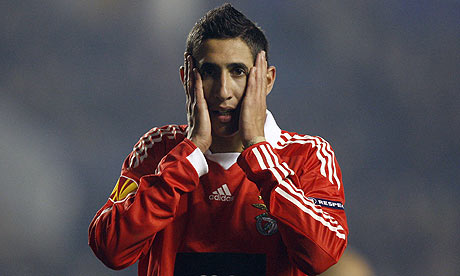 There has been a lot of talk over the last few days that Luis Nani has been included within a transfer deal to Benfica for the purchase of the talented winger Angel Di Maria and I for one would welcome the transfer of the young Argentinian. Nani has continued to frustrate since he signed from Sporting Lisbon two and a half years ago, whilst his comments suggesting that he was 'mis-managed' by Sir Alex Ferguson surely can't have gone down well with the manager. I think Nani's time is up at Old Trafford and I would welcome the winger who Maradona described as 'the next Argentinian superstar' to Manchester.

The reported bid was £10Million plus Nani – which has been rejected. Although his transfer fee is 'undisclosed' it is thought to have been in the region of £14Million. Although transfer prices are inflated nowadays, I can't see the young Portuguese being worth more than that if i'm honest – meaning that on paper the offer was £24Million. Benfica kindly reminded United that Di Maria had just signed a new contract, which included a minimum release fee of £40Million. It is that same old story when United come knocking and one of the reasons as to why I do not believe Ferguson spent much of the £80Million transfer fee received from the sale of Ronaldo in the summer.
So can Nani put all of this behind him and become a regular first team player at Old Trafford? Personally, I don't think so. Although he has a superb shot and, at times, can deliver a great ball from set pieces – he tends to slow play down immensely and looks short of confidence when in a one on one situation. He cited his lack of confidence in his interview, claiming that Fergie's decision to not include him within big games as a factor in this loss. That may be so, all players want to prove their worth against the best teams, however he hasn't performed at a high level for some time now and I would choose Antonio Valencia over him every time.
We have blogged on Nani before and I don't think much has changed since then. His last appearance in a United shirt was as a makeshift left wing back in the 3-1 victory over Wolfsburg and I think it is fair to say that if Ferguson had a choice of defenders – Nani would have been sitting on the bench or in the stands. Before that he played in 3-3 draw with CSKA (and was substituted with United 3-1 down) and his last start in the Premier League was against Blackburn Rovers at the end of October – where if I remember correctly – he was very poor and was again substituted. This for me is not the form of someone ready to 'step into the shoes left by Ronaldo'. I can't see him remaining at United for much longer and I think he personally needs a move to kick start his career.
So back to Di Maria, can you see it? He is being tracked by Chelsea, Manchester City, Inter Milan and Real Madrid – so we have some stiff competition. Some reports have suggested that Di Maria is unsettled at Benfica and would welcome a move to a bigger club. Current Argentinian coach Diego Maradona is a big fan of Di Maria as highlighted by his recent comments:
"Angel has the quality to be a worldwide superstar within the next two years. I have always followed his career closely and his level has increased enormously since he's been in Europe."
From what I have see the lad looks impressive. Although he has been criticized for holding onto the ball for too long (something I have suggest Nani does far too often) he looks confident when taking on defenders and has scored some great goals so far this season. It is a shame that Nani didn't work out at Old Trafford, considering he has shown glimpses of his talent (although I never understood the comparisons with Ronaldo) early on in his career. You never know, he might
7 Comments on Can you see Di Maria at Old Trafford?
Totally agree with bringing in Di Maria as he is sheer quality. If we miss out on him, we will live to regret it. Also he has also some out in the press admitting that it is his dream to play for United, what more do you want from a player. Dribbles, passes, scores, assists, the boy's got it all in abundance.

good article. Agree with all that's in there. Just a couple of additional points on this subject. First i think that nani's main problem is that he's not strong or quick enough for us, so when runnin at defenders he can't leave them for pace and tends to get muscled out of the ball too easily. Ronaldo was always lightning quick from day one and turned into a tank by the end. Second, di maria has already said that he grew up a united fan in argentina and admires our players greatly. So this along with the fact that real will probably get david silva or ribery, chelsea don't play with wingers anymore (zhirkov doesn't get a game) and italy isn't the place to be anymore will give us the edge in gettin him. But how much does the gaffer want him?

Please and please let Nani go and bring on di maria even for 20 mil.

Angel Di maria has the ability to go past defenders and is an excellent crosser of the ball. He has similar skills and technical ability to Ronaldo. He has a decent goal scoring record and his performances in the europa league against everton were sensational. His heading ability could be improved but fergie would relish developing and nuturing Di maria's undoubted ability. Man Utd in my opinion are short three players to win the champions league in madrid this season, these players are david silva, Di maria and luis suarez. David silva is the only player besides maybe marek hamsik at napoli who could replace paul scholes and add the creatively and flair to utd's midfield.
Luis suarez is a rising star at Ajax, he has 30 goals in 26 games so far this season. We need at least two of these players to compete with barcelona and A.C milan this season. ps Hargreaves return from injury is long overdue. we need him back to shield our defence and provide a physical presence to break up opposition attacks.
Finally to beat A.C Milan in the champions league ronaldinho must be man marked by owen hargreaves and pirlo must be pressuried by fletcher in the san siro.

got to agree the boy di maria has got talent, plus all the other pl;ayers we bin linked with. david silva,dzeko,krasnik, but problem does lie somewhere else. do we have the money to buy this stars. Honestly with recent developments, i dont think so.

Stop wasting time. Bring on Di Maria since have not yet used the money you got from CR9.

that is assumingwe HAVE any money… but the boy is class. AND he's on record as having always wanted to play for us rahter than Real Madrid…
7 Trackbacks & Pingbacks