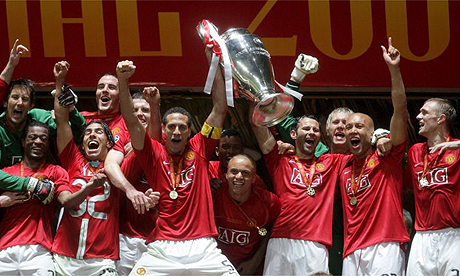 Six Premier Leagues, two League Cups, one FA Cup, a World Club Cup, a European Cup not to mention getting to four Cup Finals we didn't win and the 3 Charity/Community Shields.
A decade in which we have seen three "different" United sides with two of those being the most successful in the clubs history, a decade which saw the rising stars of the 90's consolidate their place in the clubs' and football history as some of the best ever to play the game as well as a new crop of world beaters.
We Manchester United fans have been truly spoiled over the last generation, making a review of the last ten years something of a double edged sword. Too many fantastic moments to mention; and plenty of controversy to get your teeth stuck into.
As we pass the first decade of the new century, Stretford-End.com casts a fond eye over a golden period for the club and asks you to help pick winners from various categories.
In this blog we'll concentrate on what we feel were the best games; if you feel we've missed one out, please feel free to add your suggestions.

Performances

25/2/2001 – Arsenal (H) 6-1
Having dominated the league for the previous 2 seasons and galloping away in the current one, there was no doubt that Manchester United were the better team of the real contenders for the league title, but just to make sure that even the staunchest Gunner had to concede it, the Champions dismantled Arsene Wenger's men with the most thrilling half of football in Premier League history.
Out of favour Dwight Yorke was recalled for this fixture that was billed as Arsenal's (and anyone's, for that matter) last chance to win the title even as early as this, and he opened the scoring within 2 minutes – Arsenal levelled through Henry but this was a false dawn as United relentlessly destroyed their London opponents. Inside the first quarter of the game Yorke had completed his hat-trick, soon after setting up Keane, and Solskjaer's clever finish made the scoreline a staggering 5-1 at half time. Somewhat predictably United eased off in the second half but there was still a cherry on the icing to come in the form of sub Sheringham sweeping home in the last minute. In terms of Championship messages no other side has ever handed such a dressing down to a rival and this was the final hurrah of a wonderful United side that went on to claim a third successive Championship.
29/9/2001 – Tottenham 5-3
Dean Richards, Les Ferdinand and Christian Ziege. Three players whose goals for the home club have somehow got lost in history – Richards got the ball rolling on his debut for Spurs who promptly went on to smash into a 3-0 lead before half time. Even at this though the renewed determination in the second half from the visitors seemed to indicate an inevitable fightback and Spurs succumbed to this – Cole, Blanc and van Nistelrooy scored the goals that restored parity before Veron gave the Champions the lead. David Beckham's late goal put the seal on the game to provide the gloss and suggest that just as United had produced the best ever first half in the Premier League a few months earlier in the above game, they had done the same for the second half.
23/4/2003 – Real Madrid 4-3
Having suffered a first leg thrashing in Madrid United responded the only way they knew how, all out fearless attack. It's not often that the Red Devils come up against a side as potentially kamikaze as themselves but Real fielded 5 attack minded players with Salgado and Carlos as full backs and even made attacking substitutions!
It's less often still that an opposition player performs so well that they get a standing ovation from the entirety of Old Trafford but Ronaldo (the Brazilian one) scored a devestating hat-trick to put Madrid ahead on 3 different occasions, with the third goal an absolute beauty to all but end United's hopes, and when he was replaced ten minutes after grabbing that third, all of the stadium rose to applaud. David Beckham came on and levelled things with a brilliant free kick before grabbing a winner (on the night) right at the death as United valiantly but ultimately in vain attempted to progress.

1/2/2005 Arsenal 4-2
This was something of the completion of a trilogy. The on-pitch haranguing as Arsenal failed to control themselves in autumn 2003, and the on-pitch repreive of van Nistelrooy to end Arsenal's record unbeaten run and the subsequent off pitch haranguing as Arsenal failed to control themselves in autumn 2004 had lead us nicely to this Feburary evening – neither side ever really looked like challenging for the title as Chelsea had bought point after point but there was something more at stake here. If you've ever seen the Rocky films you'll know what I mean when I liken this to the end scene of Rocky III, where Apollo and the title star go at it one last time with nothing really on the line.
Of course, however, the pleasantries in that circumstance were not replicated or exchanged between Wenger and Ferguson who used the media to build the game up.
United had been labelled as bruisers who can't play football; Arsenal, as always, were portrayed as angels who played wonderful untouchable football and were always dignified in defeat. The previous games unpleasantries had made for an almost immediate 3 month long build up for the return fixture and the fireworks were spitting before kick off after Vieira had attempted to confront Neville and ended up running away from Roy Keane in the tunnel. Could the game actually live up to the hype?
Yes, and spectacularly so. Vieira gave his side an early lead, this was cancelled out by Giggs whose shot took a bit of a deflection. Bergkamp restored the advantage but United slowly began to impose themselves, taking control of the game masterfully, much to the chagrin of the Arsenal players who began to behave like the enfant terribles United fans always knew them to be. Vieira was seemingly determined to make himself the villain and he spectacularly attempted to get Rooney sent off. Unpeturbed by the shenanigans, United swept into the lead with a brilliant Ronaldo double before Silvestre was sent off for headbutting Ljungberg. Looking back, we'd all have done the same. Could Arsenal have the last laugh? That was left to the rampaging substitute O'Shea to finish a swift counter attack with a sensational chip in the dying moments, followed by the iconic "did I do that, yes I did" celebration. Just as in 2001, Arsenal fans were left with the grim reality that for all their pre-match posturing that they were the supreme force, they had just been given an on pitch presentation to the contrary. You'll notice in a later entry that this became a recurring theme throughout the decade.
10/4/07 Roma 7-1
Every once in a while you get a football game that just reflects perfection. Every player playing to the peak of his ability and combining to deliver the perfect game of football. Roma in April 2007 was just that – having lost 2-1 in Italy in the first leg, United fans were just hopeful they could turn it round.
The 8 goals that followed were all brilliantly constructed and taken; with Neville, Evra and Vidic all unable to start the home side were faced with a crisis of recent proportions and were playing an unfamiliar 4-2-3-1 with Fletcher at right back and O'Shea partnering Carrick as "sitting" midfielders. Not that Carrick did much sitting, getting the game off to an explosive start clipping a 25 yard drive in the top corner. Moments later and a "blink and you'll miss it" counter attack featured Carrick, Heinze and Giggs whose perfectly weighted through ball was smashed home by Smith. Hardly time to catch your breath before Rooney made it three before 20 minutes, scoring via a post from Giggs' cross. Cristiano Ronaldo scored before and after the half time break and then Carrick treated the Stretford End to a goal almost as good as his first.
Daniele De Rossi scored a cracking goal in an attempt to salvage some pride, but Evra made it a magnificent seven with a shot from the edge of the area. I could write about this game forever but perhaps the Guardian described it best when they labelled it "a performance beyond superlatives".
5/5/09 Arsenal 3-1
In keeping with the earlier Arsenal entries; this game was billed as one for the purists. United were domestic, European and World Champions, boasted the best player in the world, the PFA Player of the Year and a record breaking defence. Arsenal had several talented but over hyped youngsters who hadn't won anything but had one heck of a reputation.
A reputation built up before the game by Wenger who had declared his side would win. A reputation that took little more than an hour to expose as nothing more than a media elevated myth. With a Champions League Final place at stake the tie was finely balanced – Arsenal had already been battered in the first leg but somehow escaped with only a 1-0 deficit.
A cruel twist of fate struck young Arsenal full back Keiran Gibbs who fell victim to the groundstaff's watering of the pitch in an attempt to benefit a passing game. It did, but to the horror of the home supporters, a harsh reality was panning out. Anderson's incisive pass was pulled back by Ronaldo, Gibbs slipped, Park reacted and United had an 8th minute away goal. 3 minutes later and it was game over – a free kick fully 40 yards out would seem an impossible task for most but Ronaldo stepped up and bulleted it past Almunia. Some blame for the keeper; most of the credit should however go to the taker.
The gloss was added with one of the best goals in the competitions history that in a nutshell illustrated the true gulf in class between the two sides. Ronaldo started a counter attack from a corner, finding Park, who fed Rooney wide left. Rooney raced and then weighted the perfect pass for the arriving Ronaldo who despatched a brilliant drive into the top corner.
There was still time for Darren Fletcher to get harshly sent off for a supposed foul on the clearly always sportsmanlike Fabregas, thus being suspended for the final. van Persie scored the penalty but it was insignificant in the bigger picture as United not only progressed but had demonstrated to the world who were the real deal and who were the pretenders.
20/9/09 Manchester City 4-3
Sir Alex called it the greatest derby of all time and with that kind of billing how could we possibly leave it out of a list of this nature? You won't need telling; particularly due to it's recency; but City had spent big over the year. Making the British record signing who regularly seems to disappear, spending over £200m on some of the games more likeable characters such as Craig "golf club" Bellamy, Gareth "I need to play Champions League football" Barry and Emmanuel "Why don't you love me?" Adebayor, not to forget showing all of their class with sky high billboards of one of their new recruits celebrating. A goal. Scored for United.
Ben Foster started for Edwin van der Sar, Rio Ferdinand played despite being clearly short of any kind of fitness while a little known English striker called Michael Owen was on the bench.
Wayne Rooney got the game off to a flier with a goal in the first few minutes; Barry equalised after Tevez capitalised on a blunder from Foster. The first half had set the platform and the second half was almost a thrill a minute. Ryan Giggs' cross was headed in by Fletcher but within minutes an exceptional Bellamy shot from 20 yards gave Foster no chance and made it 2-2. United's previous goalscoring combination worked again as Fletcher headed in Giggs' free kick. As the game entered it's latter stages however City looked to have snatched a point – Ferdinand's woeful attempt at, well, whatever it was he tried, failed, and Bellamy nicked in to race the full length of the United half. Foster in goal hesitated then came, proving that indecision was final, and the equaliser seemed to have been the final act of this compelling script.
It wasn't, of course. In the 6th or 7th minute of stoppage time Ryan Giggs turned provider again, this time brilliantly finding Michael Owen who had crept into some space and steered the ball unerringly past Given to create the most unlikely of stories. There was still enough time for City to mount an attack; they didn't score and inevitably blamed the amount of time added on for their defeat, nonetheless United had put City back in their box after all the early season bleating.
Goals
Scholes v Bradford, 2000
http://www.youtube.com/watch?v=JReo8IqtSm8
Scholes v Boro, 2000

Scholes v Panathinkaikos, 2000

Scholes v Villa, 2006
http://www.youtube.com/watch?v=vQXrMbArqSs
Scholes v Barcelona, 2008
http://www.youtube.com/watch?v=aqP_jSrOiZY
Ronaldo v Portsmouth, 2008
http://www.youtube.com/watch?v=E-DjTdND53o
Ronaldo v Porto, 2009
http://www.youtube.com/watch?v=SqpbMHc5XVU
Ronaldo v Arsenal, 2009

Rooney v Newcastle, 2005

Rooney v Boro, 2006
http://www.youtube.com/watch?v=RPN7bOI-pH4
Rooney v Portsmouth, 2007

van Nistelrooy v Fulham, 2003
http://www.youtube.com/watch?v=bQdYkZAv53M
Beckham v Man City, 2001
http://www.youtube.com/watch?v=tGLHqh5Iigg
So there you have it! Our take on the best of the noughties. We will be doing a special blog on the player of the noughties in the next two days.