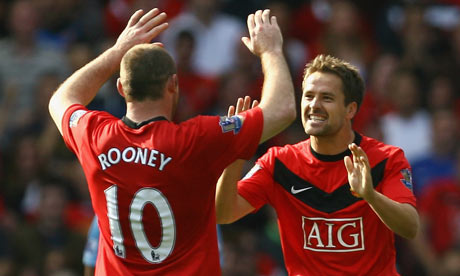 Well, let's concentrate on the positives. Where are the goals going to come from?
Selling Ronaldo was taking 68 goals out of the team, we were told, and without Tevez's guile we would struggle. Of course these are just over hyped opinions that had no basis in reality – no team just suddenly scores, for example, 40 goals less. They move on. And just how, with United putting in three performances already this season that were better than anything we saw last year. 15 in the first 6 games compared with 8 last year and and 4 the season before would suggest we're improving all the time. Going forward we look more industrious, more energetic – more like a team. It may have been missed by everyone given the sensational end but Rooney's goal made sure he kept up a goal a game average in the league – he has assumed the responsibility laid out to him and is living up to all United supporters hopes.

There have been murmurs too that Darren Fletcher is a captain in waiting. While I wouldn't go that far I think it's safe to say that he has made himself the midfielder of choice for United. I might concur that he is not as useful on the ball as Scholes or Carrick but yesterday was a prime example of what he does bring to the side – a determination, bravery and never say die attitude that is vital to the overall spirit of the club that Sir Alex has made so famous.
Ryan Giggs was wrote off again in pre-season with the same tired obituaries that have been doing the rounds for 5 years. Most of them even going as far as to mock the fact he won the PFA Players Player award. It was meaningless, a pity award. Yet he has started the season showing the same sparkling form he did throughout last season. 3 big questions have been asked of United this season, against Arsenal, Spurs and City consecutively, and 3 times you could argue Ryan Giggs is the man who has provided the answers. Of course it was difficult to pick a truly outstanding player against Arsenal and his distribution was careless in this game, nonetheless it was from his left foot that United found both the opening and the winner.
Against Spurs he demonstrated that class really is permanent with a stunning free kick and overall masterclass of a midfield performance. In the derby he was trusted on the wing against the pacier Richards and the once highly rated defender must have thought he was caught in a time warp as Giggs tore him apart. There are those that say when analysing Giggs' ability "he's not the same as he was 10 years ago..". To those I say watch yesterdays game – Giggs delivery was exceptional, there were three assists but there could have been three more had Berbatov been able to head the ball. There used to be question marks over his delivery – there still are, but there's no denying that it has improved immeasurably. Playing as he is and has been for 13 months, I would argue that there is not a more complete footballer in the Premier League. He has lost a yard of pace but has improved his delivery and his "football brain" has no equal.
I say it every year but it still rings true – there's still not a better natural dribbler of the ball in the domestic game, either.
The reason I'm launching into such a defensive is that I knew after such a fantastic performance yesterday there would be a backlash of those morons who questioned the PFA award – lo and behold, Football365.com's Mailbox contained one such idiot. Giggs' talent is a natural genius of a talent that should be cherished and celebrated for still being the better of his peers instead of moronically mocked for its longevity.
Looking at the "neutral" side of yesterday, it's strange but apt that during the week I had a debate on a previous blog with Craig Mc about the values of Berbatov and Owen. I defended Berbatov's all round play but said I would love to be proved wrong – I think yesterday probably gave us both food for thought (though added more water to Craig's argument than my own, admittedly). Berbatov played ok, not exactly excellent, and missed chance after chance. Owen came on for him and did nothing apart from put the ball in the net. I had concluded my thoughts midweek by saying if Owen could score goals when needed from the bench, then what a plan B to have. Berba however may need to work on being more clinical – he certainly needs to work on his heading!
Now the negatives – and it's wasn't Berbatov's lack of aerial prowess in our plan A that almost cost us the game. Ben Foster is increasingly looking like he is not a long term answer between the sticks.
Foster has looked culpable for every goal we've conceded (apart from the Blake and Bellamy rockets) this season. He has made wonderful reaction saves but his judgement has been woeful, I suppose you could say it draws a comparison with Barthez's second season at United. Short term, van der Sar should be back soon, but long term we need a real solution and unless we want another 3 seasons in the championship wilderness we need a ready made one, too.
On a more comical note I had the pleasure of watching Sky Sports News after the game yesterday and some disgruntled City fans were being interviewed. One suggested they had done enough to win the game. HOW?? Aside from the Tevez chance in first half injury time, they never once looked like scoring when they were level. They were battered in the second half and the stats show twice as many shots on and off target.
Fair enough you might be disgruntled over the injury time but trying to claim victory on the balance of play is just plain.. well, deluded.
The fixtures don't get any easier with a tricky visit to Stoke up next weekend but United have faced three major challenges in the last month and passed them all with flying colours. We might not ever hear the end of "they miss Ronaldo" or "such and such is past it" but as long as the lads do their talking on the pitch, we as fans should be satisfied.