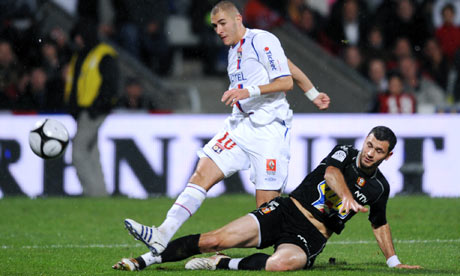 In the two weeks since it was announced that United had agreed to sell Ronaldo for the princely sum of £80m, there have been a plethora of names linked to the club, with the general consensus being that in order to appease the fans and keep the club on its current level, we can't afford to "unearth" another player, we can't afford to give Nani a chance to develop, we need a "marquee signing" as it were, with the two major names being mentioned, Franck Ribery and Karim Benzema.




The clubs that each "belong to" seem to have softened their stance and are now (seemingly, at least) prepared to hop on the cash cow merry go round that is illuminating football this summer. And in the immediate wake of the Ronaldo transfer (even before that, as I blogged on this very page) I urged Ferguson to deliver both Ribery and Benzema.
There's no doubting they are two of the best "available" players on the market – Ribery's proven wing play and Benzema's frightening potential clearly would fit the bill for that marquee signing. There is an alternative, ideal option who I will highlight later but I will first highlight my concerns over the two that have been strongest linked recently.
But for the very same reason I'm actually happy that the current best player in the world is leaving our club, I'm starting to have my doubts about whether I would really want two players who have been strongly linked with a move to the two biggest Spanish clubs and have either made constant remarks to that effect (Benzema) or have close friends coaxing them there (Ribery, with Zidane).
And on reflection I think that this factor could be playing on Sir Alex Ferguson's mind – it may be overly sentimental and unrealistic of me to think that every player in the world has United as their dream club but in fairness, that's not really the issue – as Cantona, Solskjaer and, more recently Rooney, have proved. And they don't necessarily have to fall in love with the club and kiss the badge on scoring a goal, but for example, Berbatov probably earned himself a repreive from some slack amongst fans because of his desire to play for us, to the extent he turned down far more money to play for City.
If we were to sign Ribery, then the wanderlust would probably be less of an issue – we would be signing for a huge fee and getting him at his peak, expecting him to spend those peak years at Old Trafford. And though Zidane has spoken of his desire for Real to sign Ribery, there has been little by way of comment from the man himself.
But Benzema is a different kettle of fish – he has seemed very reluctant to move to United and would even prefer to stay with Lyon to presumably hold out for the move to Spain where both of the main clubs would be more likely to make that move next summer. At 21, even if we did sign him, the likelihood is that in two years the transfer rumours will start up again.
A major thing to consider as well is the marketing side – Ronaldo was of huge commercial value to the club, just as Beckham was, and to sound as non-homo-erotic as I can, there may be the thinking to buy a player that will set as many female pulses racing for his non-football ability as he does to the men for his performance on the pitch.
My conclusion on this front (and all fronts, to be fair) therefore is that Sergio "Kun" Aguero of Atletico would be absolutely ideal – unlikely to push for a move to Real due to ties with his current club, less likely to actively pursue the move back to Spain straight away having played there. He may not be the tallest but his low centre of gravity is akin to that of Messi's in that it is to the major benefit of his dribbling ability, and indeed, he has scored goals of all types in Madrid. Essentially an improved Tevez, substituting some of the grafting for that extra touch of class.
The question mark is whether or not he could fit into the system but given that just last week we were ready to part with £25.5m to keep Tevez at the club, I can't help but think the fact that Aguero is similar but technically better and has great marketing potential could see him as an ideal signing.
What do you think? Would you want Benzema at the club knowing at the back of your mind he could pine for a move to Real? Do you think signing Aguero would be to the detriment of Rooney's development? Or do you think with the money apparently available we should go for both AND Ribery, and Valencia?
Source:(Yolkie)