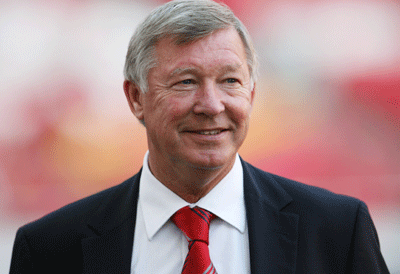 Scoffing my face this morning with peanut M&M's that I had retained from watching Angel's & Demon's at the cinema last night I sat down to watch the Sunday Supplement on Sky Sports 1. In between munching away and then throwing the bag in the bin admits the fears that I would end up looking like the big bearded Martin Samuel (yes I still haven't got over him 'stealing' my blog ideas) – I noticed that Fergie was giving an exclusive interview in the Times on Sunday to Hugh McIlvanney. I immediately switched off the telly (Sky plusing the 'Alan Shearer goes mental' part) and bought myself a copy.
I really enjoyed the interview and thought I would extract some of his quotes for the blog. If you are going out later on I would recommend picking up a copy as it is a great read (comparison with Busby and Paisley and also the teams under Fergie since 1992/93).
Fergie on Welbeck and Macheda:
I like to be around young people. I love being with my three sons and my grandchildren. At the club I enjoy talking to the Welbecks and Machedas rather than the dinosaurs (Neville, Scholes & Giggs).
Fergie on Macheda:
Nobody has to be told about Kiko's ability. And he's a hard bastard. Strikers need a bit of that
Fergie on Welbeck:
Danny's a certainty to make it at the highest level. I've told Fabio Capello the boy will be in his World Cup squad next year. Wide left or right or through the middle, he has the intelligence, guts, athleticism and talent to do the job. He's going to be a big lad. His height is about 6'1 now but the prediction is he'll be 6'3. He's yet to get the conformation in his thighs, so he is still gangly , but he's brave enough to carry that. When he's completes his growing , he'll really be something.
Fergie on race days (Chester race day recently):
Only Scholesy and John O'shea will have any idea what they're doing and the others could make the mistake of asking them for tips.
Fergie on drugs:
We've never had the slightest sign that drug taking is a problem. We had a 16-year-old kid who was caught twice. We released him.
Fergie on centre back partnerships:
Quality at centre-back is fundamental and i've had some tremendous fellas there.
Fergie on Bryan Robson:
I think the unluckiest man i've had here was Bryan Robson. He was one of the best players ever – what a combination of talent and commitment and drive – but he was nearly 30 when I came and his fearlessness had contributed to an awful toll taken on his body by injuries, and our early struggle to be successful lasted too long for him to have a chance of getting the rewards he deserved. If he were in the present team, say at 31, he would be phenomenal.
Fergie on Frank Lampard:
He is an exceptional player, a huge asset to his team. Every time he plays he goes box to box and he hardly misses a game. You pay attention to players who can get goals from midfield and he's averaging 20 goals a season. You don't see him getting into stupid tackles or making a habit of becoming involved in silly rows. When he was sent off against Liverpool two or three months back he walked from the pitch straight away, without fuss. He stayed restrained in the middle of all that bother after Chelsea were knocked out by Barcelona and made a point of swapping shirts with Iniesta. As I say, Frank Lampard is exceptional.
Fergie on Barcelona:
Chelsea would have presented the more straightforward challenge, one we've learned to deal with over the past year or two. The way Barcelona operate in midfield makes it very difficult to get the ball off them. I don't think Iniesta and Xavi have ever given it away in their lives. They get you on that carousel and they leave you dizzy. Your concentration levels can't be allowed to falter for a second. But, with the right tactics, their game is containable.
Fergie on Rooney:
We couldn't not buy Rooney. We knew about him when he was 14 (1999/00) but he wouldn't come then, and he wouldn't come when we tried again at 16 (2001/02). But when he became a professional and started thinking about winning things we knew there would be a change in his attitude, if not necessarily in Everton's. So we bought him for £26Million or whatever it was. You knew what you were getting with Rooney. He gets all your emotions going, drags you in with the physical, emotional way he plays. When he starts to compete and show you that great desire and intensity, you say to yourself 'Fucking Hell', what is this boy made of? You're starting to think 'I'll maybe rest Rooney this week'. Then he comes up to you at training and says 'I hope i'm playing Saturday. If I don't play against Middlesbrough I won't play well against Arsenal. I'm hopeless if I'm rested.' He's something else.
Fergie on Ronaldo:
As for Ronaldo, as a teenager he was never likely to be heading anywhere else but here. We had an arrangement with Sporting Lisbon that he would stay with them for two years to mature. The boy was aware of it. Then in the summer of 2003 we went to Lisbon and faced Sporting in a friendly and he tore us apart. I got word up to Peter Kenyon in the directors' box that he had to come down immediately because we weren't leaving the ground until we had secured the Ronaldo. We got the boy, his mother and his agent together to sort it out. Later we sent a private plane over the deal was done.
Fergie on Ronaldo Madrid link:
After Barca battered Real Madrid 6-2 our players were telling Cristiano that if he goes to the Bernabeu he'll have to play centre-half!
Fergie on the hairdryer:
I lose my temper in different ways now. It's probably more measured, more calculating, more cold.
I would strongly recommend getting a copy if you can as it is a great read with many more features.