You may also find these links interesting: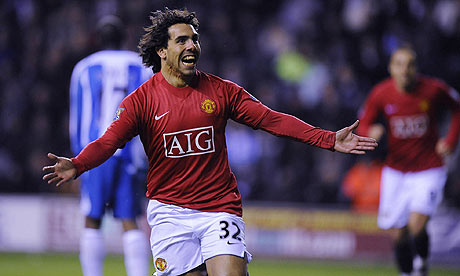 Michael Carrick was sporting a swollen eye but it was he that delivered what surely will be the knockout blow to Liverpool in the title race at the JJB Stadium.
Rumoured Red Devils target Antonio Valencia came close to shocking the Champions as he latched onto a through ball, out pacing Vidic but just misfiring at the crucial moment. The visitors were taking a while to get into the swing of things but after 10 minutes got two chances in quick succession – first, Berbatov's fine movement and cross headed horribly wide by Rooney, and then Rooney made a real fight to reclaim possession, doing so and starting a move that was hit narrowly over by Carrick.
Hugo Rodallega gave Wigan the lead after 28 minutes – a long ball forward was contested between the forward and Vidic, with the Colombian getting the better, losing sight of the ball momentarily before recovering to screw home the opener. Vidic felt he was impeded, but referee Styles was having none of it.
Bar a couple of Ronaldo free kicks United didn't really come close to equalising until stoppage time in the first period, when a wonderful move involving Berbatov, Anderson, Ronaldo and Rooney ended with the ball at the latter's feet – however the young Englishman shot wildly off target.
The second half started with not much in the way of increased promise so Sir Alex Ferguson called for some intervention in the shape of Carlos Tevez just before the hour mark. Inside fewer than 5 minutes, the forward had equalised – Carrick picked up the ball and drove with his right foot, but it was wild. Fortunately for United the shot was converted by Tevez, with what first appeared to be a fortuitous flick, but later clearly indicated a simply stunning backheel of extravagant ability.
From that moment on the game swung firmly in favour of the visitors, who went for the jugular, but had to wait until the 86th minute to secure the 3 points. O'Shea received a Ronaldo pass and found Carrick who, with trademark simplicity, stroked a sublime shot home from 17 yards to find the top corner with his left foot.
Manchester United now only need to avoid defeat in either of their last two matches to claim their third straight championship.
Source: (Yolkie)