You may also find these links interesting: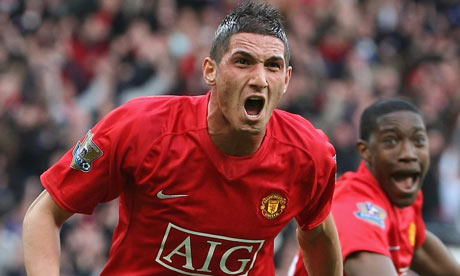 Seventeen year old prodigy Federico Macheda scored a stunning injury time winner to send Manchester United back to the top of the Premier League – though that sentence alone gives no indication to the roller coaster ride the Champions sent their manager and supporters on to get there.
A sensational game of football was capped off in storybook (and almost, some would say, inevitable) fashion with the most impressive debut for a United player since current world player of the year, Cristiano Ronaldo in 2003.
But stripping past all of the drama was a game that the home side were very fortunate to win – a resurgent Aston Villa played their part in the tussle, and perhaps it was only their half desire to waste time after scoring their second which ultimately cost them.
With United missing more than half a dozen players who would have probably walked into the first team, Villa were always likely to fancy their chances to restore some pride after their Anfield mauling, and began brightly, before falling behind – James Milner and Brad Friedel were both careless with a backpass which led to an indirect free kick. Ryan Giggs rolled it to Ronaldo who showed tremendous ability to zip the ball into the top corner.
Despite his lack of options Sir Alex Ferguson will probably concede to making a tactical error by deploying Gary Neville in the centre of defence against John Carew – it was simply an accident waiting to happen, and when the big Norweigan easily headed in from Barry's cross, United's makeshift side suddenly looked bereft of options. It was no surprise when Gabriel Abgonlahor put the visitors in front just before the hour, and it was this goal that prompted Ferguson to think with his heart and not his head by taking the abysmal Nani off for the young Macheda, who had scored a hat-trick in the reserve outing at Newcastle last Monday.
The youngster immediately began to put himself about and gave United the much needed up and at them attitude that was required in the place of the lack of creativity, and a game of end to end began where first Macheda was denied a penalty after being manhandled in the box, and then Curtis Davies almost extended Villa's lead.
Out of nowhere, Ronaldo popped up at the edge of the box and coolly stroked home with his left foot – the ball seemed to take an eternity to roll in, but it did, and with 10 minutes to go, the Champions knew that the remainder of the game was likely to play a major part in their title push.
When first Fletcher and then substitute Welbeck were denied by Friedel – who had seen his blatant red card against Liverpool rescinded, which surely must have made Sir Alex think he should have appealed against Vidic's recent sending off – it seemed that the writing was on the wall, but then came Macheda's moment of history.
Up there with Bruce against Sheffield Wednesday in 1993, Cantona against Tottenham and QPR in 96, and O'Shea against Liverpool in 2007, Macheda latched onto a Giggs through ball, skinned his marker with a Cruyff turn on the edge of the area, and, almost losing his balance, curled in a stunning winner past the helpless Friedel in the third minute of injury time to signal wild celebrations at the Stretford End. It was harsh on Villa, who had clearly done enough on the balance of play to deserve a draw, but there was nothing untoward in the manner United got their victory.
Make no mistake – Macheda, in his brief spell on the pitch, was a clear man of the match even before his winning goal with his aggressive attitude and his composure on the ball, and the esteem the striker is held in was summed up by club captain Neville after the match when he said, "If there was anyone in the team you wanted that chance to fall to, it was him".
Such an introduction may lead to expectations that are unrealistic, but the talented forward has certainly done enough in one historic game at Old Trafford to show that he is ready to be called upon – and in such testing times, you wouldn't count against Fergie doing just that before the end of the season.
Source: (Yolkie)