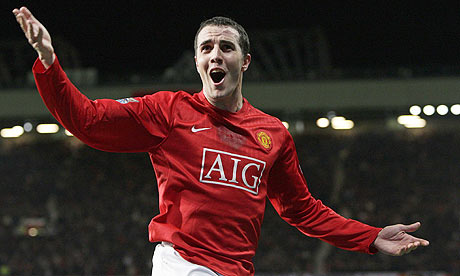 John O'shea had a superb season in 2002/03, slotting in at left back and displacing Phil Neville and Mikael Silvestre in what would be a superb Championship run-in – pipping Arsenal to the title, which in the February looked unreachable. Since then John O'Shea has become known as the utility man – the man who plays when there is something wrong with everyone else – but does O'Shea get too much criticism for this role at Old Trafford now?
The reason I bring this up is that I was fascinated, and i'm sure you'll be amazed too, that O'Shea has accumulated (jointly) the most appearances for the club this season with 44. He's played at right back, center half, holding midfielder and left back so far this season – whilst last term he was used as a makeshift striker and before that he went in goal at Tottenham. But he still gets loads of abuse for his performances – despite the fact that he has represented the club the most this season.
I personally wouldn't have John O'Shea in the first Xi, and I would put both Neville and Rafael ahead of him if both fit. But thats the point – both aren't fully match fit (I know Neville has just played two games back to back but he didn't look too sharp last weekend) and Sir Alex is lucky enough to be able to call on a player that obviously wants to play but understands his role at the club. So what do you reckon of O'Shea? Do you see him as this bumbling lummox hobbling up and down the flank or do you remember him as the young lad who made the left back slot his own in 2003 – nutmegging Luis Figo along the way!