You may also find these links interesting: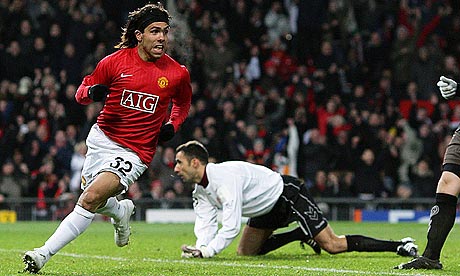 The Red Devils stuttered to a home draw against unfancied Danish side Aalborg to finish top of their Champions League group.
The result meant the European Champions equalled the record run of 19 consecutive unbeaten games, though their opponents threatened to inflict arguably the most embarrassing defeat their hosts have ever suffered in the competition.
United started incredibly well and scored with little more than 2 minutes on the clock – Anderson and Ryan Giggs the main instigators, the Welshman's sublime flick being converted by the recalled Carlos Tevez.
More goals could and probably should have followed as the home side threatened to destroy Aalborg, but the foot went off the pedal and United fan Michael Jakobsen got the slightest of touches to a free kick to equalise. With half time imminent, Curth scored a simply stunning header to give the away side an interval advantage.
As almost always, Fergie's hairdryer must have prompted United into life – a pulsating start to the second half resulted in Rooney finding space to smash home a great Anderson pass. United had benefitted from the magic created by their central midfield – Anderson was just about man of the match ahead of Ryan Giggs and Paul Scholes – only by longevity, as the trio played pass after exquisite pass in a display of super creative football.
Unfortunately for the home fans a third goal never followed, although it was often threatened – Gary Neville came close to a dream goal at the Stretford End, and Tevez almost snatched all three points after Rooneys expert through ball.
While the result is not all too credible Sir Alex will take heart from the effort in the industrious performance from his attacking players.
Source:(Yolkie)